This dish has it all really…creaminess and tanginess from the labneh spread and a big savoury hit all in one mouthful! I hope you enjoy this delicious all in one vegetarian meal – Spiced potatoes, onions, peppers and cauliflower all baked in a seasoned olive oil. The touch of warm, pungent cumin and Niki's Turkish Blend adds a lot of flavour and richness to the vegetables here. You can serve this lovely, gluten-free course as a side to grills or as part of a mezze spread.
Ingredients:
500g of medium potatoes, quartered into bite size pieces
2 medium red onions, sliced into bite size pieces
2 red bell peppers (or pointy pepper), deseeded, quartered and thinly sliced
1/2 head of cauliflower, cut into little florets
2 tsp of ground cumin
2 tsp of Niki's Turkish blend
Sea salt and cracked black pepper, to taste
Up to 3 tbsps of olive oil
300g of labneh spread
A scattering of fresh parsley, chopped
A squeeze of lemon juice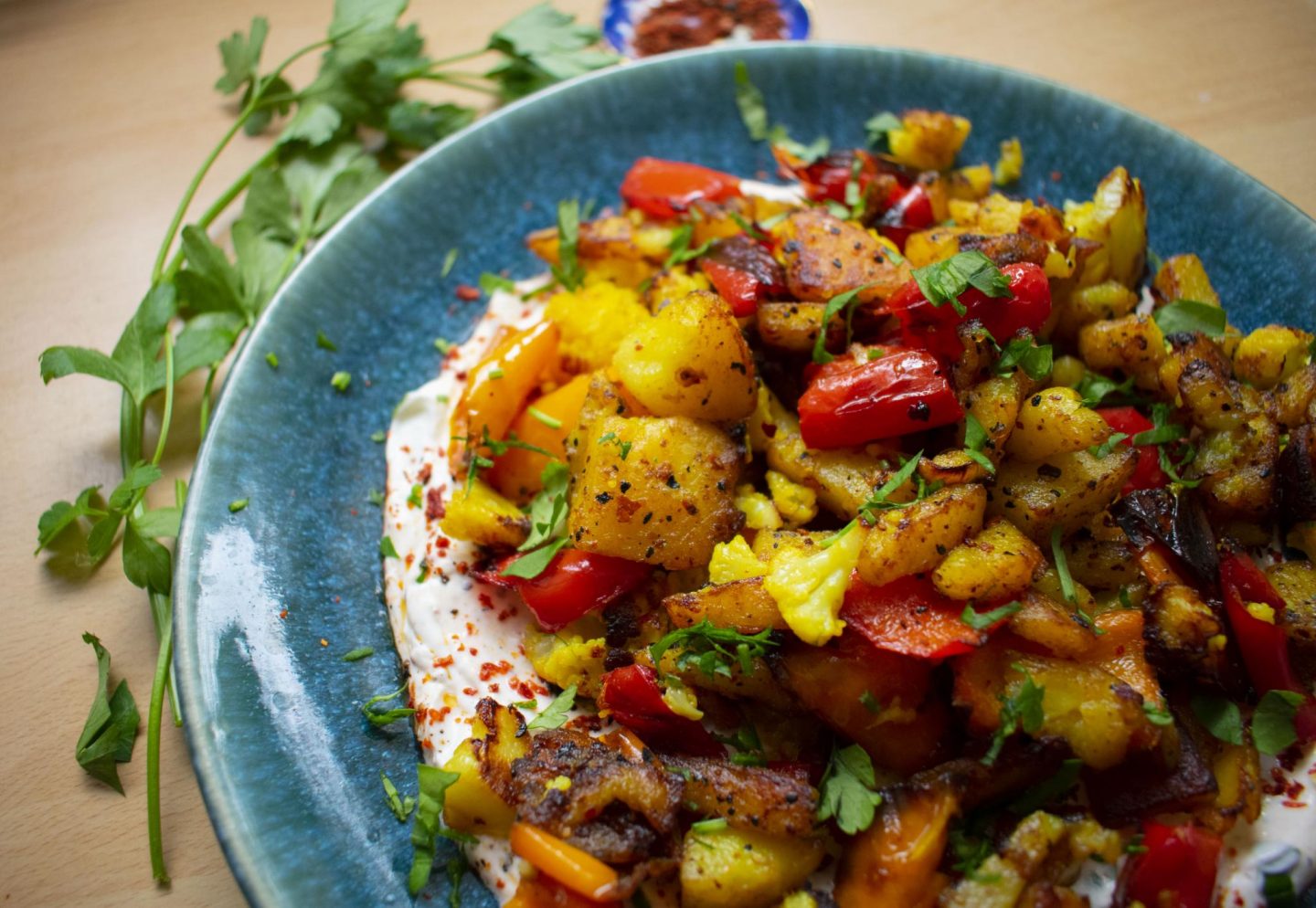 Method:
Preheat the oven to 200 C and grease a large and deep baking tray with a good drizzle (about 2 tbsp.) of olive oil.
Put the quartered potatoes in a large enough pan with plenty of cold water. Parboil or partially cook the potatoes for 10 minutes. Drain and set aside.
Heat the rest of the olive oil in a pan and stir in the sliced red onions, cauliflower and peppers. Sautee for 5 minutes, until they start to soften up, turn the heat off.
Next, combine the parboiled potatoes, sautéed red onions and peppers in the tray. Include any remaining olive oil in the pan of the sautéed red onions and peppers to the baking tray.
Stir in the ground cumin and Niki's Turkish Blend over the vegetables. Season with salt and ground black pepper and taste. 
Using your hands, combine the spices and the seasoning with the vegetables, giving them a good mix! Bake for 35 minutes at 200 C.
Whilst the veggies are roasting prepare your serving dish by spooning the labneh in one smooth layer as the first layer. Once the veggies are done allow to cool for 5 minutes and then pile them high on your prepared labneh.
Garnish with a squeeze of fresh lemon juice and lots of chopped parsley. Enjoy!
Grab my Turkish Blend here: