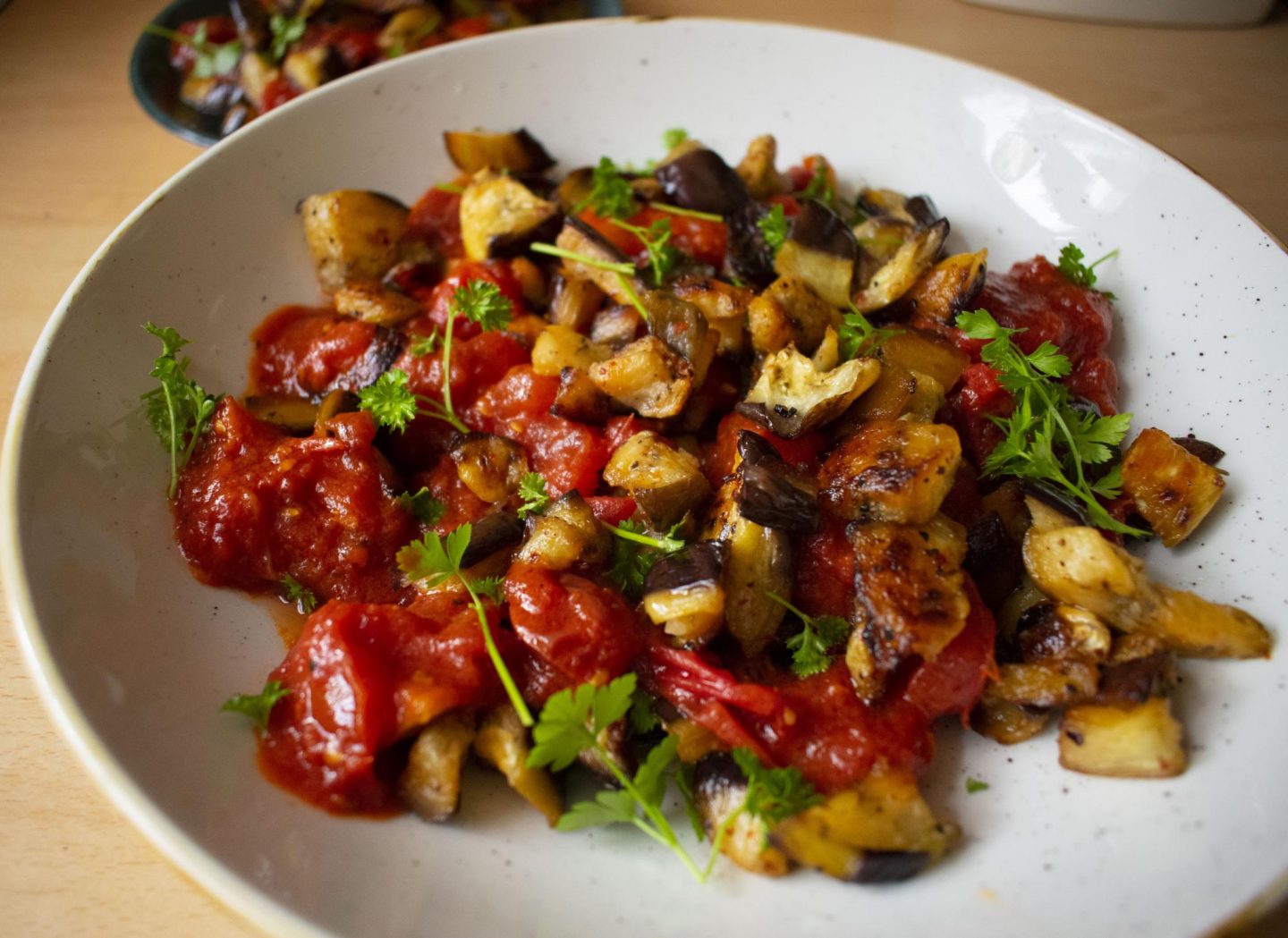 For this classic Turkish dish, the aubergine is usually fried or even deep fried, but this can make the dish both heavy and oily not to mention laboursome. So here I am roasting the aubergine instead, making the dish healthier and it's SO easy to prep. I love to enjoy my mezze cold, especially in the summer and with some crispy pitta bread.
Ingredients:
4-5 aubergines, partly peeled and cut into 2-3 cm dice
 A generous glug of olive oil or sunflower oil
1 small onion/a couple of leeks/a few spring onions, finely chopped
1 red pepper, finely diced
2 garlic cloves, peeled and finely sliced
2 ripe tomatoes peeled and roughly chopped or a tin of chopped tomatoes
Some extra virgin olive oil, to garnish
A small handful of flat-leaf or curly parsley,  or dried parsley, for garnish
A sprinkling of Aleppo Pepper or pul biber, for garnish
A good seasoning of salt and pepper
Method:
Preheat your oven to 220 C and line a large baking tray with greasproof paper.
Mix the aubergine dice with 150ml of olive oil and some seasoning and set aside.
Meanwhile, in a medium and ovenproof bowl simply add in all the rest of the ingredients (par garnish) and stir well. Lay out your aubergine dice onto your greaseproof paper and then add the ovenproof bowl in the middle of the tray, arranging the aubergine pieces around it. Roast until all the pieces are completely soft, 25-30 minutes or longer and the sauce starts to come together and it breaks down and bubbles away, it's a 2 for 1 here!
When done, take out of the oven and allow to cool for a bit before layering aubergine pieces and your rich tomato sauce alternating between the layers.
Serve at room temperature or cold from the fridge with a drizzle of extra virgin olive oil and a small scattering of parsley and pul biber.
Afiyet Olsun!!