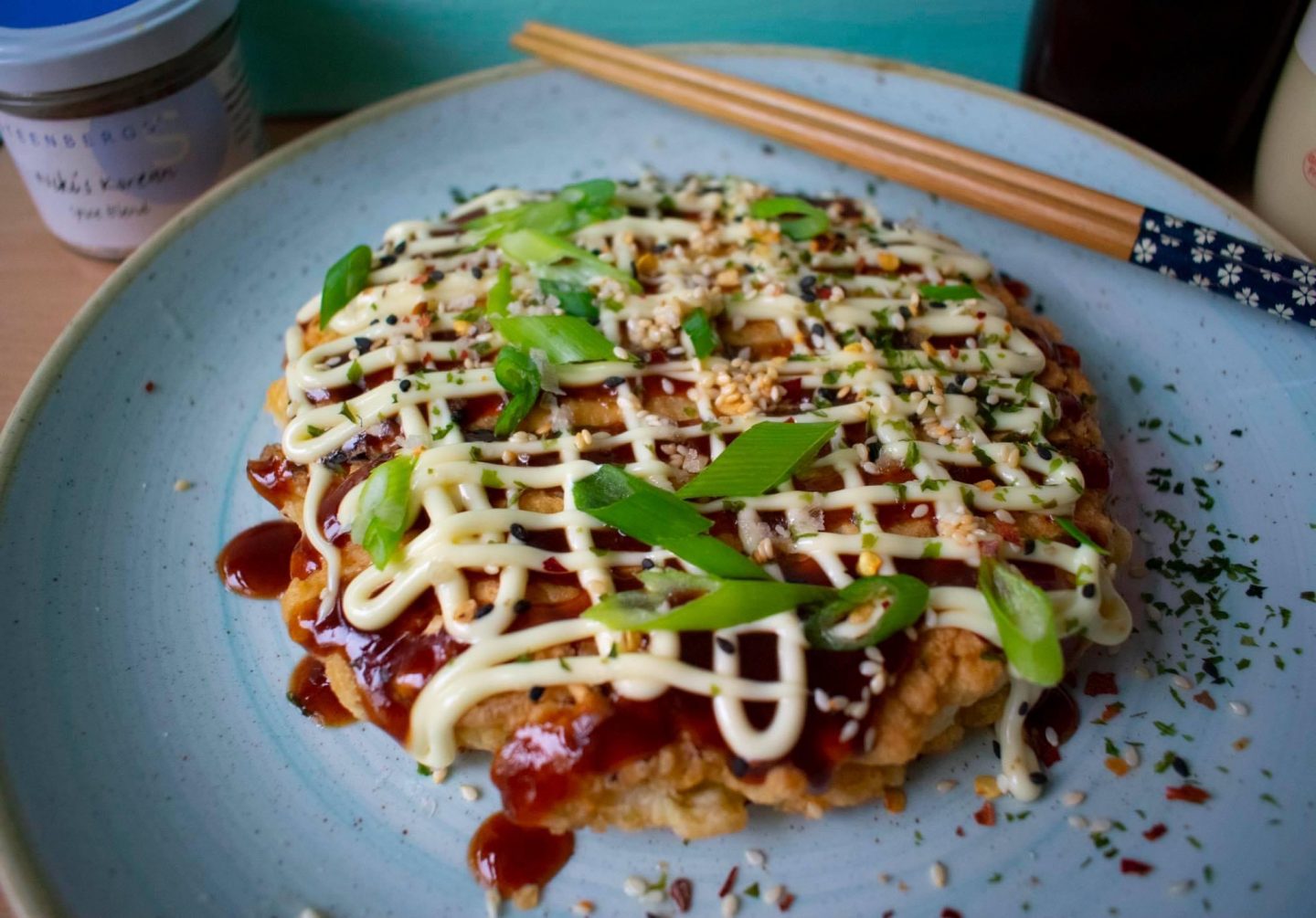 Okonomiyaki pancakes are truly a staple in Japanese cuisine. They're cheap, quick to prepare and extremely versatile. 😍 🥞 From the basic cabbage variety to stuffed seafood Okonomiyaki, you will fall in love with its soft and fluffy texture.
Traditionally, these gorgeous pancakes are also topped with a variety of sauces from Japanese mayonnaise called kewpie mayonnaise, ketchup and the traditional pancake sauce. I've topped mine with an adaptation of the Okonomiyaki sauce so everyone can try it.  

Prep time: 10 minutes
Cooking time: 10-15 minutes
Total time: 30 minutes 
👩🏻‍🍳 From your kitchen: 
For the pancakes: 1 aubergine, peeled and gratedA bunch of spring onions, chopped finely2 garlic cloves, crushed ½ a green cabbage, finely shredded 1 tablespoon of tamari 2 tablespoons of gluten free flour 1 tablespoon of toasted sesame oil 2 carrots, grated 4 tablespoons of filtered water 1 tablespoon of sesame seeds plus extra for sprinkling on top2 tablespoons of coconut oil 
For the Okonomiyaki sauce: 
2 tablespoons of ketchup
3 tablespoons of Worcestershire sauce
2 tablespoons oyster sauce
1 tablespoon of agave syrup 
Extra toppings:
A generous drizzle of kewpie mayonnaise Extra sliced spring onions A sprinkling of Niki's Korean BlendA scattering of dried seaweed
Step 1: In a large mixing bowl, combine the aubergine, spring onions, green cabbage, sesame seeds and carrots and add in your crushed garlic. Coat well and add in your tamari at this stage. 
Step 2: Next, add your flour and water to the mixture and bring your batter together by mixing it will with your silicone spatula. 
Step 3: Heat up your frying pan and melt your coconut oil. Over a medium high temperature, spoon one tablespoon of the mixture at a time and smooth out your pancakes so they are nice and distributed. Fry on either side for a couple of minutes until golden brown. 
Step 4: Wait for the pancakes to cool slightly before drizzling over your Okonomiyaki sauce, kewpie mayonnaise and sesame seeds and extra spring onions, enjoy!