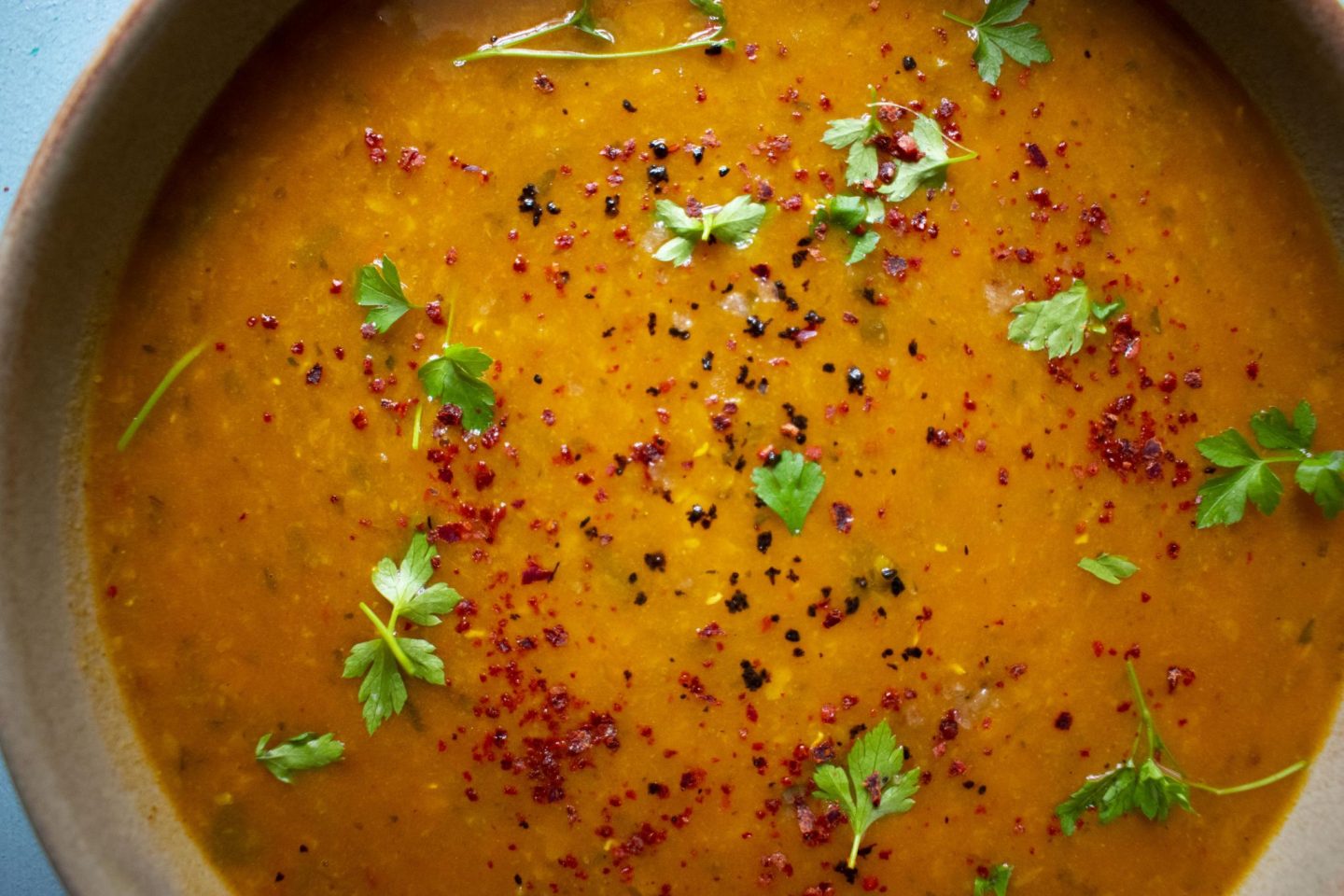 This Turkish red lentil soup is easy to whip up and is the perfect storecupboard recipe. This soup is best served with a squeeze of lemon and whats more this soup is naturally gluten free and vegan!

Ingredients:

2 tbsp olive oil
1 large onion/few spring onions, chopped OR 1 teaspoon of onion powder @steenbergsltd
1/2 tbsp tomato puree
2 carrots, roughly chopped
A small handful of red lentils, washed
1 tsp of sea salt
1 tsp of ground cumin
1 tsp of Aleppo chilli flakes plus extra for garnish
A pinch of urfa chilli flakes
1/2 tsp of black pepper
Approx. 500ml of water depending on how thick you like your soup 
Method:
Heat your olive oil in a pot over medium heat and fry your onion until golden (if your are not using fresh onion just add it with the tomato puree). Add In your tomato puree now and cook it out for a minute.
Next, add in your carrots and cook for a couple of minutes further. To the onion and carrot, add the red lentils, salt, pepper, cumin, Aleppo, Urfa and black pepper. Turn the heat up, stir well and cook for a minute. 
Pour in the water now and bring the soup to a simmer. Cook covered on a medium heat for 20 minutes. Uncover and cook for another 10 minutes until the lentils are completely cooked. To test this take a couple of the lentils, allow to cool on a spoon and it should be break up easily when you try to pinch it. 
Blend the soup in the blender or using an immersion blender until it's creamy and smooth.
Serve warm with a squeeze of lemon, more Alleppo, Urfa and some fresh torn up parsley. Afiyet Olsun!