Difficulty: Moderate
Blend: Rooibos and Cinnamon Tea
Time To Make: 1.5 Hours
Ingredients:
3 Ahmad Tea Rooibos and Cinnamon Teabags
290g (2.3 cups) of self-raising flour/gf works well too!
160g (3/4 cups) of caster sugar
3 tsp of baking powder
240ml (1 cup) of almond milk
1 tsp of vanilla extract
2 medium eggs
90g unsalted butter, melted and cooled slightly
For the cinnamon swirl:
120g of caster sugar
1.5 tbsp of ground cinnamon
80g of unsalted butter, melted
For the icing:
A few tsp of water mixed with 110g icing sugar to form a thick yet pourable icing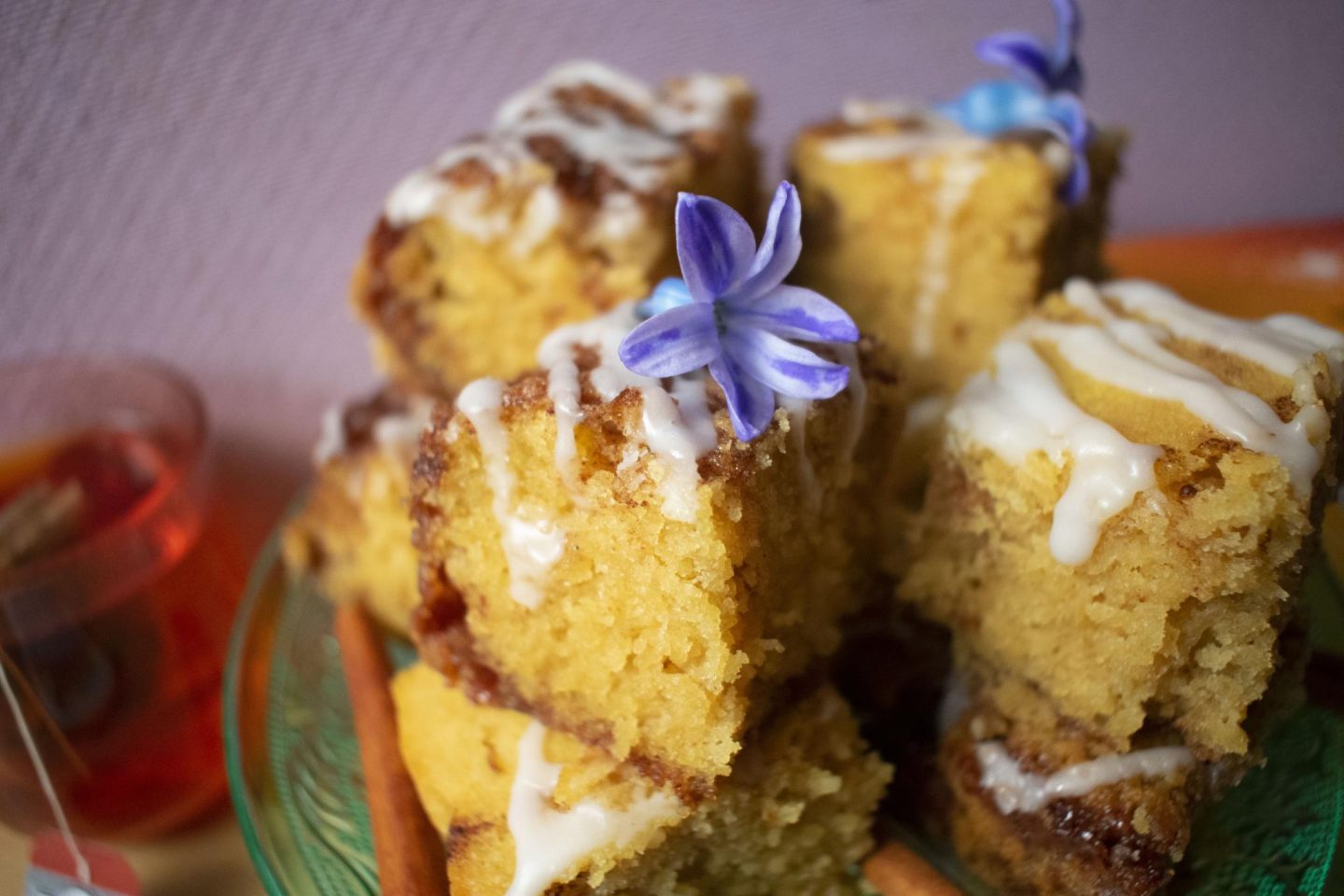 Method:
Preheat your oven to 180 degrees and pre-line a brownie cake tin with greaseproof paper, set aside.
Warm your milk to a simmering point in a small pan and then add it to 3 Rooibos and Cinnamon Teabags in a deep bowl. Leave it to steep for 5 minutes, then remove the bags and allow the milk infused tea to cool down to room temperature.
Next, prep your cinnamon swirl mixture in a small bowl. Add the melted butter to your caster sugar and cinnamon mixture and mix well, set aside.
Then, in a deep bowl add your eggs, your infused cinnamon and rooibos milk tea, vanilla extract and melted butter and whisk until combined.
In another large bowl, have your dry ingredients ready and add in your wet ingredients, mix very well until a wet batter forms.
Pour the batter into your prepared cake tin, alternating with your cinnamon swirl mixture and bake for 45/50 mins or until the top is golden and springy to the touch.
Allow your cake to cool completely before icing your cake with either a piping bag or a spoon and slicing up into squares. Enjoy with a fresh cup of Rooibos and Cinnamon tea!