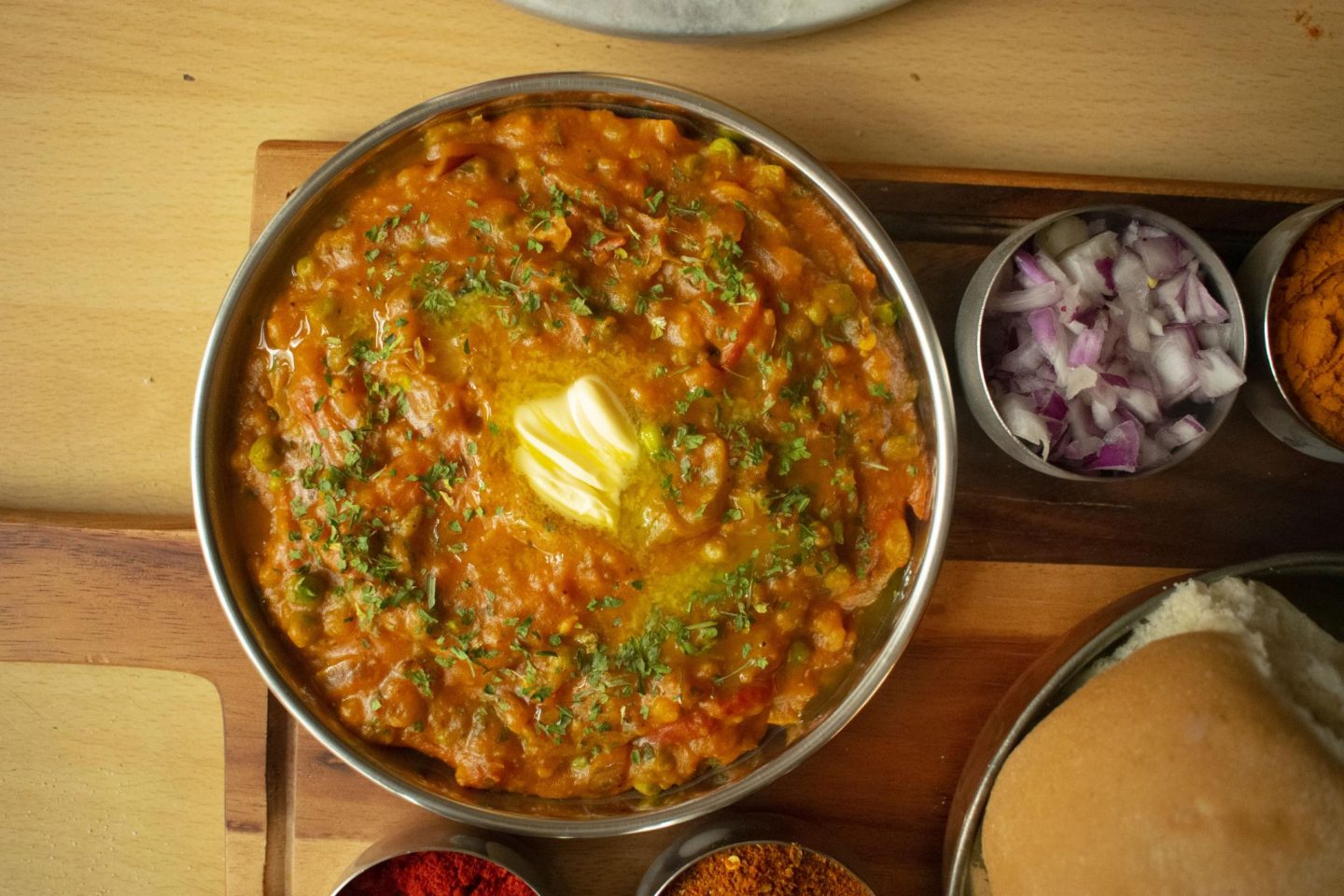 One of the most popular Indian Street foods, Pav Bhaji has a medley of spicy mashed veggies topped with lots of butter and served with soft dinner rolls and diced onion, so yummy!

Ingredients:

For the Bhaji:

• A handful of baby potatoes, boiled

• 1-2 long green peppers/1 bell pepper, chopped

• A small handful of frozen green peas
• 1-2 tablespoons of vegetable oil
• 3 tablespoons of butter unsalted, divided
• 1 teaspoon of cumin seeds
• 2 medium red onions, finely chopped
• 2-inch piece of ginger finely chopped
• 7 cloves of garlic, finely chopped
• 2 green chilies finely chopped, adjust to taste!
• A handful of cherry tomatoes
• 1/3 cup of tomato puree
• 1 teaspoon of salt, divided
• 200ml of water, divided
• 1 tablespoon + 1 teaspoon pav bhaji masala or to taste*
• 2 teaspoons of Kashmiri red chili powder

• 1/2 teaspoon of red chili powder or to taste (optional)

• 2 tablespoons of dried parsley

Method:

• Heat 1 tablespoon of butter and 1 tablespoon of oil in a large pot on medium heat. Once the butter melts and the oil is hot, add the cumin seeds and let them sizzle.

• Add the finely chopped ginger, garlic, and green chili. Cook the ginger-garlic-green chili for 1 minute.

• Add chopped tomatoes, peppers, peas, and potatoes, and mix well. Let the tomatoes cook for 2 minutes.

• Add your tomato puree, 1/4 cup water and 1/4 teaspoon salt. Cover the pan and let the tomato cook for 6 minutes until softened and completely cooked.

• Add the pav bhaji masala, Kashmiri red chili powder, red chili powder, and the remaining 1 teaspoon salt. You may add 1/2 teaspoon of sugar here (optional).

• Stir in the boiled veggies and mix. Using a potato masher, mash the veggies until thoroughly mixed with the masala.

• Add the remaining 3/4 – 1 cup water and mix with half of the chopped onions (save the other half for serving raw). I used an immersion blender to blend the veggies to a paste-like consistency at this point but this is optional. You may keep them as such.

• Cover the pot and set the heat to low. Let the bhaji simmer on low heat for 15 minutes.
• Serve on your wide plate and add in the remaining 2 tablespoons of butter add a generous amount of dried parsley and garnish liberally. Serve with freshly diced red onion, extra pats of butter (if desired!), and buttered bread rolls.

*To make pav bhaji masala, you would need:
4 tablespoons coriander seeds

1-2 bay leaves
2 tablespoons cumin seeds
5 dried red chilies, adjust to taste
8 cloves
1 tablespoon fennel seeds
3 black cardamom
1 cinnamon stick, around 2 inches
1.5 teaspoon turmeric powder
2 teaspoons ground black pepper
1.5 tablespoon amchur
½ teaspoon ground ginger
2 teaspoons of kala namak salt
Dry roast your coriander seeds, cumin seeds, dried red chilies, cloves, bay leaves fennel seeds, black cardamom, and cinnamon stick in a pan on medium heat until fragrant, around 3 to 4 minutes.

Let it cool and then transfer your spices to a spice grinder. Stir in your turmeric powder, ground black pepper, amchur, ground ginger, and black salt.
Grind until powdered and well combined. Store pav bhaji masala in an airtight container at room temperature and use it as required. This makes around 100 grams of pav bhaji masala.