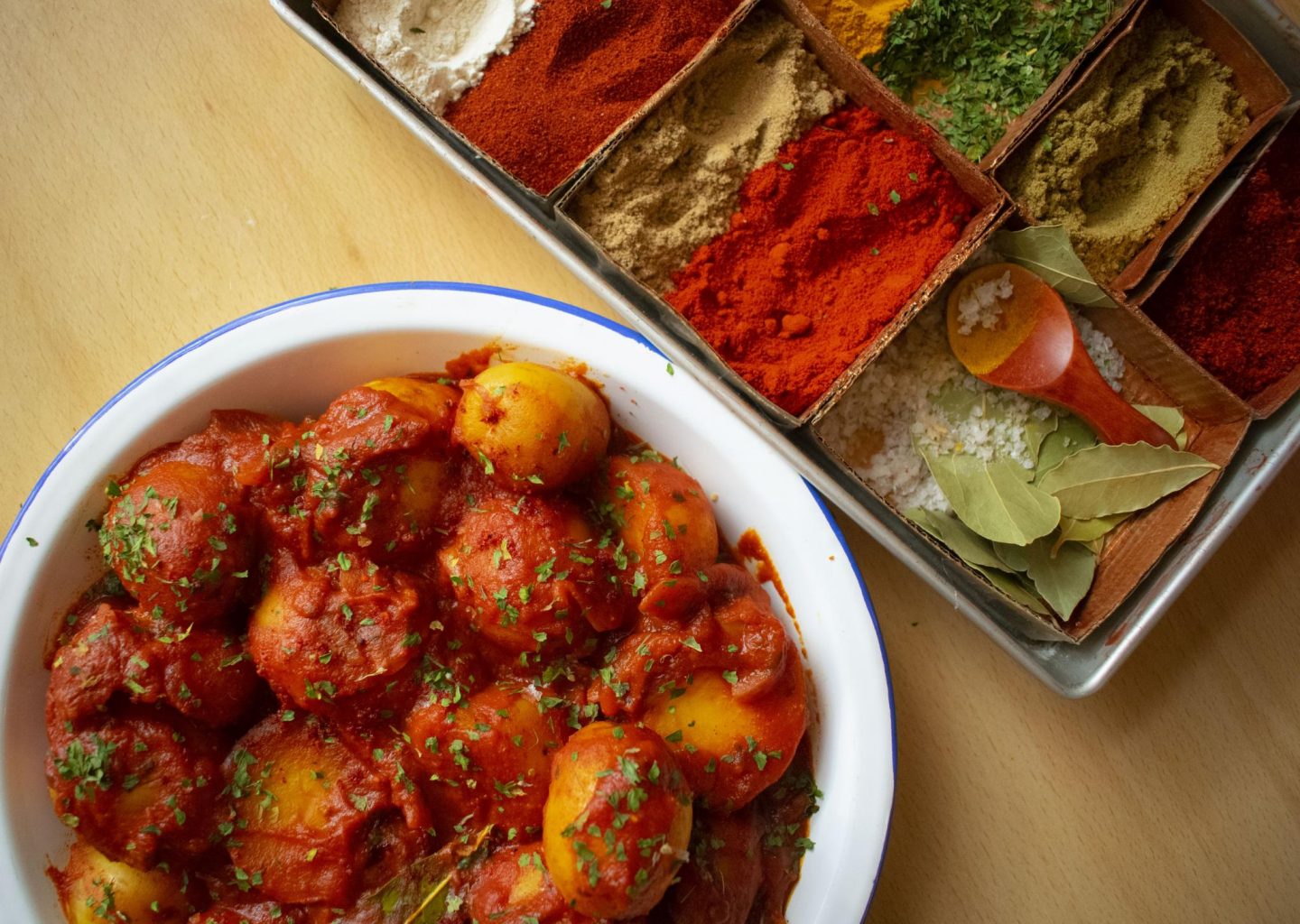 Lasaniya Batata
These delicious baby potatoes are simmered in a rich, tomato-garlic sauce. The perfect side dish! Lasaniya batata is more famous in Kathiyawad (Saurashtra), a region of western India. Sometimes it's enjoyed as a snack with fried rice papad or fryums or with roti or paratha as a meal. However you enjoy it it's a must try dish this Winter and veganuary!
Ingredients:
3-4 cloves of garlic
½ inch of ginger
1 ½ teaspoons of red Kashmiri chili powder
½ teaspoon of smoked paprika
250g of baby potatoes
2 tablespoons of olive/vegetable oil
½ teaspoon of cumin seeds
2-3 dried birds eye chillies
1-2 Bay leaves
¼ teaspoon of turmeric powder
½ teaspoon of garlic powder
1 teaspoon of coriander powder
½ teaspoon of cumin powder
Sea salt, to taste
200ml of water
2 tablespoons of tomato puree
1 tablespoon of dried parsley, for garnish

Method:
Boil your baby potatoes until just fork tender, pat them dry and sauté the potatoes in ½ tablespoon of oil till they are browned evenly, pop to one side when this is done.
In a separate large pan over a medium heat add the 1 tbsp of oil and once hot add the cumin seeds. let them sizzle, then add the dried chilis and bay leaves, cook for 30 seconds.
Next, take your garlic, ginger, tomato puree, smoked paprika, garlic powder and red chili powder and add it all in with the remainder of the oil. Add the water and make a smooth paste out of it. Cook until the raw taste and smell of ginger garlic goes away and oil starts to ooze out from the sides.
Add your potatoes and bring it to a boil. Once your gravy comes to a boil, cover the pan and cook for 4-5 minutes. Do stir in between and if needed add more water. Lastly, add dried parsley and serve!