Ingredients:
For the pancake batter:
2 tbsp of ground flaxseeds
300ml of almond milk
200g of quinoa flour/oat flour
1 medium banana, mashed
1 tsp of vanilla extract
Pinch of sea salt
2 tbsp maple syrup/sweet freedom
Raw coconut oil, for frying
120g of ground almonds
½ tsp of baking powder
3 tsps of raw cacao powder
A handful of raw cacao nibs
Dried rose petals, optional
Method:
In a small bowl stir the flaxseeds with 6 tbsp water and set aside to soak while you make the pancakes (your raw choccy sauce should be made before this step so it's ready for smothering your pancakes in!).
Put the ground almonds, milk, vanilla extract flour, banana, chosen sweetener and a pinch of salt in a blender. Stir the flax to make sure it has become thick and gloopy, like an egg, then mix with a whisk or wooden spoon until smooth and thick.
Heat 1 tsp of raw coconut oil in a large frying p over medium heat and add 2-3 tablespoon dollops of batter into the pan. Cook for a couple of mins on one side until the edges are slightly browning, and bubbles have formed on top. Once the batter has turned a deeper colour, flip it over with a spatula and cook for another few mins till dark chocolate brown. Set aside and keep warm while you repeat the process with the remaining batter, adding another tsp of coconut oil with each batch.
Pile the pancakes high and drizzle over your raw choccy sauce with plenty of raw cacao nibs and dried rose petals, if using. Enjoy!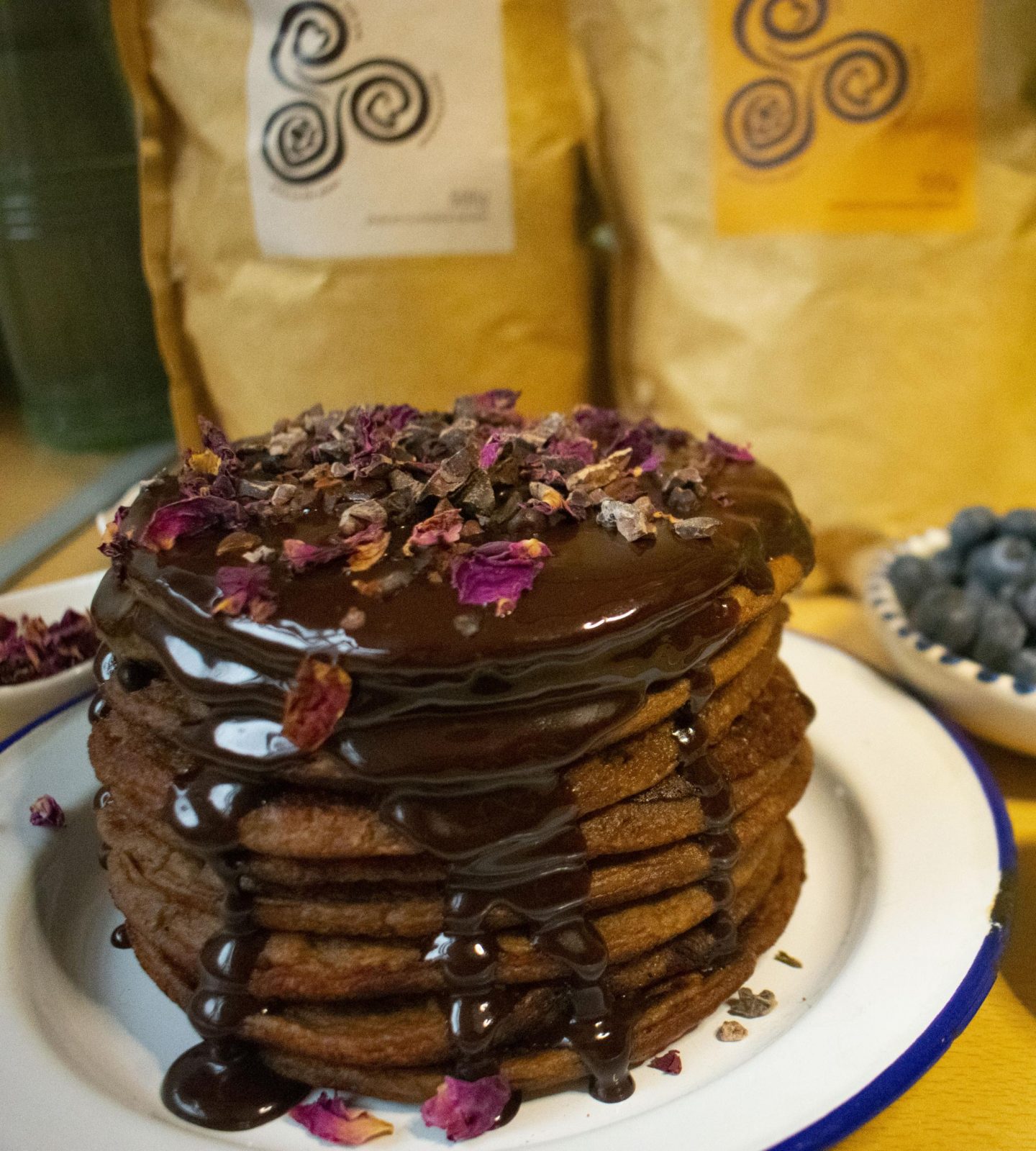 For the Raw Choccy Sauce:
Ingredients:
20g of raw cacao powder
50ml of sweet freedom
50ml of raw coconut oil (melted/liquid)
2-3 buttons of virgin cacao paste (buttons)
A pinch of sea salt
Method:
Add all the ingredients apart from the virgin cacao paste buttons to a small pan over a very low heat and stir it together until it's creamy and smooth. Turn the heat off and gently melt in your virgin cacao paste buttons, the sauce will start to thicken at this stage and as it cools.
Store it in an air-tight BPA-free container in a pantry or cabinet. If you store it in the refrigerator, it will harden but once you liquefy the coconut oil again by heating it up in a pan, it will be ready to use. Just stir it until it's creamy and smooth again!