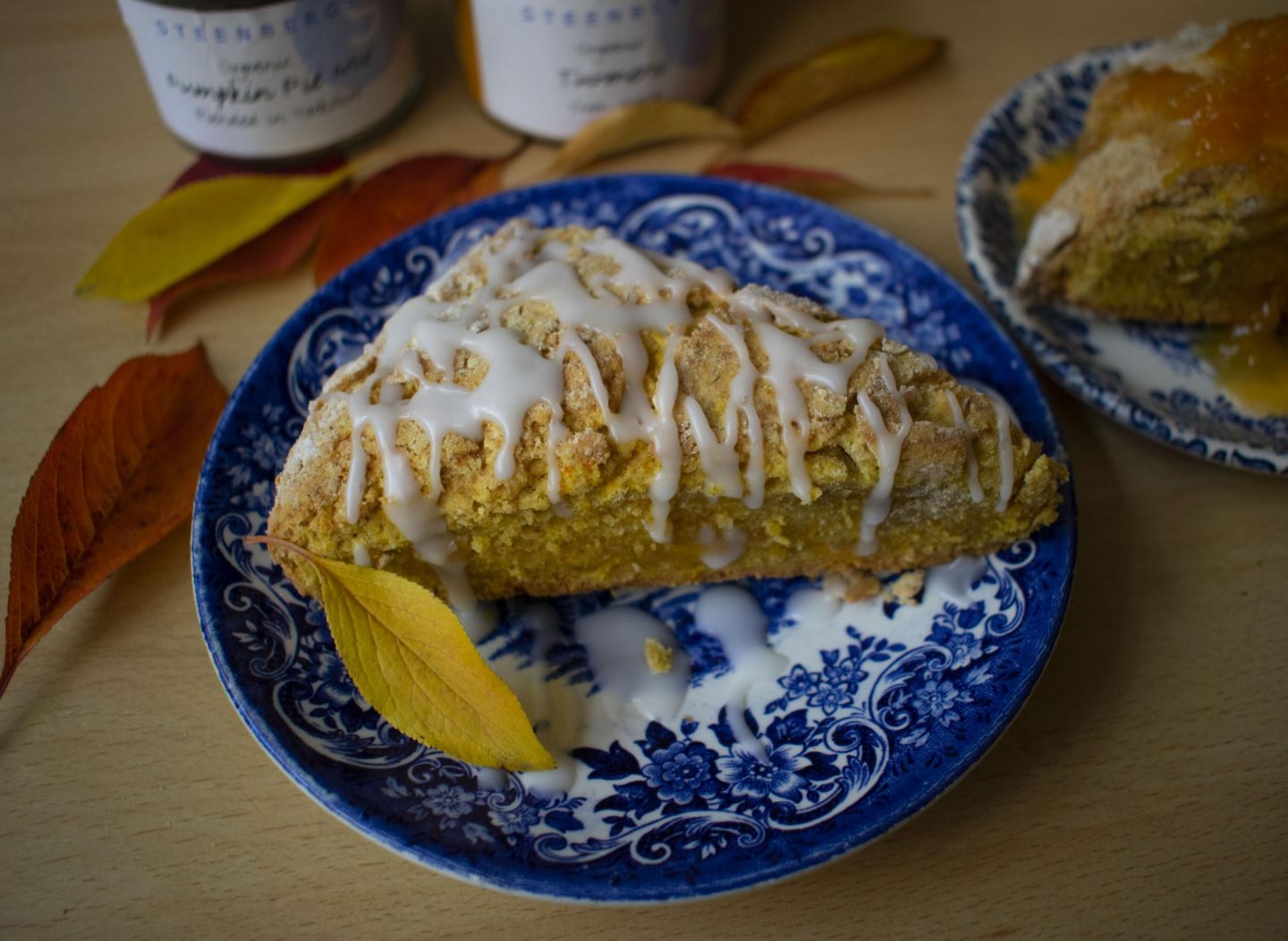 Ingredients:
250g of plain flour (GF works too)
2 tsp of baking powder
1 tsp of organic vanilla extract
120g of light brown sugar
120g of pumpkin puree
100g of natural kefir yoghurt
1 medium egg
120g of butter, very cold/frozen
½ tsp of sea salt
Icing sugar drizzle, optional
1 tsp of pumpkin pie spice
½ tsp of ground cinnamon
½ tsp of ground turmeric
Method:
1. Preheat oven to 200°C and adjust your baking rack to the middle-low position. Line 1 or 2 large baking sheets with greaseproof paper, and set aside.
2. Whisk the flour, baking powder, cinnamon, pumpkin pie spice, turmeric powder, and sea salt together in a large bowl. Grate the very cold/frozen butter and add it to the flour mixture and combine it with a fork, until the mixture comes together in pea-sized crumbs. Set aside.
3. Whisk the kefir yoghurt, the egg, pumpkin puree, brown sugar, and vanilla extract together in a small bowl. Drizzle it over the flour mixture and then mix it all together until everything appears moistened.
4. With floured hands, work the dough into a ball as best you can and transfer it onto a floured work surface. Press into a neat 8-inch disc and, with a very sharp knife, cut into 8 equal wedges.
5. Place scones at least 2 inches apart on the prepared baking sheet(s). Bake the scones for 20-25 minutes or until lightly browned. Remove from the oven and allow to cool for a few minutes before drizzling over some icing sugar glaze on top, this is optional but we recommend it!
These scones are best enjoyed right away, though leftover scones keep well at room temperature or in the refrigerator for 2 extra days. These scones can also be frozen and heated ahead of time. Enjoy!