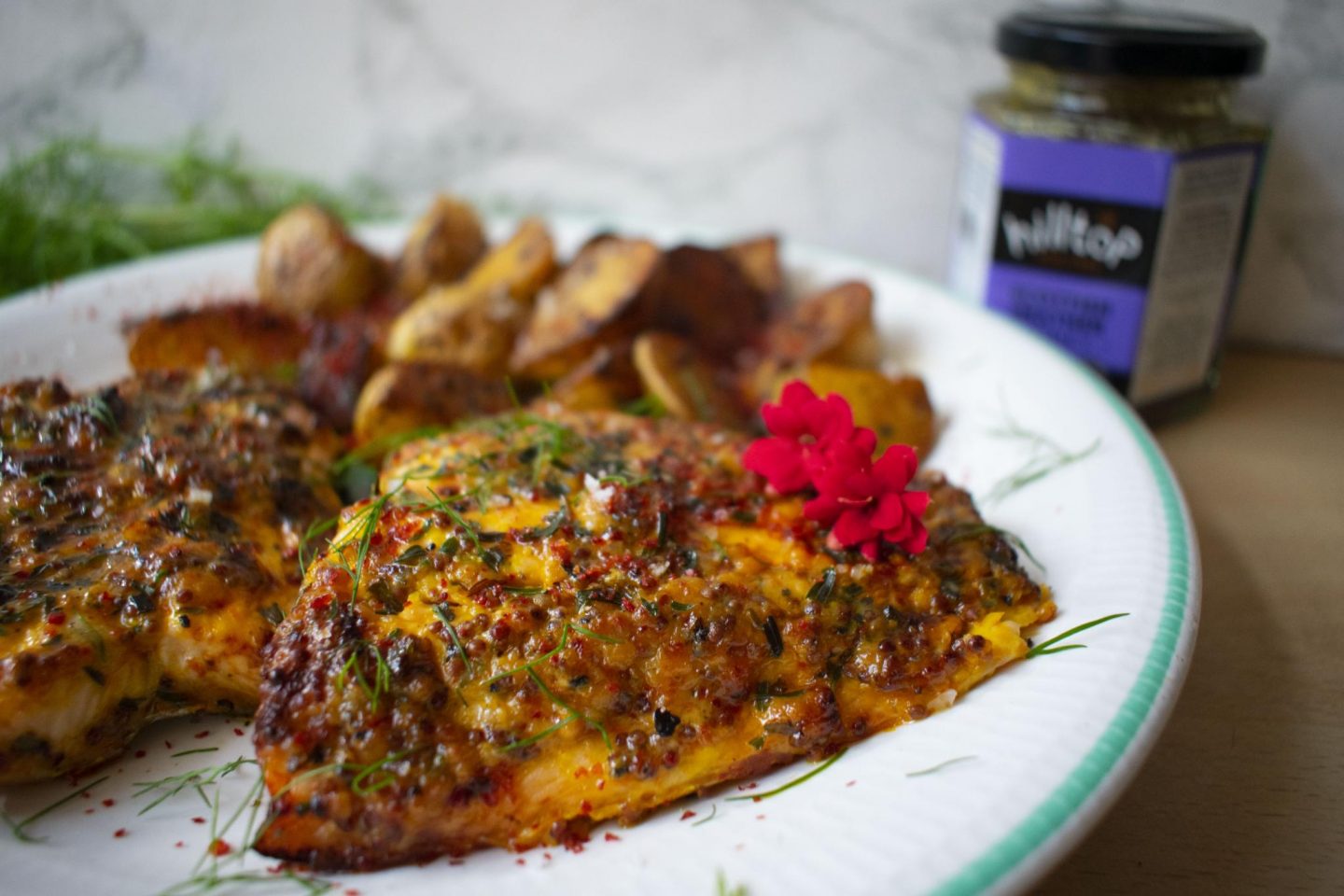 This honey mustard salmon features a homemade honey mustard sauce that is super delicious and very easy to adapt if you like to go heavier on the honey or mustard. It can also be cooked quickly and easily in the oven or even in your air fryer, it's your choice. We love to enjoy our salmon with sauteed spiced baby potatoes but this can also be served with rice or flatbread, mmm!
Ingredients:
3 tbsps of Scottish Heather Honey
3 tbsps of olive oil
2 tbsps of wholegrain mustard
5 cloves of garlic peeled and minced finely

2 tbsps of lemon juice
1 tbsps of mild chili powder

1/2 tsp of turmeric powder

1/2 tsp of chilli flakes
4 fillets of Scottish salmon
Sea salt and freshly cracked pepper, to taste
2 tablespoons of freshly chopped dill
Edible flowers, for garnish, optional

Method:
Preheat your oven to 190°C and line a baking tray / sheet with a large piece of foil, big enough to fold over and seal to create a packet (or 2 long pieces of foil over lapping each other lengthways to create your salmon packet, depending on the width of you fillets).
In a small saucepan, combine the honey, wholegrain mustard, butter, garlic, all the spices and lemon juice. Whisk until the honey has melted through the butter and the mixture is well combined.
Place the salmon onto a lined baking tray and pour the butter/honey mixture over the salmon, and using a pastry brush or spoon, spread evenly over the salmon. Sprinkle with a good amount of salt and cracked pepper. Fold the sides of the foil over the salmon to cover and completely seal the packet closed so the butter does not leak.
Bake until cooked through (about 10-12 minutes, depending on the thickness of your fish and your preference of doneness). Open the foil, being careful of any escaping steam, and grill / broil under the grill / broiler for 3-4 minutes on medium heat to caramelise the top. Garnish with fresh dill and serve immediately with sautéed baby potatoes.