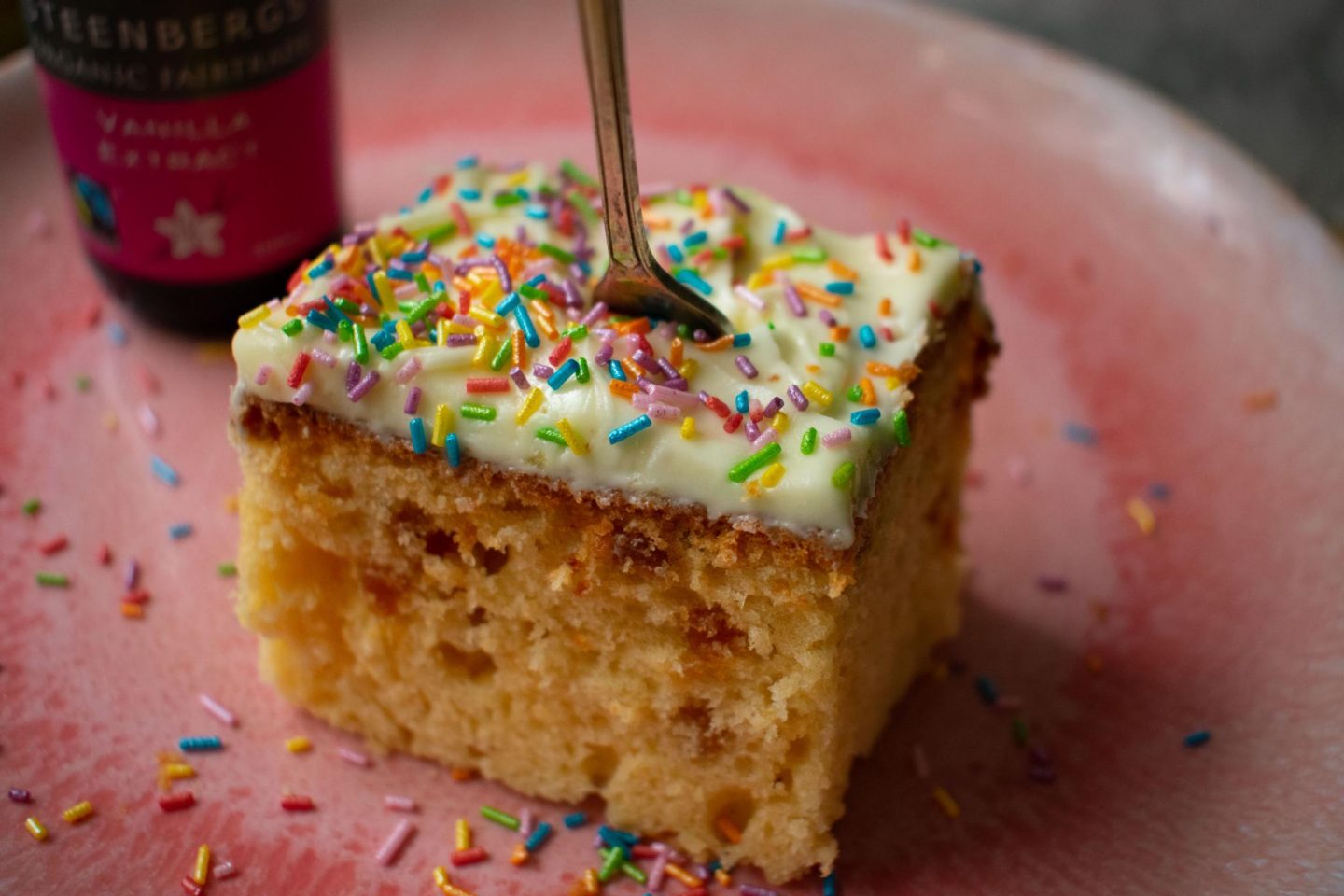 This vanilla sprinkle sheet cake is delicious, easy and has a special twist to it. The flavours are rich and developed from the addition of dried fruit to the sponge which has been soaked in vanilla extract. A real winner of a cake, perfect for any celebration.
Ingredients:
270g of plain flour
240g of brown /coconut sugar
1 teaspoon of baking powder
1/2 teaspoon of bicarbonate of soda
1/4 teaspoon of sea salt
50g of soft unsalted butter
200ml of almond milk
3 eggs
150ml of olive oil
A small handful of dried fruit, chopped up finely and soaked in 1 tablespoon of vanilla extract
1 tablespoons of vanilla extract
Up to 200g of vanilla buttercream
Sprinkles, for garnish
Method:
Preheat the oven to 180°C, grease and line your baking sheet with greaseproof paper, set aside. 
Whisk the flour, sugar, baking powder, bicarb, and sea salt together in a large mixing bowl.
Mix the softened butter into the dry mixture with a hand mixer on low speed until the butter is completely combined and the mixture has a sandy like texture, set aside.
In a separate medium-sized bowl whisk the milk, oil, eggs, and vanilla together until the ingredients are thoroughly combined and homogeneous.
Pour the wet ingredients into the flour and butter mixture and beat with the hand mixer until just a few streaks of flour remain. Finish mixing the batter with a silicone spatula and add in your soaked vanilla dried fruits. 
Pour the batter into the prepared pan and bake the cake for 25-30 minutes until the top of the cake springs back to the touch. Remove from the oven and cool completely on a rack before turning out and/or frosting. Finish with a generous flourish of sprinkles. Enjoy!