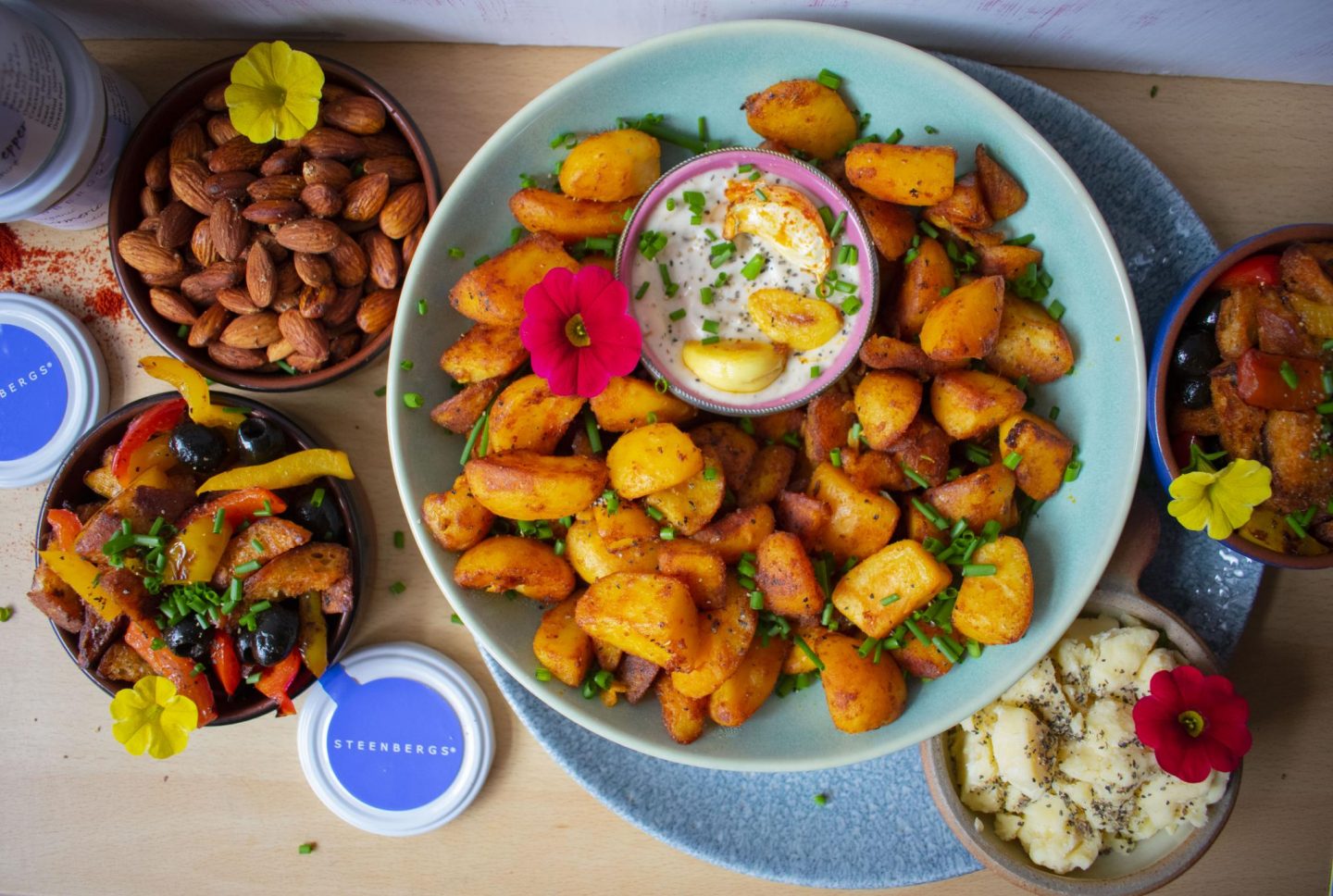 Let's head to Spain with our Veggie Tapas Trio, it's sure to tickle your taste buds. These little dishes are a perfect excuse to dine al fresco with a nice glass of white wine and some crumbled Manchego cheese on the side of these dishes.

Paprika-Spiced Almonds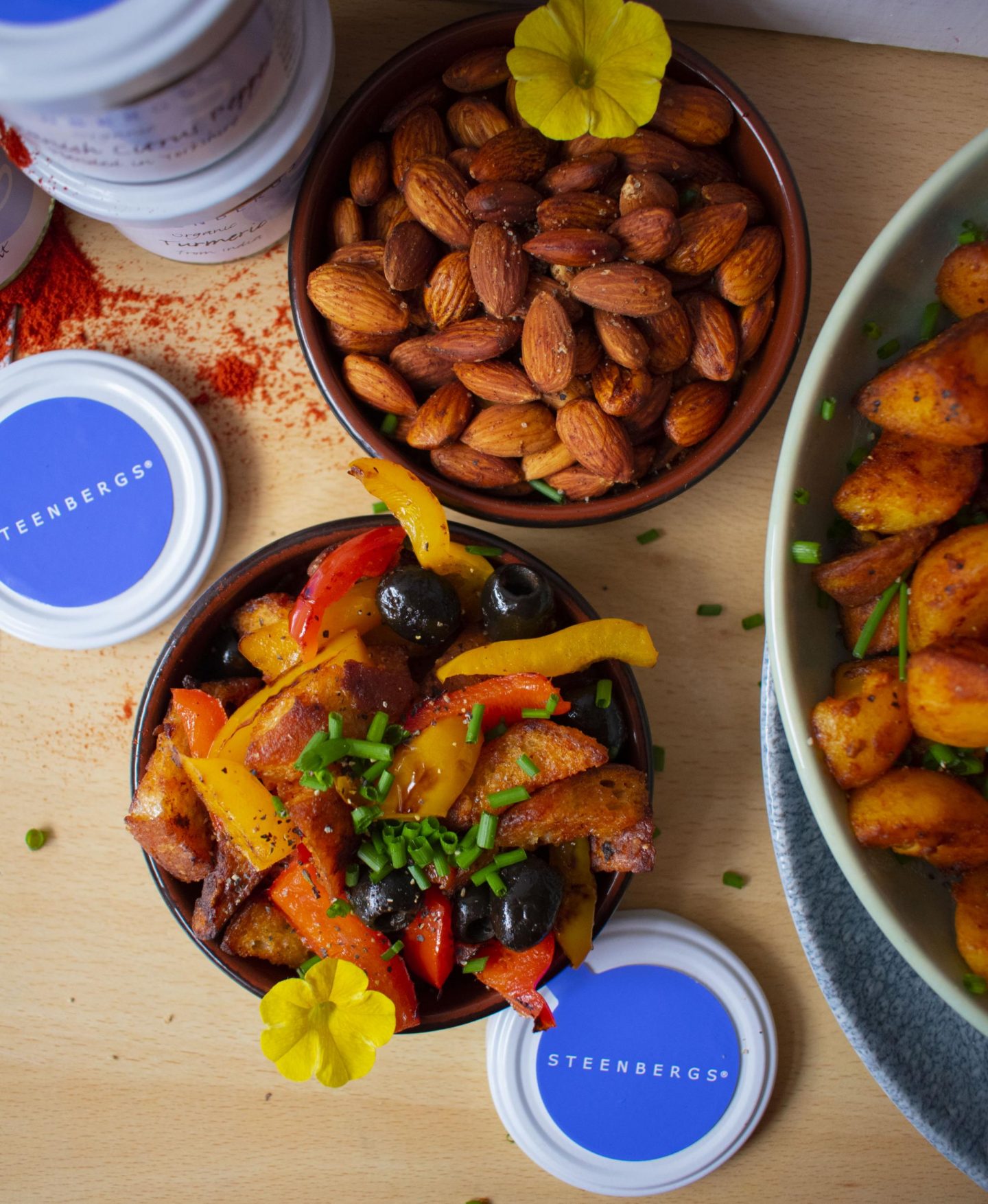 Ingredients:
600g of whole or blanched almonds, raw and unsalted
1/2 tsp of smoked paprika 2 tbsp of olive oil
1.5 tbsp of smoked sea salt

Method:
Preheat the oven to 200°C and line a baking sheet with greaseproof paper, set aside. Place the smoked sea salt and paprika in a mortar and grind with the pestle to a fine powder, you can also do this in a coffee grinder/mini spice blender if you wish.

Place the almonds on a baking sheet and toast in the preheated oven for 8-10 minutes, stirring occasionally, until golden and giving off a toasted aroma. Watch them after 7 minutes because they can burn quickly, pour into a heatproof bowl.

Drizzle over 1 tablespoon of olive oil and stir to ensure all the nuts are lightly and evenly coated. Add extra oil if necessary. Sprinkle with the salt and paprika mixture and stir again. Transfer to a small bowl, garnish with edible flowers if desired and serve at room temperature with a nice cool drink, enjoy!


Patatas Bravas with Roasted Garlic Dip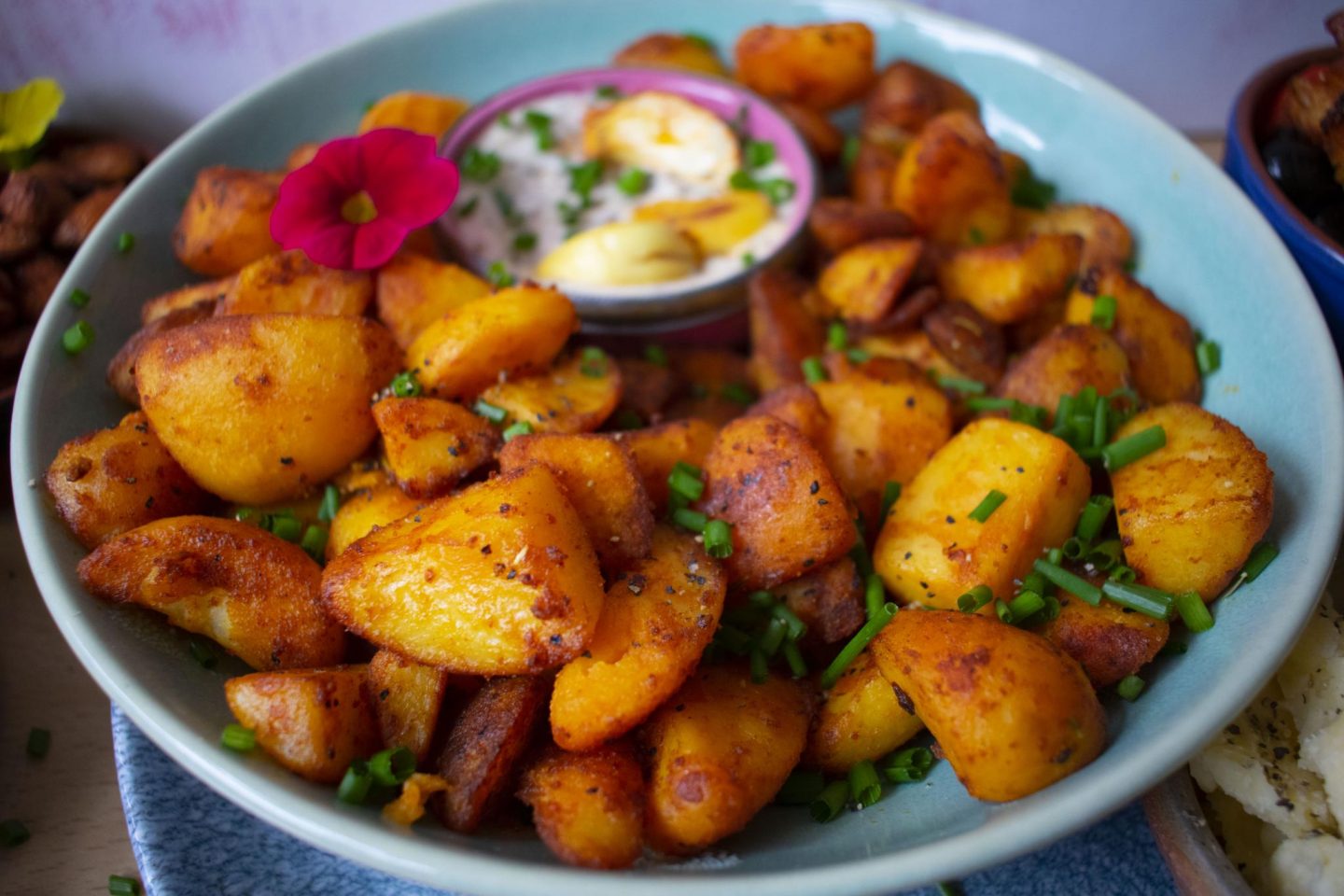 Patatas bravas are one of the most beloved Spanish tapas, thanks to their simple combination of fried potatoes and a flavourful sauce which we've chosen roasted garlic dip as the choice of pairing.  Make them at home with this easy recipe.
Ingredients:

4 medium starchy potatoes such as Desiree, Russet or King Edward potatoes, cubed into bite-size pieces and par boiled Olive oil, for frying A pinch of Spanish Citrus Pepper
1/2 tsp of ground turmeric
1/4 tsp of garlic powder
1 tsp of smoked sea salt/regular sea salt
A scattering of freshly chopped chives
For the roasted garlic dip:

4 garlic bulbs, separated into closed and roasted
4 tbsp of sour cream
2 tbsp of mayonnaise
A pinch of sea salt
A pinch of cayenne, optional
A pinch of Spanish Citrus Pepper

Method:
Start off by making your potatoes and heat the olive oil in a large skillet over a medium heat and add the potatoes and spices. Fry until crispy and golden.
Transfer the potatoes to a plate lined with paper towels to cool, and sprinkle with some extra salt to taste, set aside.
Peel your roasted garlic cloves, then place on a cutting board and sprinkle with a little salt. Mash well with a fork until smooth. Scrape into a bowl and stir in the sour cream and mayonnaise. Season to taste with salt, cayenne and Spanish Citrus Pepper.

Assemble the potatoes in a bowl and serve at room temperature with the roasted garlic dip. Enjoy!

Pan Fried Bread with Olives and Peppers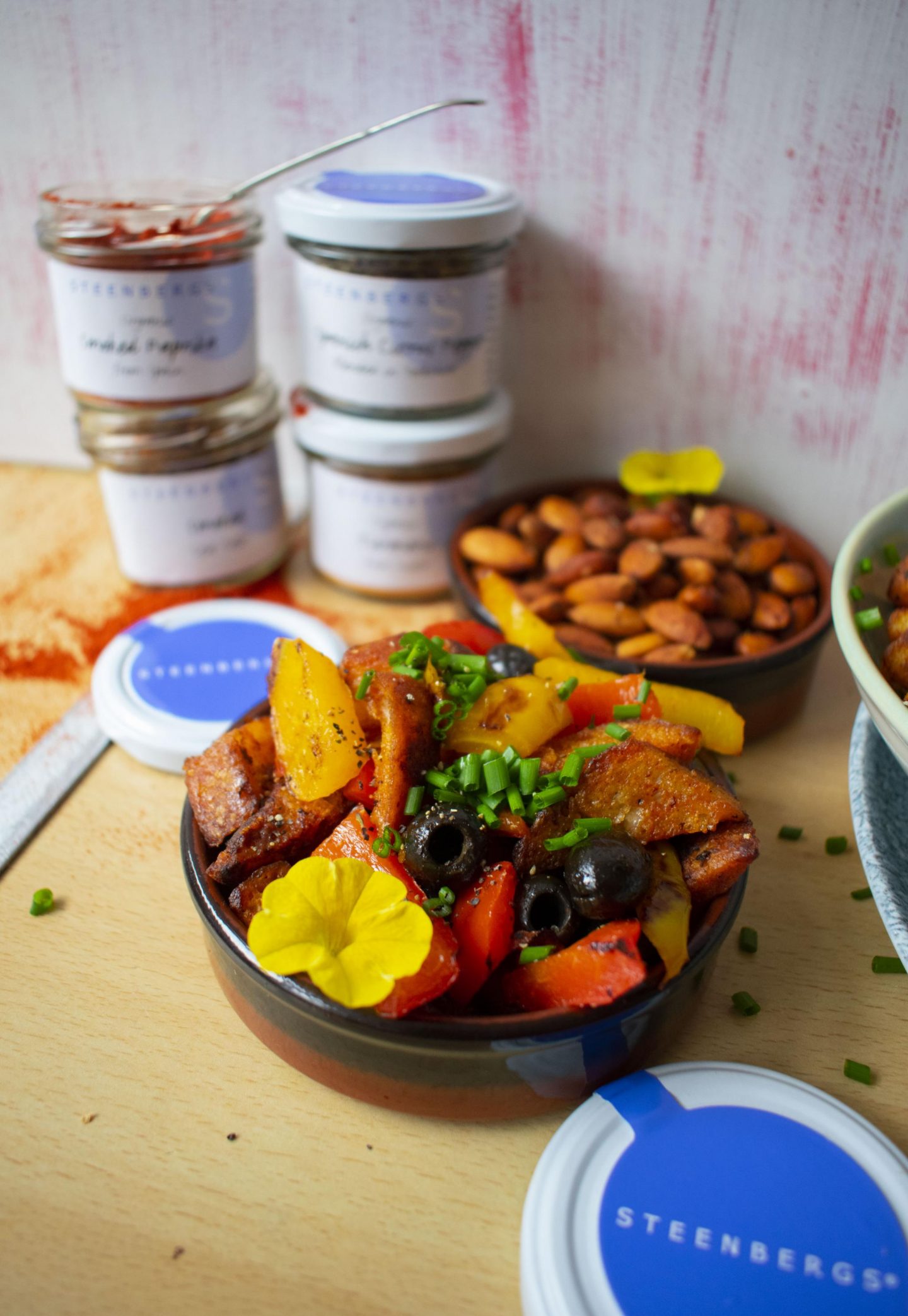 A super simple and speedy tapas dish and is the quickest of the three, perfect if you just fancy a little something with your drink of choice.

Ingredients:

2 bell peppers (red and yellow is a good choice here), sliced
A handful of black peppers
A sprinkling of fresh chives
A small hunk of stale bread such as ciabatta or sourdough, chopped up into bite size pieces
A small grating of Manchego cheese, optional
A pinch of Spanish Citrus Pepper 1/4 tsp of smoked paprika
1 tsp of smoked sea salt
2 tbsp of olive oil

Method:

Heat a skillet over a medium flame and heat your olive oil until it's very hot. Add in your stale bread and allow to crispen up for a couple of minutes.

Next, lower the heat to a medium flame and add in your olives and peppers and continue to fry for a further 5 minutes. Add in your spices and season to taste.

After a couple of minutes, the peppers should become tender and the bread a little softer but still crispy around the edges. If this has not happened yet, then give it a few more minutes.

Just before serving add in your grating of Manchego cheese and mix well so it melts evenly in the pan and coats the bread and veggies.

Serving in a small bowl and garnish with fresh chives and extra Spanish Citrus Pepper. Enjoy at room temperature.