Insanely delicious Biscoff Brownies are swirled with Biscoff Cookie Butter Spread and topped with Lotus Biscoff biscuits. Prepare to be seriously obsessed…can't stop eating them!! Very easy and takes hardly any time to whip up…
For the brownies
▢ 180g of unsalted butter cubed
▢ 250g of dark chocolate chips (or chopped chocolate)
▢ 180g of coconut/caster sugar
▢ 4 large eggs
▢ 120g of plain flour/gf plain flour
▢ 50g of unsweetened cocoa powder
▢ ½ tsp of sea salt
Topping
▢ 180g of Biscoff spread
▢ 10-15 Biscoff biscuits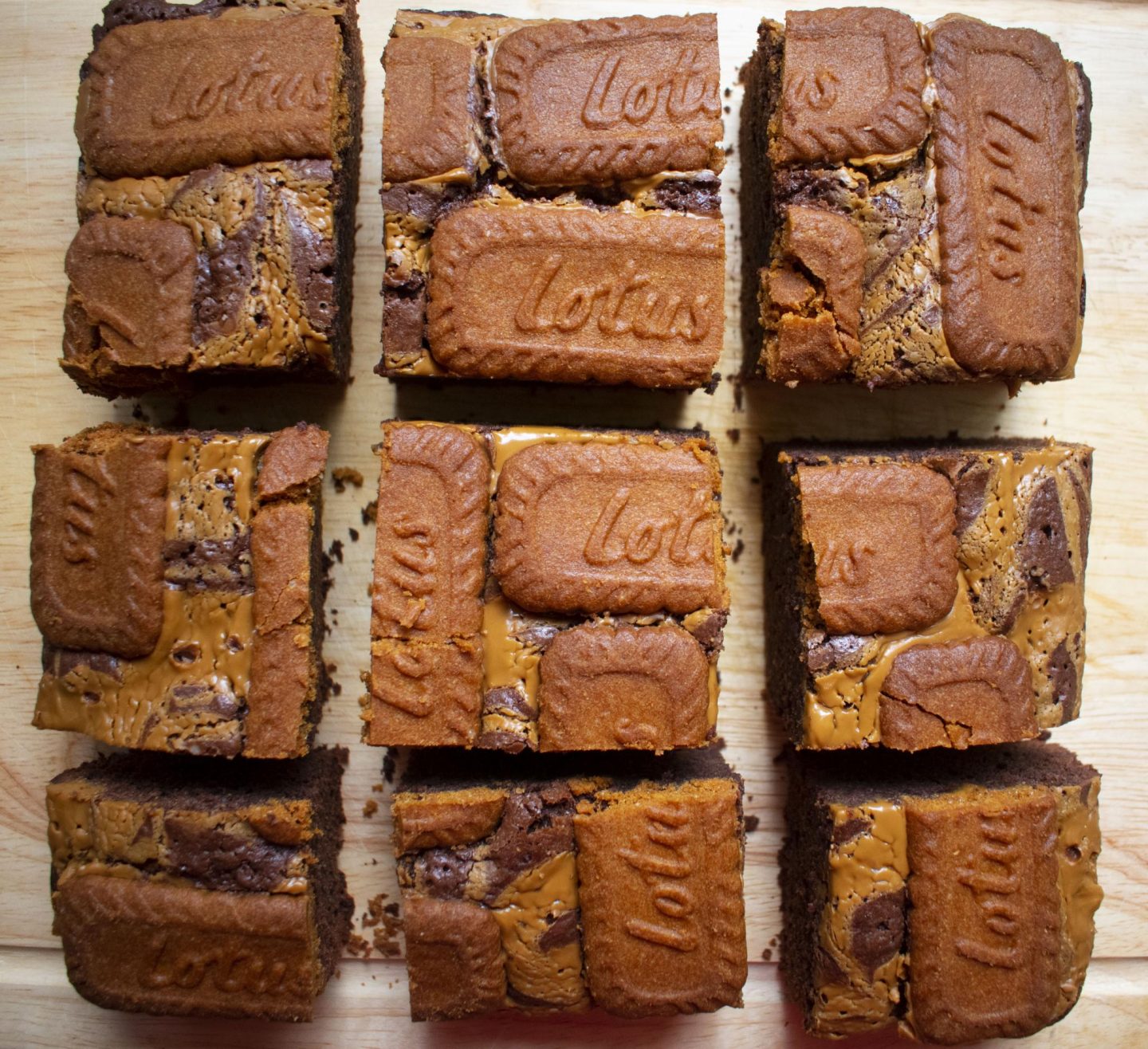 Method:
Preheat the oven to 180°C (350°F) 160°C (325°F) Fan Setting. Line a 9×9 inch brownie tin with baking paper letting the edges hang over the edge.
Put the chocolate and butter in a microwave-safe bowl and heat for 30 second bursts, stirring in between, until melted. Alternatively you can use the double boiler method: place the bowl over a saucepan of barely simmering water and the chocolate and butter to melt gradually.
Place the sugar and eggs in a large bowl and use a hand whisk to mix together until frothy.
Stir in the melted chocolate/butter mixture until thoroughly combined.
Sift in the flour, cocoa powder and salt. Use a spatula to fold the dry ingredients into the batter until no dry streaks remain. You should have a glossy thick batter at this stage.
Warm the Biscoff spread in the microwave for 20 seconds and stir until smooth. Drizzle over the brownie batter in three parallel lines and use a knife to swirl this into the batter.
Add the Biscoff biscuits, pressing them lightly into the batter so they stick but not too firmly that they sink to the bottom!
Bake for 25-30 minutes until the edges are set but the middle is still a little squidgy. 
Allow the brownies to cool before cutting, this will take about an hour. If you cut them straight out of the oven they are likely to fall apart – so be patient!
Remove the brownies from the tin using the paper lining to lift them out. Use a large serrated knife to cut the brownies into squares. Enjoy!!