Lokum, meaning mouthful perfectly encapsulates the meaning of Turkish Delight. I have been wanting to make lokum for many years but thought it was a hard and daunting process. Turns out, it's pretty easy and whilst it does take some time, having homemade lokum is really worth the effort. Yes, it contains refined sugar, there is no way around this but you know what? A little bit of what you fancy WILL NOT KILL YOU. You can cut the lokum to whatever size you like, so cut them into smaller cubes if you're weary of the sugar content.

🇹🇷 My recipe is however free from gelatine and dairy and its texture is similar to a jelly candy but really so much softer that it's not really jelly-like at all, it's just the closest thing I can compare it to. And so smooth!!  The flavour is unique and bright from the lemon juice, and lemon extract and rosewater that I used. Because my lokum uses less sugar than the original recipe and no gelatine, they will actually weep. You should store them packed in the extra icing sugar, but even so, they will drink that up…so what do I say to counter this?…"Eat them quickly!"

Ingredients: 700ml of chilled water, divided 1 tablespoon of freshly squeezed lemon juice800g of granulated sugar1 teaspoon cream of tartar @steenbergsltd 120g of cornflour 1 tablespoon of rosewater OR organic lemon extract Steenbergs Organic Fairtrade spices, herbs, seasonings and ingredients   A few drops of pink food colouring A small handful of pistachios, chopped up
For dusting:150g of icing sugar plus extra for the coming days 50g of cornflour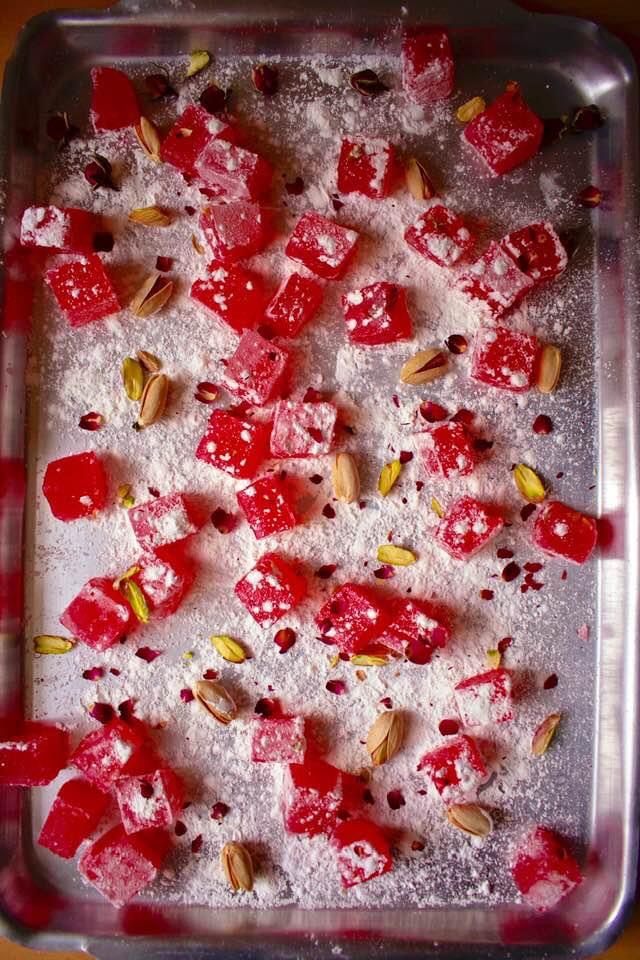 🇹🇷🤗👩🏻‍🍳1 Method:
1. Oil an 8" square pan, then line the bottom and sides with parchment paper. Generously oil the greaseproof paper; set aside.
2. In a large heavy duty saucepan, combine half of the chilled water, the lemon juice, and sugar. Bring to a rapid boil while stirring and continue to cook over medium heat, stirring frequently, until the mixture reaches 115C (soft ball stage). Remove from heat and set aside.
3. In a large saucepan, combine the remaining chilled water, the cream of tartar, and the cornflour. Bring to a boil, using your whisk to beat it on low speed the entire time. It will get thick very quickly. It will be very milky and opaque in the beginning, but will get more clearish as time goes on, about 5 minutes or so.
4. Once it is a thick gluey paste and turns more and more clear, add in a little of the sugar syrup and beat with the mixer until blended. Scrape down the sides of the pan, and add a bit more at a time, beating well after each addition until smooth. When all the syrup is added, it will be thick but fluid. Turn on the heat again and bring to a gentle boil. Turn heat to low and simmer very, very gently for about an hour, stirring frequently (I stirred every 1-3 minutes). It will turn amber in colour. Add in the rosewater or lemon extract, chopped pistachios and food colouring if desired, and mix well.
5. Pour into your prepared pan/dish and shake the pan to make sure the mixture reaches all the corners. Allow to sit at room temperature until set, about 3-5 hours, or overnight for best results.
6. Combine the icing sugar and cornflour for dusting and sift them together into a large bowl. Sift some on top of the pan of Turkish Delight. Sift some over a surface, then turn the Turkish Delight upside down onto prepared surface.
7. Carefully remove the paper and sift some icing sugar over the top. Using a sharp knife or pizza cutter, cut the Turkish Delight into small squares. Put the squares into the bowl of icing sugar and toss them around every so often. Once all are added, toss them around really well to make sure they are well coated with the sugar/cornflour mixture.
8. To store, place Turkish Delight in a container with an airtight lid, and pour the sugar/cornflour mixture over the top to keep them from weeping right away or sticking together.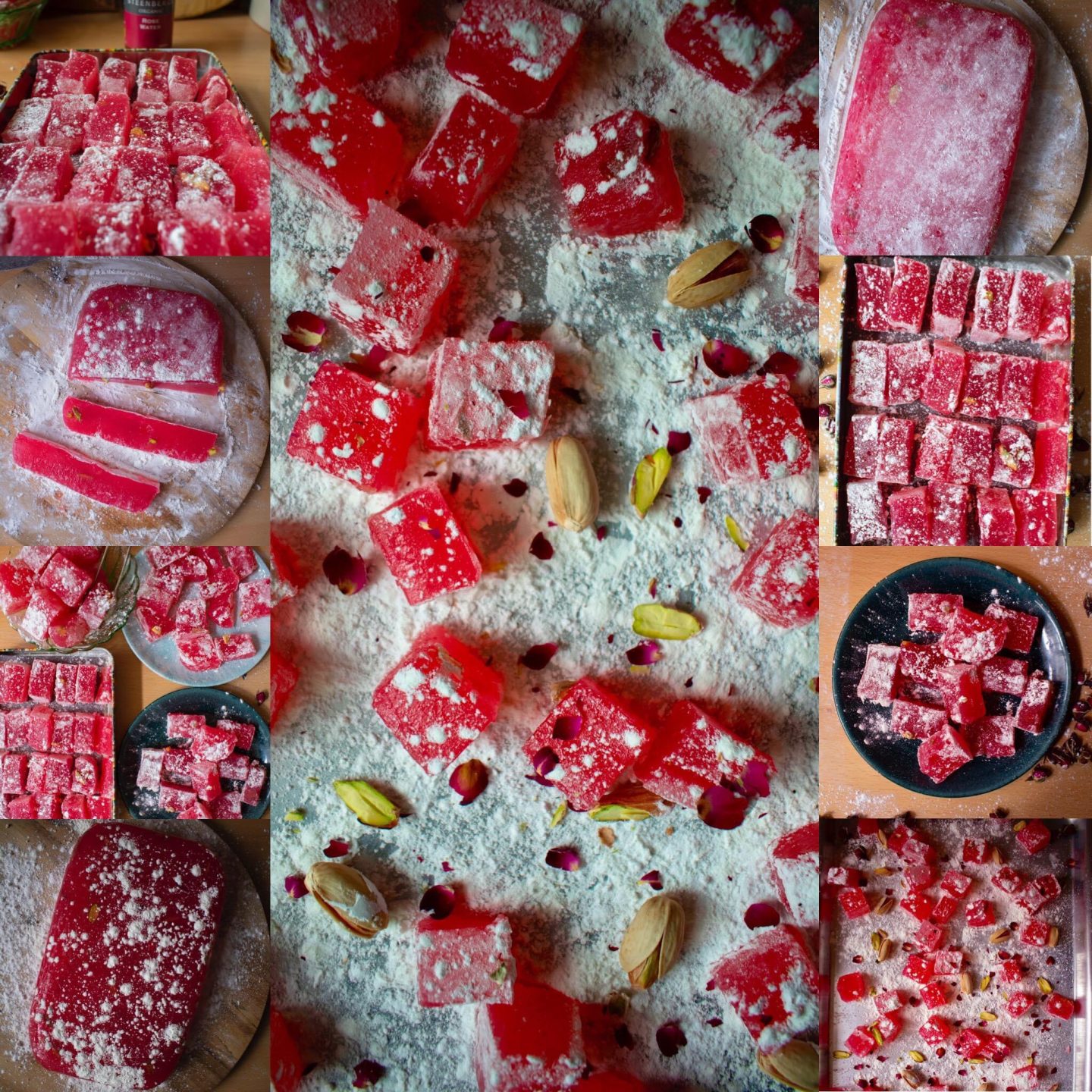 Afiyet Olsun!
Niki 🍡🌹🍋🇹🇷