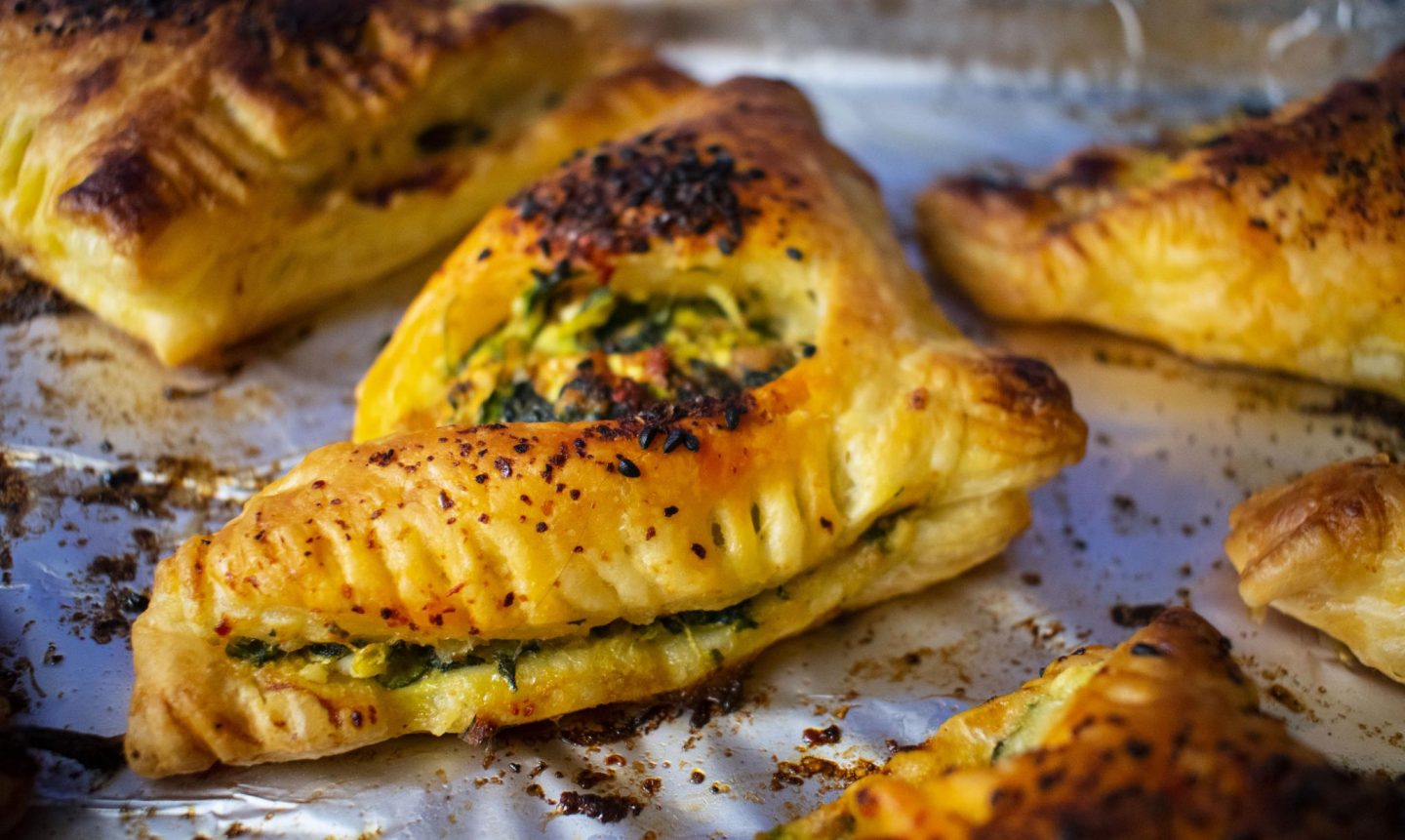 Ahhhh…Spanakopita, the classic Greek savory pie, is elegant and impressive, yet SOOO easy to make, seriously. The star ingredient is spinach and feta but I feel it also needs the right spices to really elevate the dish.
This pie tastes best when made with fresh spinach, though you could also use the same amount of frozen spinach — just be sure to thaw completely and squeeze out all the excess water before using…cause you know, no one wants a soggy spanakopita!!
Ingredients:
2 tablespoons extra-virgin olive oil
1 finely chopped white onion
5/6 spring onions, trimmed and finely chopped 
1 teaspoon of garlic powder
1 teaspoon of onion powder
A large pinch of Mediterranen salt
A pinch of dried oregano
A large bag of spinach, washed and dried thoroughly
2 large eggs
200g of feta, crumbled
100g of unsalted butter, melted
A sheet of puff pastry, rolled out and cut into equal squares 
Method:

In a large pot, heat oil over a medium heat. Add in your onion, spring onions and garlic powder, season with your spices, stirring occasionally, until softened, 5 minutes.
In batches, stir in spinach until wilted, about 3 minutes. Season with salt and pepper again at this stage and taste your mixture at this stage.

Strain spinach mixture through a sieve, pressing out excess liquid to prevent a soggy crust. Transfer to a large bowl and cool for 5 minutes. Add your eggs and stir until combined.
Heat oven to 200 degrees or gas mark 6. Lightly grease a large sheet pan (2 inches deep) with butter. Lay your puff pastry squares in the sheet pan and using a pastry brush, brush the squares with the melted butter.

Spread your spinach mixture evenly in the middle of each puff pastry square and repeat with the rest of the puff pastry squares. Fold over diagnolly and crimp the edges with a fork. Brush the tops with more melted butter and sprinkle Alleppo chilli flakes on top and some black sesame seeds.

Bake until crust is lightly golden and filling is heated through, 50 to 60 minutes. Serve warm!