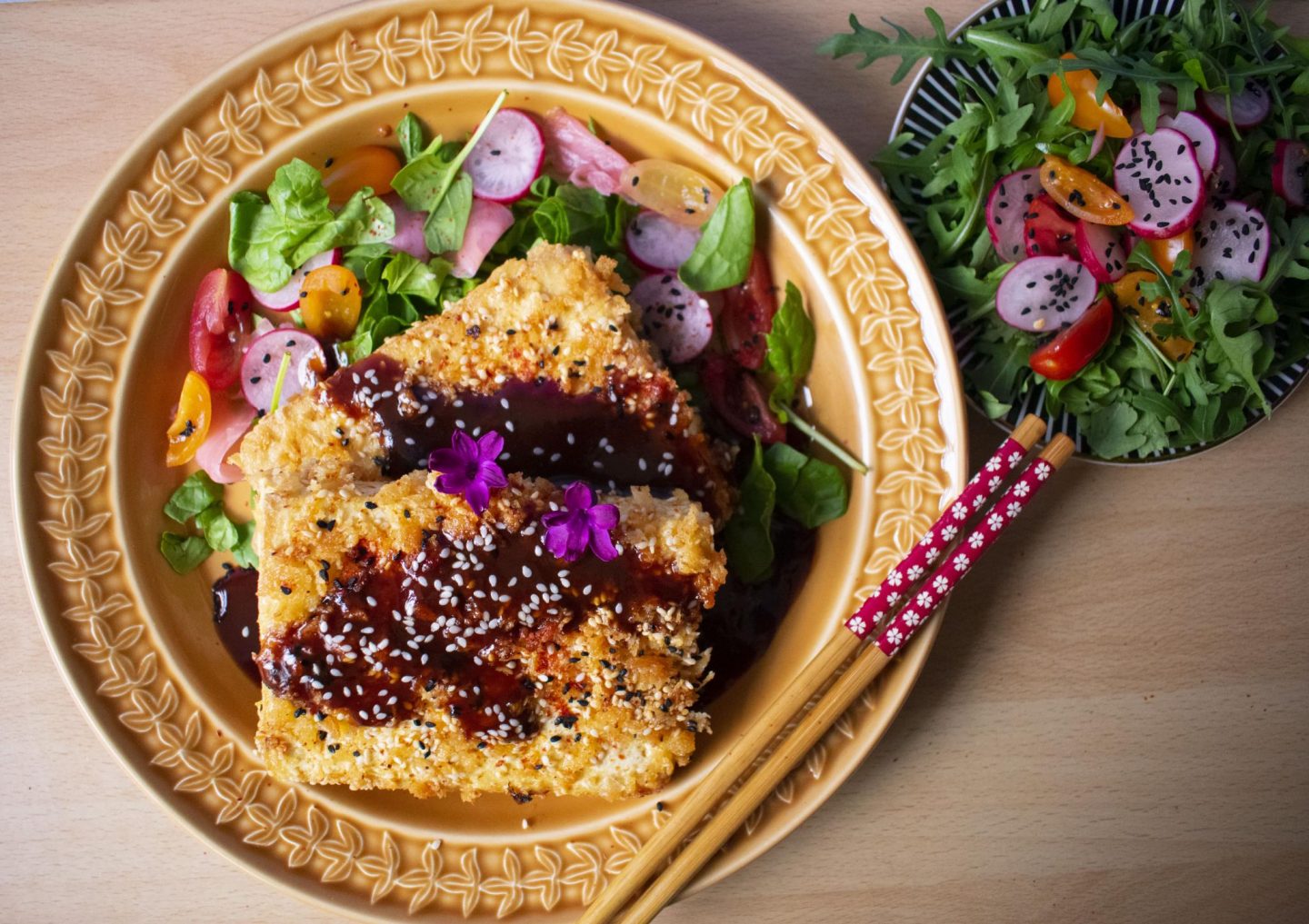 I have a lot of love for this dish. Tofu tonkatsu is one of those dishes you just have to make…it's funny because tonkatsu actually means 'pork cutlets' but since I wanted a lighter option, this dish is really tasty with tofu as well. It's coated with panko and topped with the traditional fruity and zesty sauce. It's especially good paired with a crunchy salad. If you're not a fan of tofu, try it with thin slices of seitan or tempeh or of course, pork!

Ingredients:

For the Sauce:

50g of ketchup
30ml of tamari
2 tablespoons agave nectar
2 tablespoons vegan Worcestershire sauce
1 tablespoon unsweetened applesauce (optional)
1 teaspoon of mustard

For the Tofu:

300g of extra-firm tofu, drained, pressed, and cut into 1/2-inch slices, then cut each slice in half, lengthwise
50ml of unsweetened almond milk
50g of cornflour
100g of bread crumbs/ panko breadcrumbs
Olive oil or coconut oil, for frying
Black and white sesame seeds

A scattering of Niki's Korean Blend

A pinch of Alleppo Chilli Flakes

Method:

For the sauce:

Simply combine the ketchup, soy sauce, agave, Worcestershire sauce, applesauce (if using) and mustard in a bowl. Stir to mix well. Set aside.
For the tofu:

Place the almond milk, cornflour, and breadcrumbs/ panko crumbs in three separate shallow bowls. Dip the tofu slices into the almond milk, then dredge them in the cornflour and then back into the almond milk, followed by dredging them in the panko crumbs and the spices.
Heat a thin layer of oil in a large skillet over medium-high heat. Add the tofu to the skillet, in batches if needed. Cook until golden brown, turning once, about 4 minutes per side. Do not overcrowd. Keep warm in a low oven until all the tofu is cooked. Arrange a bed of crunchy salad and top with the tofu, Spoon the sauce over the tofu with extra sesame seeds and serve.