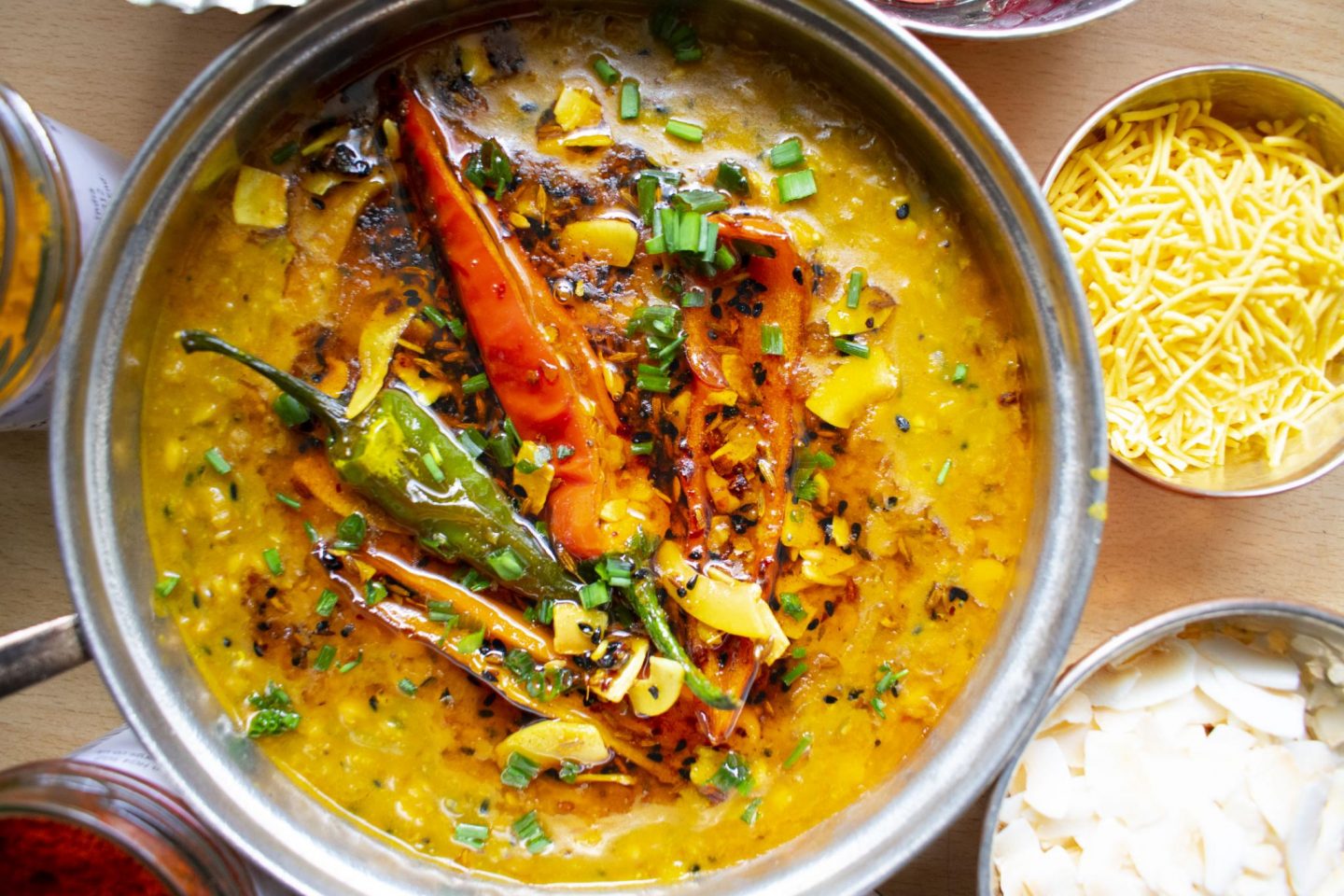 Shahi Daal is a creamy decadent blend of simmered mixed lentils, golden onions, ginger, turmeric, curry powder and black pepper. It's finished off with a crackly tempering of ghee-sizzled garlic and chillies for a crescendo of flavour. Lip-smackingly good!
Ingredients:

75g of channa daal
50g of red masoor daal
50g of toor daal
25g of urad daal
2 tbsp of ghee
1 tbsp of freshly grated ginger1 tsp of mild curry powder 
1 medium onion, grated
1 large tomato finely chopped
850ml of hot water
1/2 tsp of chilli powder1/2 tsp of smoked paprika 
1/2 tsp of ground turmeric
1/2 tsp of ground black pepper
1 1/2 tsp of sea salt
For the tadka:
3 tbsp of ghee
1 tsp cumin seeds
2-4 fresh green/red chillies slit lengthways
4 cloves garlic finely sliced1 tsp of nigella seeds
To garnish:A scattering of toasted coconut chips 
1 tbsp chopped chives 

Method:

1. Mix all the daals in a bowl. Wash 4-5 times in cold water or until the water runs clear. Drain well.
2. Place the lentils in your instant pot or a deep pot. Add the ghee, onions and salt in a separate deep pan. Cook, stirring all the time until the onions have browned, about 10 minutes. Add the ginger, tomatoes, turmeric, mild curry powder, smoked paprika powder and black pepper. Mix well and cook for a further minute.
3. Tip the drained daal into the pot and stir very well. Pour in the water and bring to a boil.
4. Place the lid on the pot and cook on a high flames for around 20 minutes. Keep checking the pot sporadically to prevent the daal settling and burning at the base of the pan.
5. After 20 minutes, carefully life the lid from the pan and remove the lid. Add the chilli powder and season with sea salt to taste, if required. Whisk the daal with a hand-held whisk for 90 seconds, until it's creamy, but still coarse in texture. Beating the daal gives it a wonderful texture. 6. Keep the daal over a low heat while you prepare the tadka. In a separate small pan, heat the ghee for the tadka. Add the cumin seeds, garlic, green/red chillies and cook, stirring all the time until the garlic has browned very slightly and the chillies have become blistered on the outside.
7. Immediately pour the sizzling tadka over the hot daal. Take care not to splash yourself while you do this! Sprinkle the toasted coconut chips and fresh chives. Serve piping hot with rice and roti, naan or paratha, mmmm!