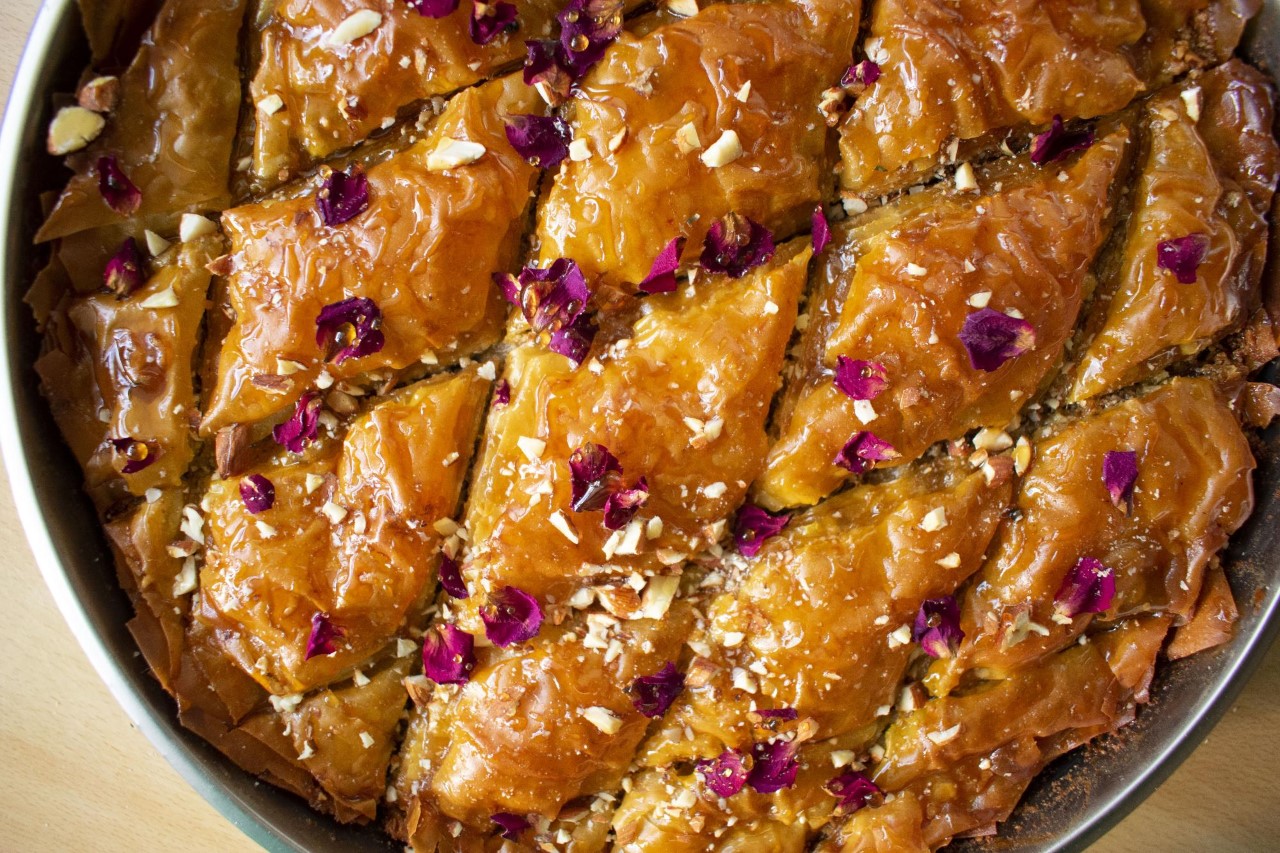 This baklava is pure pleasure…a pleasure to make, a pleasure to eat, and a pleasure to share! 

Ingredients: 

2-3 packs (roughly 15-25 sheets) of filo pastry – (2x270g pack)
300g of ground and blanched almonds with 200g of brazil nuts/cashew nuts/pistachios
4-6 tbsp of orange blossom syrup (see below)
250g of unsalted butter, melted
Dried rose petals A small handful of finely chopped almonds, lightly toasted 
For the syrup:
200g of light brown sugar 
400ml of water 
1 tbsp of lemon juice
1 tsp of orange blossom water 
1/4 tsp rosewater

Method:

1. Preheat your oven to 160C and prepare the syrup first. Place the sugar and water in a small saucepan and bring to a boil. Allow the syrup to boil 2-3 minutes without stirring (stirring causes the sugar to crystallize). Add the lemon juice and continue boiling for 10 minutes until it is a light, syrupy consistency that coats the back of a spoon. Remove from heat and stir in the orange blossom and rose waters. Set aside.

2. Remove the filo pastry from its packaging, and place a clean, damp cloth on top to keep them from drying out. Cut the stack of filo to fit the size of your baking tin – this makes it much easier to stack the sheets perfectly without overlapping.

3. Place your first sheet in the tin and brush all over with melted butter. Place another sheet on top and brush with butter. Continue stacking and brushing your sheets generously with butter until you have 5 sheets on the bottom of the tin. 

4. Pour the almond nut mixture on top of the filo stack, and spread it out evenly throughout the pan. Repeat the buttering and layering process with around 10 more sheets on top of the almond mixture.

5. Using a sharp knife, carefully slice the raw baklava into diamond shapes making sure to slice all the way to the bottom of the baking dish. Bake for 50-60 minutes, or until the tops of the baklava have puffed and are golden brown.

6. Pour the syrup all over the hot baklava (hear it sizzle!). Sprinkle the chopped almond and rose petals on top. Set aside to cool and hold its shape. Serve at room temperature. Mmmm!