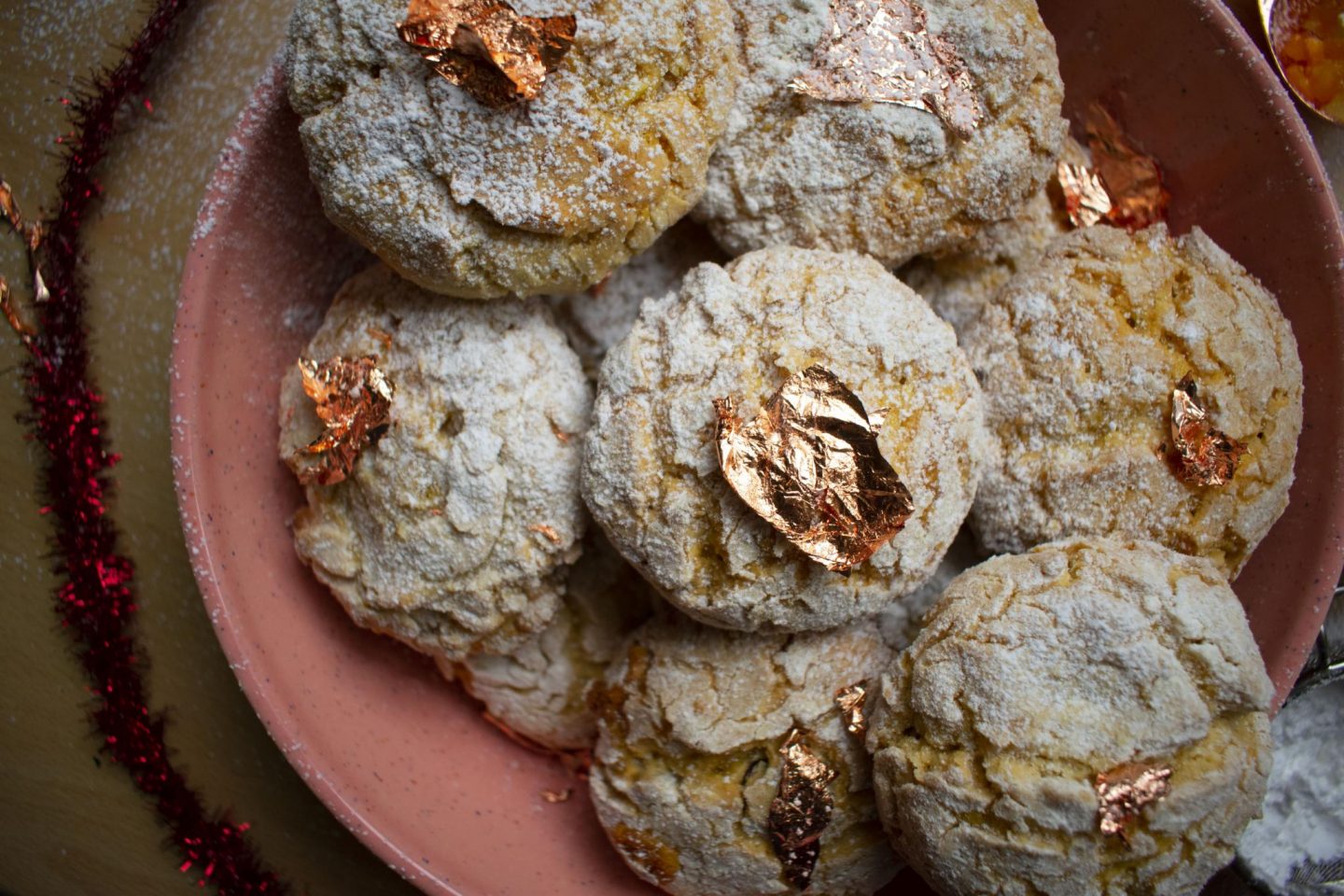 Ingredients:
320g gluten-free self raising flour
1/4 tsp of xanthan gum
1 tsp of baking powder
80g of butter, very cold and chopped
60g of light brown/coconut sugar
80g of ground almonds
150g of golden marzipan, grated
100g of candied peel
100g of sultanas
1 large egg
150ml of almond milk
3 tsp of fresh lemon juice
The zest of 1 orange and 1 lemon
2 tsp of almond extract @steenbergsltd
1/2 tsp of ginger powder @steenbergsltd
Icing sugar, for dusting
gold leaf/copper leaf, for decoration
Method:
Preheat your oven to 200C and prepare a baking sheet with greaseproof paper, set aside.
Place your gluten free self raising flour, baking powder, ginger powder and xanthan gum in a bowl. Add your cold butter to the flour and rub it in with your fingers until it resembles breadcrumbs.
Stir in your sugar, ground almonds, grated golden marzipan and all your dried fruit and zest.
Gently warm your milk in a jug then add your lemon juice and allow to stand for 1-2 minutes – it should curdle a little and will act like buttermilk.
Next, add in your egg and almond extract to your 'buttermilk' mixture and beat together so your egg is combined.
Make a well in the middle of your dry mixture. Pour in the milk/egg mixture and work it in using a metal fork or knife. Keep working it till it forms a dough, it might be sticky at this stage but this is normal so don't panic.
Dust your hands in a little flour and your work surface. Take a doughball sized amount of your mix and roll it into slightly flattened balls. Place these on your prepared tray with small gaps between each and bake in your preheated oven for 12-15 minutes or until golden.
Remove your stollen cookies from the oven and allow to cool briefly on the tray before transferring to a cooking rack.
Dust with icing sugar and decorate with gold/copper leaf, enjoy!!