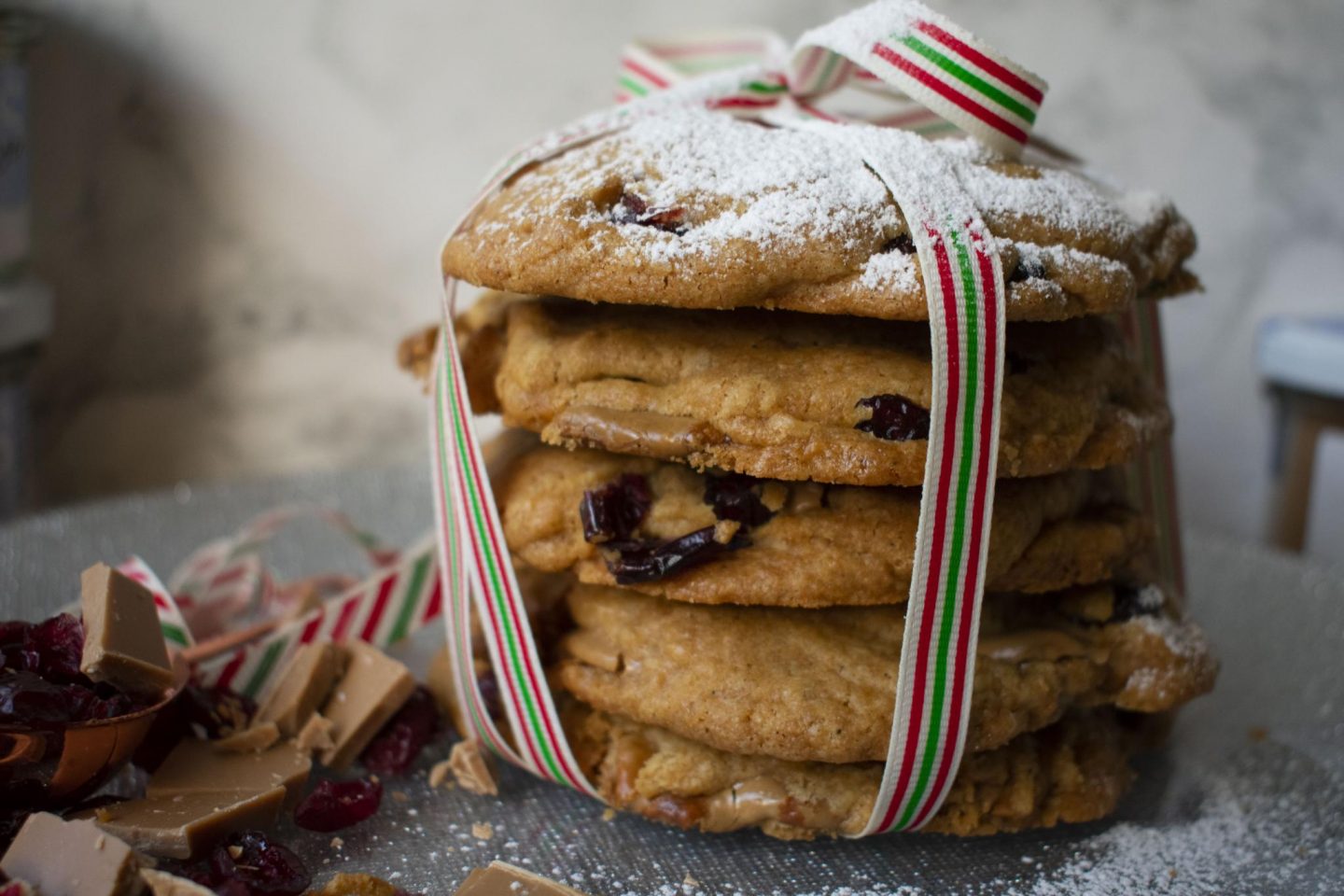 Caramelised white chocolate, cranberries, warming ginger and cinnamon…the perfect Christmas cookie with every bite. The only challenge here is to stop eating them all in one sitting! You have been warned…

Ingredients: 
200g of unsalted butter
50g of dark brown sugar 
100g of light brown sugar or coconut sugar 
1 large egg and 1 egg yolk, at room temperature
2 teaspoons of vanilla extract 
1 tsp of ground cinnamon 
1/2 tsp of ground ginger 
250g of gluten free/ regular plain four 
1 teaspoon of cornflour 
1 teaspoon of bicarbonate of soda 
1/2 teaspoon of smoked sea salt 
2 tablespoons of almond milk 
150g of caramelised white chocolate, chopped up 
120g of cranberries 
Icing sugar, to decorate 
Method:
Melt the butter over medium heat and stir or whisk constantly. Once melted, the butter will begin to foam. Keep stirring/whisking. After 5-7 minutes, the butter will begin browning and you'll notice lightly browned specks begin to form at the bottom of the pan. It will have a nutty aroma. Once browned, remove from heat immediately and pour into dish to cool down completely. 
Once cooled, add the brown butter into a large bowl (or the bowl of your stand mixer). Using a silicone spatula or stand mixer fitted with a paddle attachment, beat the chilled brown butter for 1 minute on medium speed until completely smooth and creamy. Add the sugars and beat on medium high speed until light in colour and combined, about 2 minutes. Beat in the egg, egg yolk, and vanilla extract on a high speed. Scrape down the sides and bottom of the bowl as needed.
In a separate bowl, whisk the flour, cornflour, bicarb, the spices and smoked sea salt together until combined. On a low speed, slowly mix into the wet ingredients until combined, then beat in the milk on medium speed. The cookie dough will be thick. Add the caramelised white chocolate and cranberries and mix on low for about 5-10 seconds until combined. Cover the dough and chill for at least 2-3 hours. Chilling is mandatory for this cookie dough or else the cookies will over-spread! 
Remove the cookie dough from the refrigerator and allow to sit at room temperature for 10 minutes as you preheat the oven. This makes the cookie dough easier to scoop and roll. (If the cookie dough chilled longer than 3 hours, let it sit at room temperature for about 30 minutes.)
Preheat the oven to 170°C. Line two large baking sheets with greaseproof paper or silicone baking mats. Set aside.
Once chilled, the dough may be slightly crumbly, but will come together if you work the dough with your hands as you roll into individual balls. Scoop and roll dough, about 1.5 tablespoons of dough each, into balls.
.Bake the cookies for 10-12 minutes until slightly golden brown around the edges. The baked cookies will look soft in the middle when you remove them from the oven. Allow to cool for 5 minutes on the cookie sheet. If the cookies are too puffy, try gently pressing down on them with the back of a spoon. After 5 minutes, transfer your Christmas cookies to a cooling rack to cool completely and dust with icing sugar, if desired. Enjoy!