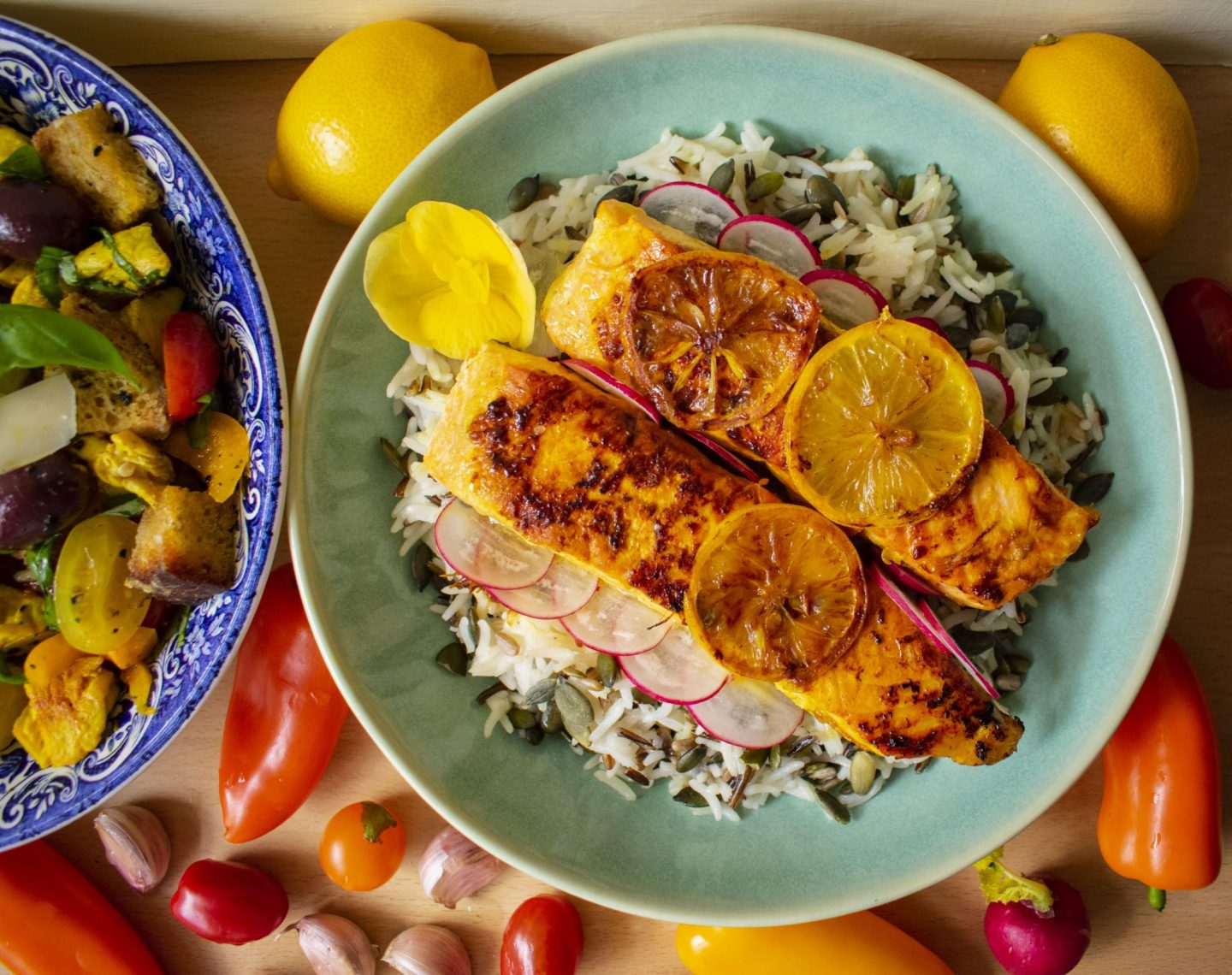 Aside from the fact that salmon is of the good-for-you Mediterranean diet foods, it's a beautiful, tasty fish that makes a "fancy" dinner in a snap. Salmon is also a hefty, fatty, robust fish, it can stand up to big bold flavours without being overwhelmed. In fact, salmon needs big bold flavours. That's where our lip smacking lemon-garlic sauce comes in! This salmon is just perfect on a bed of steamed jasmine and wild rice studded with pumpkin and sunflower seeds. Perfection! 

For the Salmon:
2 salmon fillets
A big pinch of sea salt
2 tablespoons of extra virgin olive oil
½ a lemon, sliced into rounds
For the Lemon-Garlic Sauce:
The zest of 1 large lemon
The juice of 2 large lemons
3 tbsp of olive oil
3 garlic cloves, minced finely
1 tsp of sweet paprika
½ tsp of black pepper
To serve: 
Steaming basmati and wild rice cooked to packet instructions and a sprinkling of sunflower and pumpkin seeds whilst the rice is still warm 2 radishes, thinly sliced Edible flowers, to decorate (optional)
Method:
Preheat your oven to 180C and make the lemon-garlic sauce. In a small bowl or measuring cup, mix together the lemon juice, lemon zest, extra virgin olive oil, garlic, paprika and black pepper. Give the sauce a good whisk.
Prepare a baking pan with a large sheet of greaseproof paper, big enough to fold over itself. Brush the top of the greaseproof paper with the extra virgin olive oil.
Now, pat the salmon fillets dry and season well on both sides with sea salt. Place it on the lined baking tray. Top with lemon garlic sauce (make sure to spread the sauce evenly) and lemon slices on top. 
Fold the greaseproof paper over the salmon (seam-side up). Bake for 15 to 20 minutes until the  salmon is almost completely cooked through at the thickest part (cooking time will vary based on the thickness of your fish. 
If your salmon is thinner, check several minutes early to ensure your salmon does not overcook. If your piece is very thick, 1 ½ or more inches, it may take a bit longer.)
Carefully remove from the oven and open the greaseproof paper to uncover the top of the salmon.  Place under the grill setting briefly, about 3 minutes or so. Watch closely as it grills to make sure it doesn't overcook. 
Serve right away on a bed of cooked and steaming rice. Enjoy!