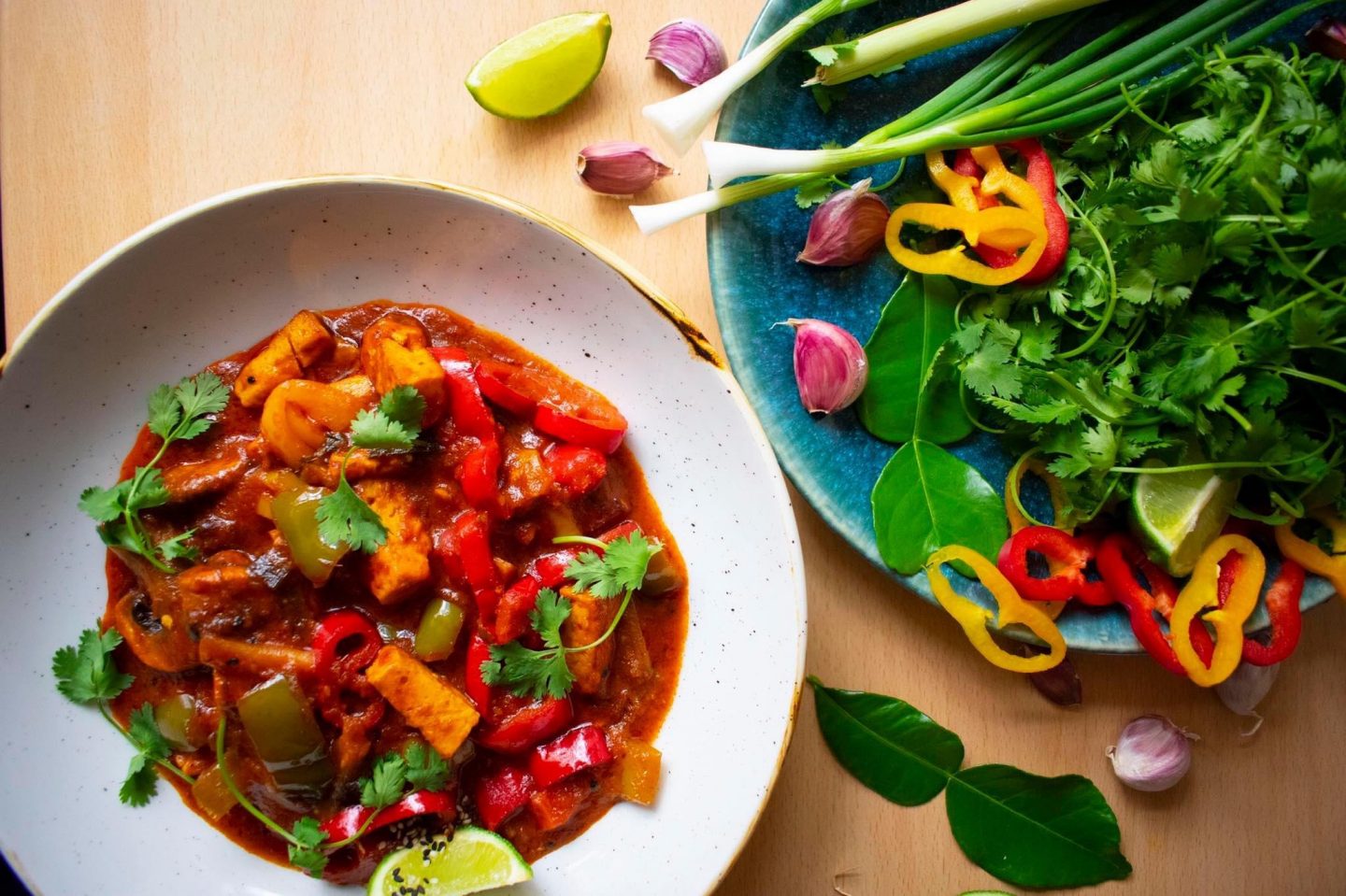 Rich and savoury, this Thai red veggie curry is the most flavourful homemade version you have ever had. It tastes just like the restaurant-version but don't take my word for it, try it yourself! 🤗

🇹🇭Ingredients:

For the sauce:

1 white onion, roughly chopped 1 teaspoon of lemongrass @steenbergsltd1 to 2 red chilies, deseeded (or 1/2 to 1 teaspoon of cayenne pepper, or 2 to 3 teaspoons Thai chili sauce)2 cloves of garlic1 teaspoon of minced ginger 1 teaspoon of galangal powder @steenbergsltd 1 teaspoon ground cumin @steenbergsltd 3/4 teaspoon ground coriander@steenbergsltd 1/4 teaspoon ground white pepper@steenbergsltd 2 tablespoon of fish sauce (or for vegetarians 2 tablespoons soy sauce, plus salt to taste) 1 tablespoon of mild paprika powder 1 to 3 tablespoon of coconut milk (depending on how thick you want the paste; reserve remaining coconut milk for cooking the curry)The juice of 1 lime

For the curry:

A tin of coconut milk, 400ml2 tablespoons of vegetable oil A handful of veggies, I went for bell peppers, mushrooms and tofu cubesA handful of sliced spring onionsFresh coriander, for garnish
🇹🇭 Method:
Blitz all your sauce ingredients in a food processor to create your fragrant Thai paste. If too thick, add a little more coconut milk to help blend ingredients.
Note that it will taste very strong at this point, but will mellow when you add your curry ingredients plus remaining coconut milk. Also, it will turn a stronger red color once it is cooked, bringing out the red chilli colour.
Next, in a large deep pan heat your oil over a medium heat and add in 1 tablespoon of your red thai curry paste. Fry for a couple of minutes or until the aromas start to waft out of the pan.
Add in your coconut milk and mix well, forming the base of your curry. Allow to simmer for 10 minutes.
Now add in all your vegetables and turn the heat down on your curry and then allow to cook for a further 10-15 minutes, taste for seasoning, garnish well and enjoy right away!

🍛🇹🇭🥰🍛🇹🇭🥰