Well, where to begin with these nuggets of heaven? Because that is what they are. FULL OF FLAVOUR. Perfect for the festive season!! These beauties also feature my Korean Blend which you can purchase from Steenbergs and Amazonuk.
Really hope you guys give this one a go, the sticky, sweet, tangy glaze from the gochujang (you can buy this paste in most supermarkets now and online, comment below for more information!) just makes this dish complete. Yes, I have also named this dish as being a Korean style dish because I would never be able to do an exact recipe and I respect that, so it's inspired by the flavours of Korea.
https://steenbergs.co.uk/nikis-korean-spice-blend-nik001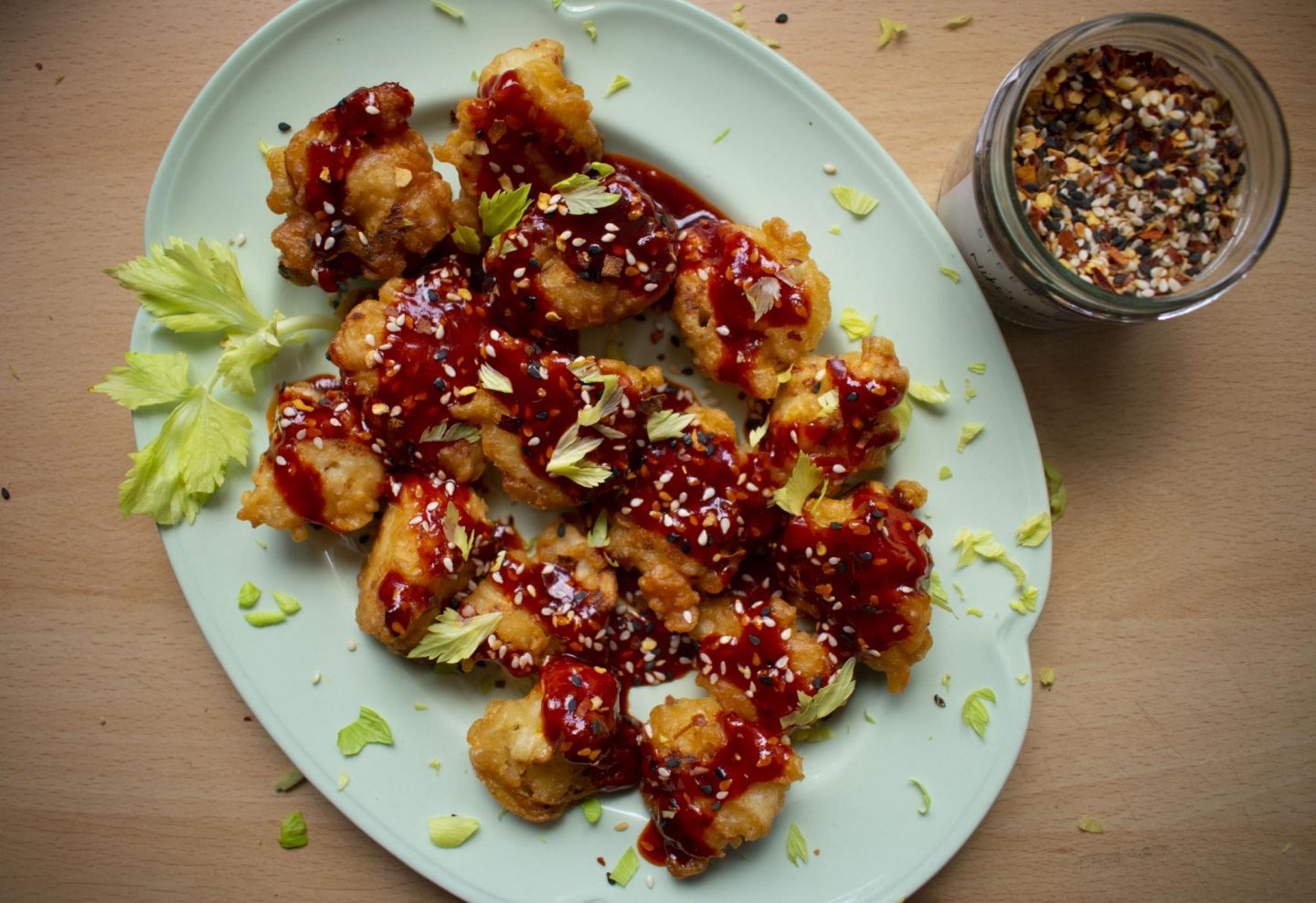 Ingredients:
For the Cauliflower Coating:
230g of plain gf flour
100g of cornflour
1 tsp baking powder
200ml of cold water
400g of trimmed cauliflower, cut into florets
Vegetable oil for deep frying
A pinch of sea salt
For the Gochujang Glaze:
2 tbsp of gochujang paste
1.5 tbsp of tomato purée1 tbsp of apple cider vinegar
2 tbsp of runny honey
2 tbsp of coconut sugar
4 tbsp of tamari/soy sauce
2 cloves of garlic, finely minced
1 tbsp of vegetable oil
1.5 tbsp of toasted sesame oil
1 tsp of sesame seeds
1/2 tsp of chilli flakes
Thinly sliced celery leaves, to serve
1 tsp of Niki's Korean Blend, to serve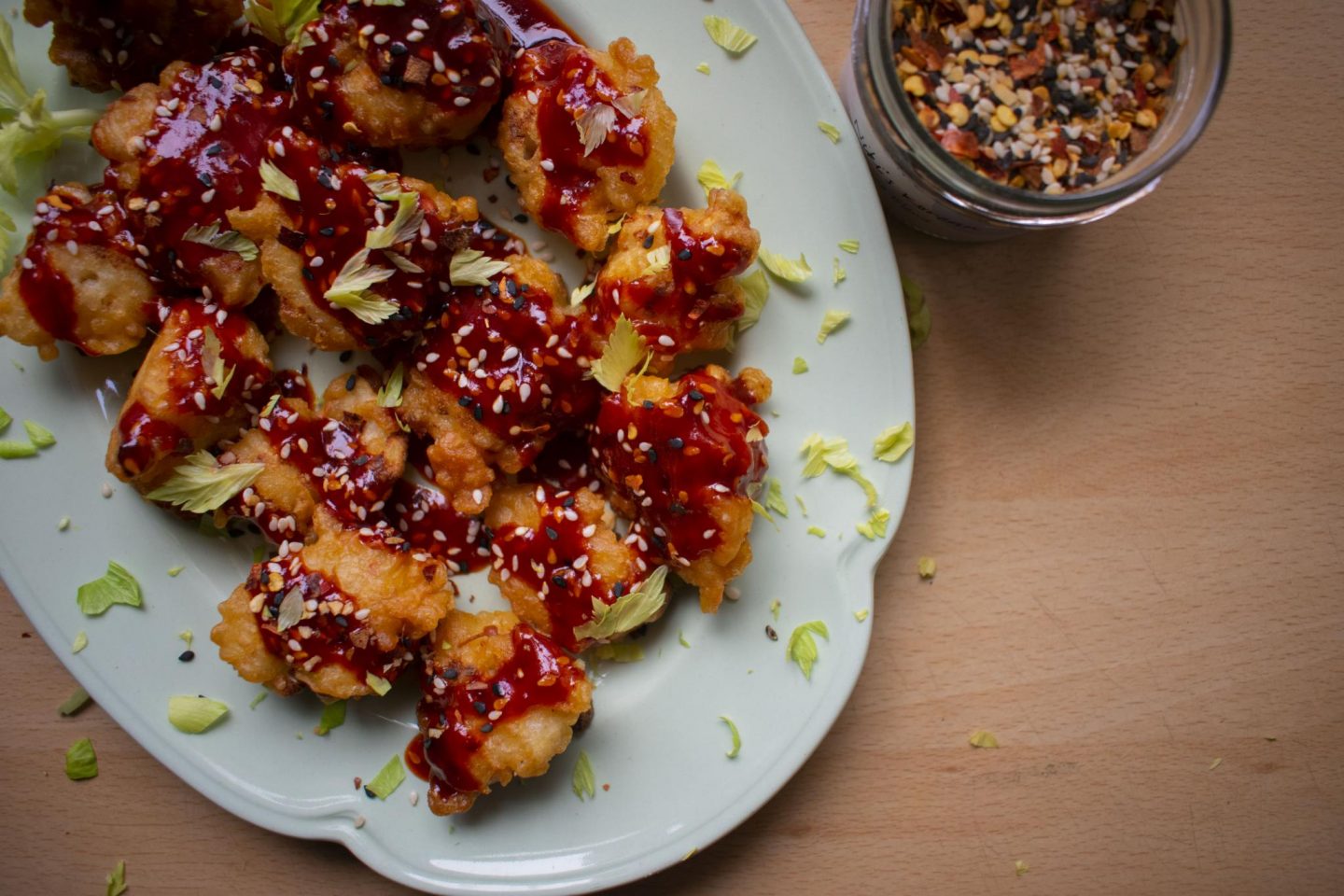 Method:
In a large mixing bowl add in all your ingredients for the cauliflower coating and whisk well, it's okay if there are a few small lumps at this stage. Add in your cauliflower florets and coat every piece well, set aside.
Next, make the sauce and add the gochujang, runny honey, coconut sugar, tamari/soy sauce, garlic, vegetable oil, apple cider vinegar and toasted sesame oil in a saucepan and stir together. Bring to the boil, then simmer for 5 minutes until thickened. If you want it tangier add more acv or to make it sweeter, add more honey for a saucier texture. Finally, add in the sesame seeds and mix well, keep the glaze warm whilst you make the cauliflower bites.
Fill a deep-frying pan to about 1/3 capacity with the oil. Heat over high heat. The oil is hot enough when a wooden spoon dipped into the oil forms small little bubbles. Transfer florets of batter coated cauliflower, in batches, into the hot oil for 3-4 minutes or until cooked through and crispy. Drain on a paper towel to remove the excess oil.
Drizzle the gochujang glaze over the cauliflower (or alternatively toss the cauliflower through the sauce). Serve sprinkled with the thinly sliced celery leaves and Niki's Korean Blend. Enjoy!!