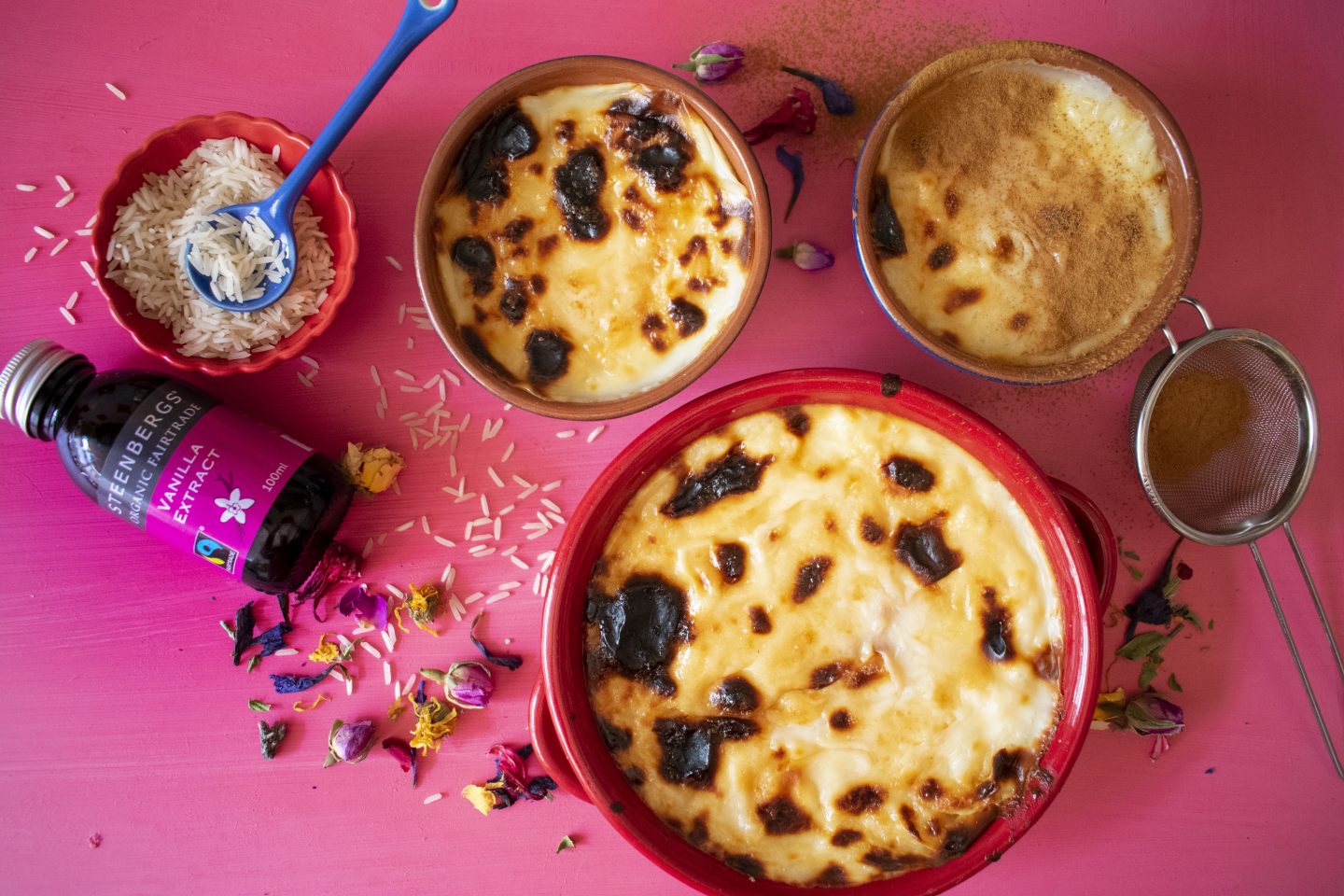 Turkish desserts are the business. 😍 No, really they are. You just have to look at the Ottoman Empire and how they feasted to know that they really know how to eat well. Luckily for us, their traditions and sweet tooth has been passed down from generation to generation including such sweets as baklava, künefe (will share this one another time!) and of course, sütlaç!
🥄 This delicious and creamy oven baked rice pudding is really to die for. The bonus here is that there is no need for flour or eggs in this easy recipe, just a few storecupboard ingredients and a standard mug/cup:



👩🏻‍🍳 Ingredients:


½ cup of uncooked rice, ANY rice!
2 and ½ cups of water
4 and ½ cups of milk, divided, any kind of milk, I used almond milk
¾ cup of sugar, any kind, I used coconut sugar
1 heaped tablespoon of cornfour
1 teaspoon of Organic Fairtrade Vanilla Extract



🇹🇷 Method:



1. Preheat your oven to gas mark 4/180°C degrees. Wash the rice just once but not more than this, you don't want to make it super clean because we want to keeps its starch.
Place your rice in a large pan. Pour water over it and bring it to a boil. Let the rice simmer over low heat until the rice is soft, this will take about 10 minutes.


2. Add in the 4 cups of milk and sugar. Bring it to a boil and simmer over a low heat for about 10 minutes.


3. Meanwhile, whisk together the remaining milk and cornflour in a small bowl. Pour this into the simmering rice mixture and stir well at the same time. Continue stirring until it thickens, for about 15 minutes. Cook for extra 2 minutes after it thickens and remove from the heat, whisk in the vanilla extract at this stage, turn the heat off.



4. Meanwhile, fill half of an oven tray and place ovenproof cups like ramekins into it. Pour the vanilla rice pudding into them and bake uncovered until they have golden top as photographed.


5. Remove from the oven and let them cool down completely. Either serve them at room temperature or chill at least for 4 hours before serving, though it tastes best when cold, perfect for a warm summers day!



Afiyet Olsun!