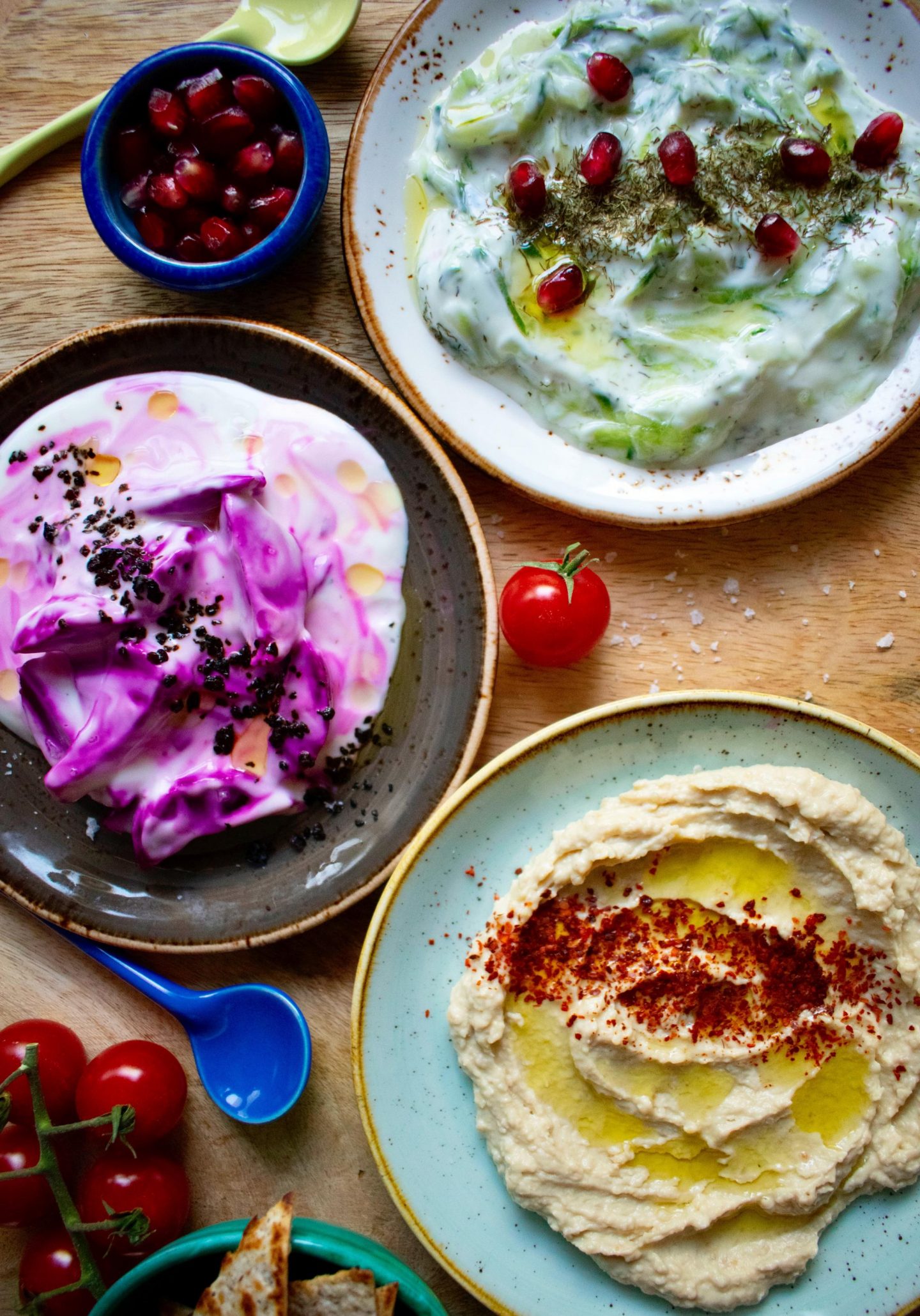 Ah yes, it's time to share my special Turkish dips that I make time and time again. My trio consists of classic houmous, cooling cucumber and yoghurt dip (cacık) and Turkish beetroot dip (kiz güzeli). Since I have already made many variations of houmous (the recipes are all on my website) I will share my 2 favourite Turkish dips that we all enjoy alongside main Turkish dishes. I hope you give them a go and enjoy them in the sun!
Niki's Turkish Beetroot Dip (kiz güzeli)
This simple beetroot dip has a sensational colour (perfect for a celebration!) and utilises the yummy earthy flavour of beetroot.
Ingredients:
Cooked beetroot – 500g, peeled and quartered
A drizzle of olive oil
A pinch of sea salt @steenbergsltd
½ teaspoon of garlic powder @steenbergsltd
A generous pinch of urfa chilli flakes @steenbergsltd
200g of coconut yoghurt or your preferred dairy-free yoghurt
Method:
Simply mix the cooked beetroot and coconut yoghurt together, I have swirled them together to create a marbled effect but you can mix it in more.
Add your spices and season to your taste, garnish with olive oil and urfa chilli flakes for that authentic flavour.
Niki's Cooling Cucumber and Yoghurt Dip (Cacık)
Ingredients:
2 cucumbers (peeled and grated and drained of excess water)
200g of coconut yoghurt or preferred dairy free yoghurt
1 garlic clove, peeled and minced
1 tablespoon of dried mint
1 teaspoon of dried dill @steenbergsltd
A pinch of sea salt @steenbergsltd
A drizzle of olive oil and a scattering of pomegranate seeds, for garnish
Method:
In a mixing bowl, combine the grated cucumbers and minced garlic. Add sea salt to taste.
Mix in the yogurt with a wooden spoon and transfer to a serving bowl. Garnish with the mint and dill, and drizzle olive oil on top with your pomegranate seeds. Best served chilled.
Afiyet olsun!
Niki xxx