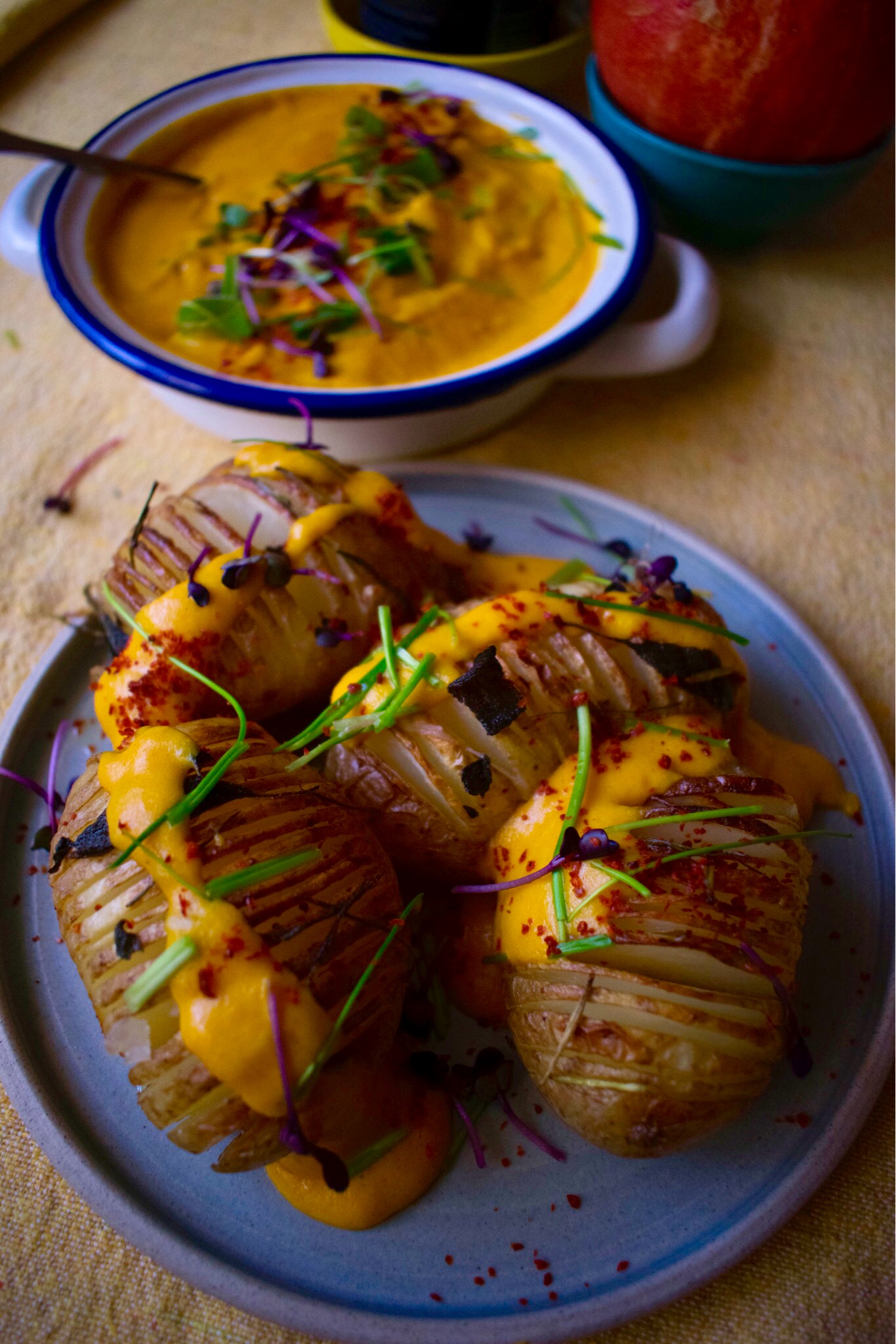 ? This easy vegan cheese dip is naturally nut-free and soy-free…I couldn't actually believe I could make vegan cheese and for it to taste this nice but here we are. ? Give it a go, you won't regret it!
Prep Time
15 mins
Cook Time
5 m
Total Time
20 mins
? Ingredients:
3/4 cup of chopped carrots
2 cups of potatoes, chopped up
1.5 cups of water
2 tablespoons of extra-virgin olive oil
1/4 cup of nutritional yeast @stenbergsltd
1.5 tablespoons of tapioca starch (optional)
1 tablespoon of lemon juice
1 1/2 teaspoon of sea salt @steenbergsltd
¼ teaspoon of ground turmeric @steenbergsltd
1/4 teaspoon smoked paprika (optional for smoky BBQ flavor) @steenbergsltd
1/2 to 3/4 cup unsweetened non-dairy milk of choice (I used almond milk)
Microgreens and sliced spring onions, for garnish
? Method:
1. Place the chopped carrots and potatoes into a large pot and fill with water, bring the water to a boil. Once boiling, lower the heat to a simmer, let the vegetables cook until very tender, about 10 minutes.
2. While the vegetables are steaming, add the water, nutritional yeast, starch (if using), lemon juice, salt, smoked paprika (if using) to your blender pitcher.
3. When the steamed vegetables are tender, lift them out of the pot and add them to the blender, LET THIS COOL BEFORE BLENDING. Blend until the mixture is very smooth– it will be runny.
4. Drain the sauce pot of the water from the steaming process, then pour the blended mixture into the empty pot. Heat the sauce over medium heat, stirring with a whisk until it thickens, about 3 to 5 minutes. Slowly whisk in the non-dairy milk until you reach your desired consistency.
5. Add more salt to taste, then serve right away. This sauce is best used immediately, but it can be cooled completely and stored in an airtight container for up to 2 days in the fridge. Gently reheat the sauce when ready to use, but do not bring it to a boil.
Enjoy!
If you do give this a go, tag me in your creations, I'd love to see! ?