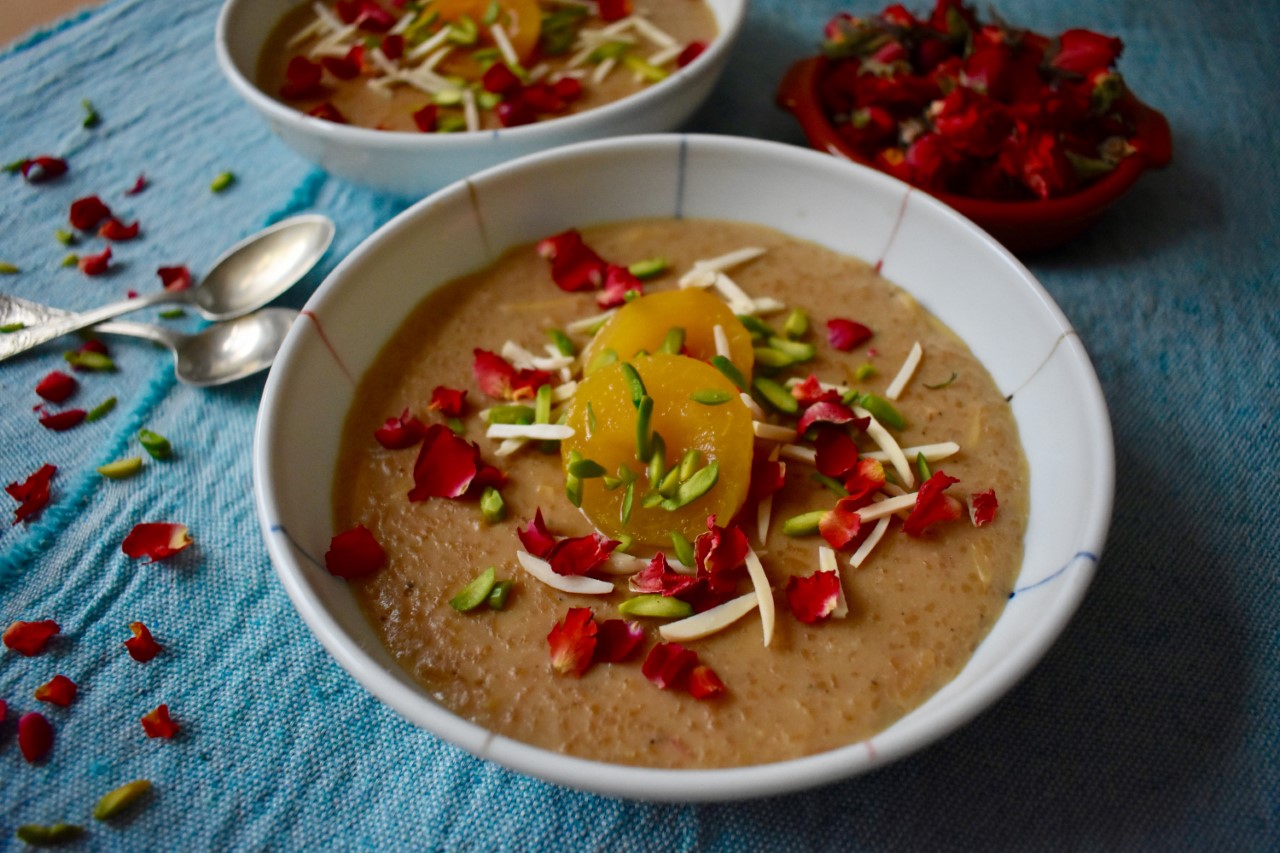 Warm, creamy and comforting, my Persian rice pudding is just the ticket to keep you energised and satisfied.
The hospitality of Persian culture is truly beautiful. Go to their home and they will welcome you with open arms and won't take no for an answer if you say you can't possibly have another bite.
Their sweets are made with loving care, with a real passion for the ingredients they use and most of the time, they prepare their sweets based on a recipe which was passed down through the generations, and it always makes me feel so special and loved when I come across such dishes which I'm lucky enough to recreate at home.
This pudding is free from refined sugar, vegan friendly and gluten free, everyone can enjoy this yummy dessert!
Serves 4
Use natural/organic ingredients where possible
Ingredients:
100g of white short grain rice
Up to 900ml of almond milk (or any other plant based milk of your choice)
5 tablespoons of coconut sugar
1/2 teaspoon of rose water
1/2 of ground cardamom
For decoration:
4-6 apricot halves, either dried or stewed in fruit juice
A small handful of pistachio and almond slivers
A small scattering of dried rose petals
INSTRUCTIONS 
Combine the coconut sugar, almond milk and ground cardamom in a large, heavy pot and whilst the heat is on low, stir until the sugar has melted completely.
Add your short grain rice and bring the mixture to a boil.
Lower the heat and simmer, your pan should be partially covered at this stage, until most of the water is absorbed, this will take about 30-45 minutes.
Add your rose water and continue to simmer for another 10-15 minutes.
Pour into your serving dishes and top with your chosen toppings such as stewed fruit, pistachios and a scattering of dried rose petals.
Niki Behjousiar BSc, MSc Founder of nikibakes www.nikibakes.co.uk www.facebook.com/nikibakes