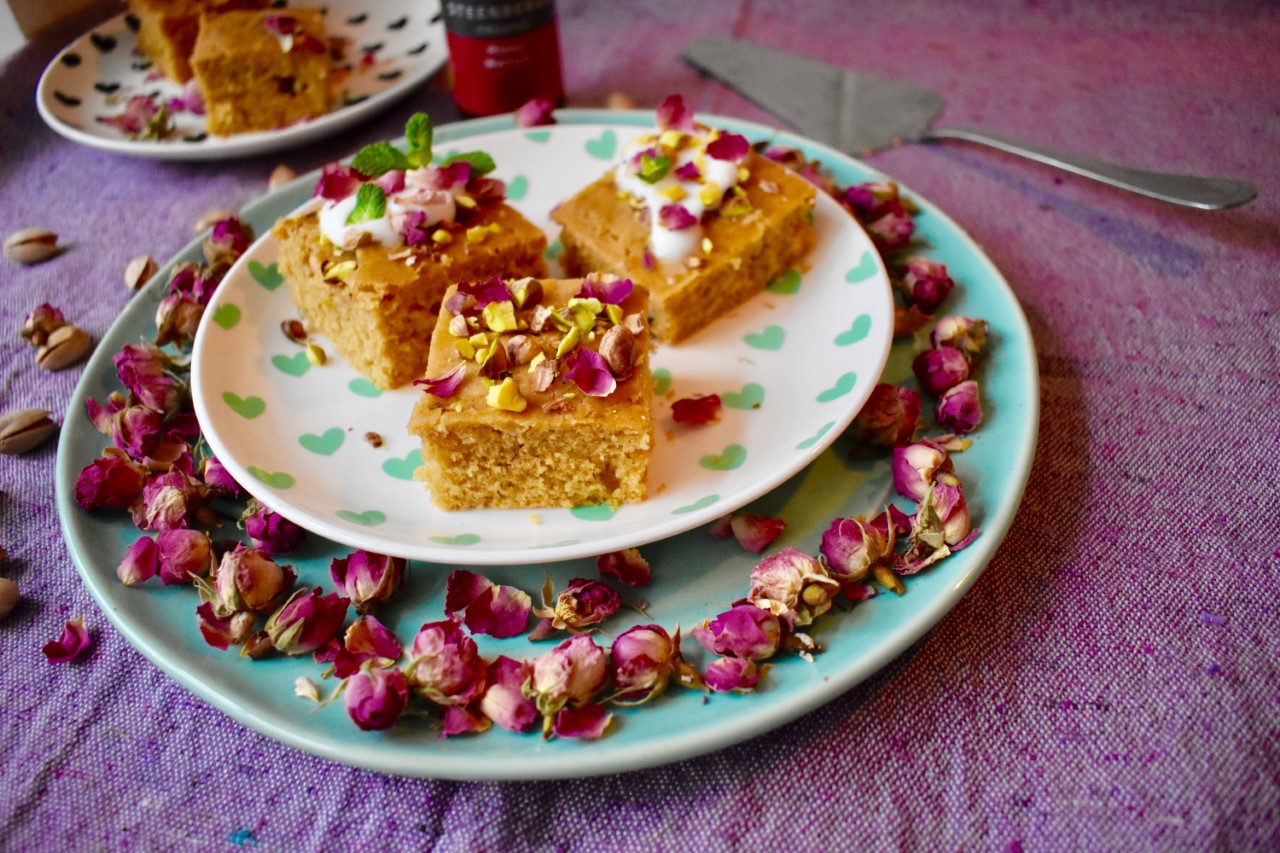 Using a delicate blend of rose water and cardamom, these Persian sweet cakes encapsulate the true essence of love!
Ingredients:
(Makes up to 20 cake squares)
Prep time: 5 minutes
Cooking time: 20-25 minutes
Total time: 1 hour 25 minutes (to include cooking time and pouring over the rosewater syrup)
For the Yazdi cake:
220g of almond flour
150g of coconut sugar
200ml of almond milk
1 teaspoon of vanilla extract
1 teaspoon of baking powder
100g finely ground pistachios
100ml of coconut oil, melted
1/s teaspoon of pink Himalayan salt
5 cardamom pods, prodded and ground finely
For the rosewater syrup:
150ml of filtered water
2 teaspoons of organic rosewater
200g of pistachios, crushed
80g of coconut sugar (all melted together in a small saucepan for 5 minutes)
Method:
1. Preheat your oven to gas mark 4 or 180°c and grease your square brownie baking dish with extra coconut oil and line with greaseproof paper. Whisk your melted coconut oil and coconut sugar with your vanilla extract, set aside.
2. In a larger mixing bowl whisk together your dry ingredients which include the almond flour, baking powder, ground pistachios, ground cardamom and Himalayan pink salt and start to fold in your ingredients with your wooden spoon. Spoon your cake mixture and bake in your oven for a minimum of 20 minutes. Turn out onto a wire rack and allow it to cool slightly.
3. Finally, prick your cake very gently with a fork and pour over the rosewater syrup, allowing it to seep through to your cake. Once completely cooled cut into squares and serve with some strong black tea, delicious!
Happy Baking!
Niki
Founder of nikibakes