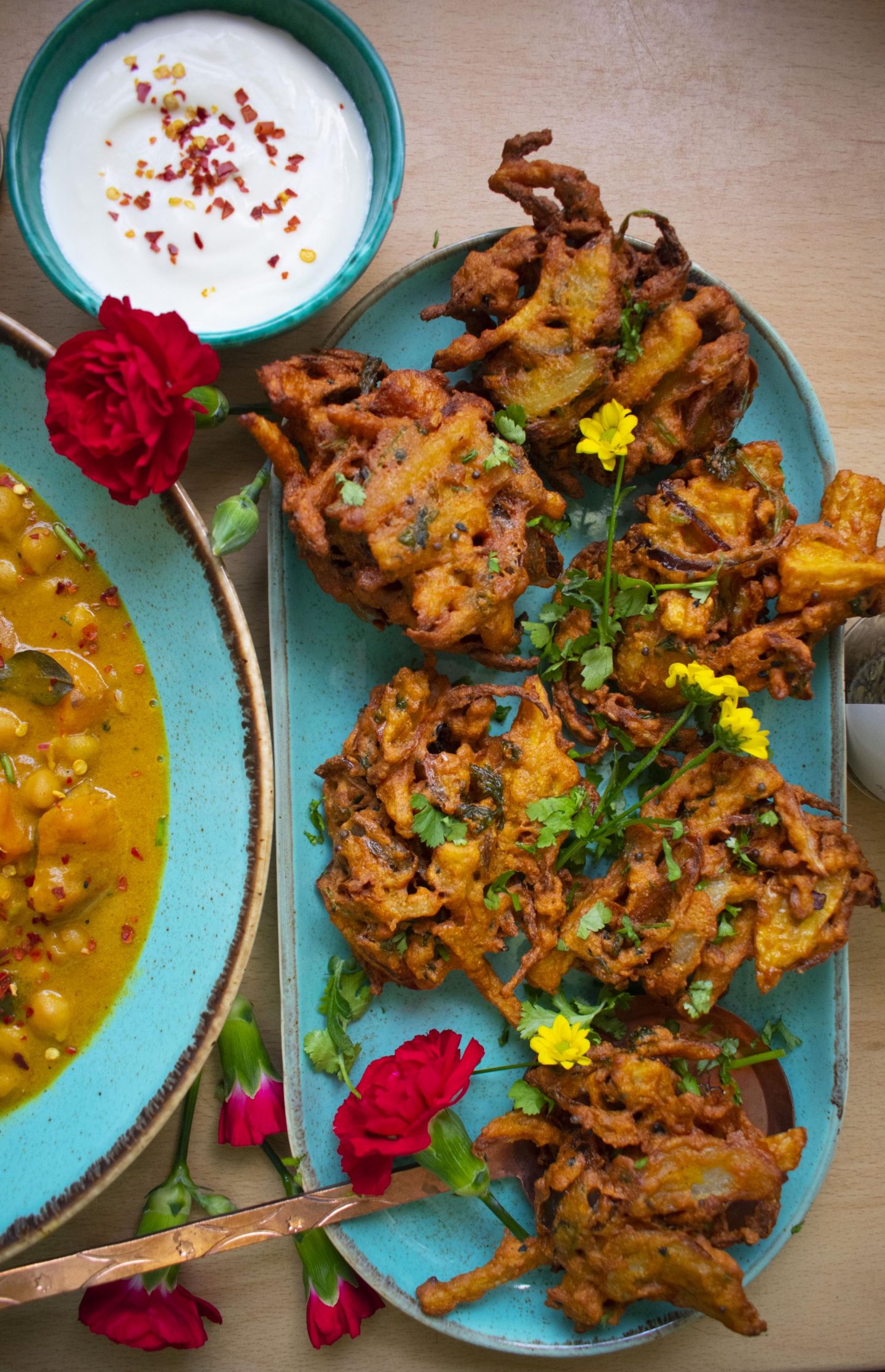 These bhajis are a perfect way to use up any leftover veg you have and with an added element of panch phoran spice they have a very authentic flavour, Indian fakeaway, here we come!

Ingredients:
2 large onions, any colour, peeled and very finely sliced
2 parsnips or carrots, peeled and grated 1 medium potato or sweet potato, peeled and grated 1 tsp of ginger, minced
1 tsp of ground cumin
1 tsp of ground coriander 1/4 tsp of ground turmeric
1 tsp of chilli flakes, optional 1 tablespoon of panch phoran spice
1 tsp of sea salt
1/2 tsp of garlic powder
A pinch of ground fenugreek powder Approx. 400ml of vegetable oil, for deep frying 120g of gram/besan flour 1 tbsp of cornflour
1/2 tsp of bicarbonate of soda 130ml of water A scattering of fresh coriander plus 1 tablespoon of finely chopped coriander
Some natural yoghurt, for serving


Method:

Heat the oil in a deep pan over a medium heat and ensure it is less than half full of oil as you don't want it to bubble over.
Place the veg in a bowl with the chopped coriander, the minced ginger, panch phoran, ground cumin, ground coriander, ground turmeric, chilli flakes (if using), ground fenugreek, sea salt, garlic powder, gram flour, cornflour and the bicarbonate of soda and mix together to coat the veggies. 
Add in the water until you have a thick batter that covers the veggies. You may not need all of the water.
Test the heat of the oil by dropping a little blob of the batter in the wok. It should sizzle and rise to the top.
Carefully add a rounded tablespoon of the mixed veg bhaji mixture into the oil and repeat so you have 4 or 5 bhaji's frying at the same time. Fry for 3-4 minutes until the coating is dark golden brown. Remove from the pan with a slotted spoon and drain on kitchen paper. Repeat, frying further bhajis, until the mixture is all used up.
Once all of the bhajis are cooked, place in a serving bowl and sprinkle with the remaining fresh coriander, fresh edible flowers (optional) and serve with some yoghurt if desired. Enjoy enjoy!