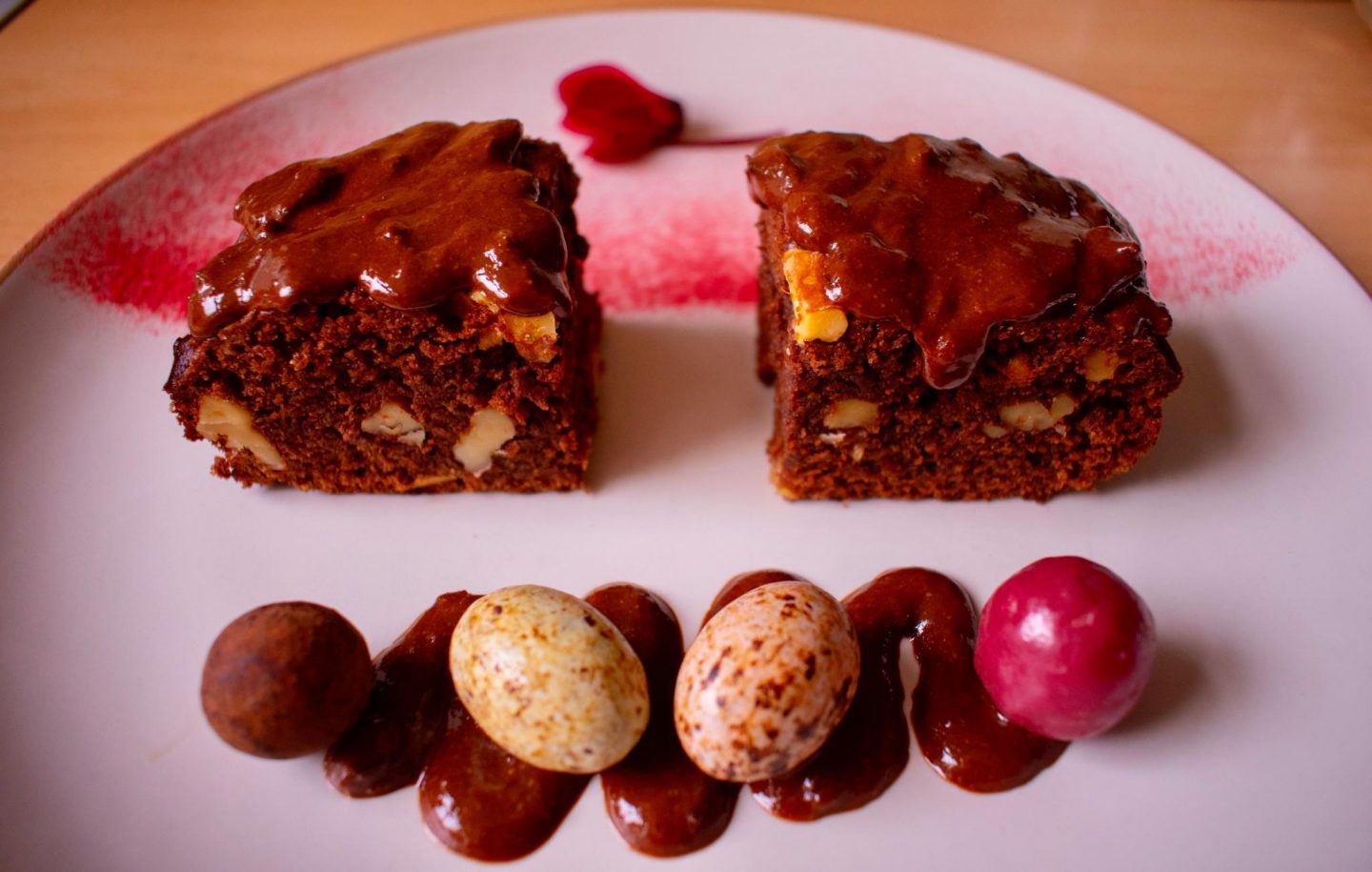 I promised you the recipe then so here it is. I hope you give it a go, a super chocolatey treat this Easter. 

All you need is:
Ingredients:
Makes up to 15-18 brownies ? For the walnut brownies: • 4 tablespoons of coconut butter • 200g of ground almonds and 100g of crushed walnuts • 50g of coconut flour • 4 large eggs
• 150g of coconut sugar • 1 teaspoon of organic fairtrade vanilla extract Steenbergs Organic Fairtrade spices, herbs, seasonings and ingredients • 2 tablespoons of raw cacao powder • 100ml of almond milk • 180 of dark chocolate, broken up into pieces • 1 teaspoon of organic baking powder ?
For the raw cacao date frosting:
4 dates, pitted 
2 teaspoons of raw cacao powder 
2 tablespoons of coconut oil 
A sprinkling of raspberry powder and Easter eggs (optional) ??
1. Preheat the oven to Gas Mark 4/180℃, fan 160℃. Line a brownie tin with greaseproof baking paper. Whisk together your coconut butter and coconut sugar together until thick and creamy. Add in your vanilla extract and eggs and beat again until a thick sauce like consistency forms. 

2. Add your ground almonds, crushed walnuts and coconut flour along with your baking powder and gently fold, alternating with your almond milk and raw cacao powder and gently fold again. Lastly stir in the chopped dark chocolate.
3. Pour the mixture into the lined tin and lightly spread it into all the corners. Bake for about 20 minutes, or until the middle is just set and the top is crusty. Remove from the oven and leave to cool before setting onto a wire rack for frosting. 

4. Whilst the brownies are cooling off, in a small saucepan add all of the frosting ingredients at once and using a silicone spatula, start to mash it all together over a low heat. This will take about 10 minutes so be patient with it and it will come together to form a frosting like consistency….also smells divine! Spread on top of your brownies once it's come together and cooled off a little
?? Happy Baking! ?