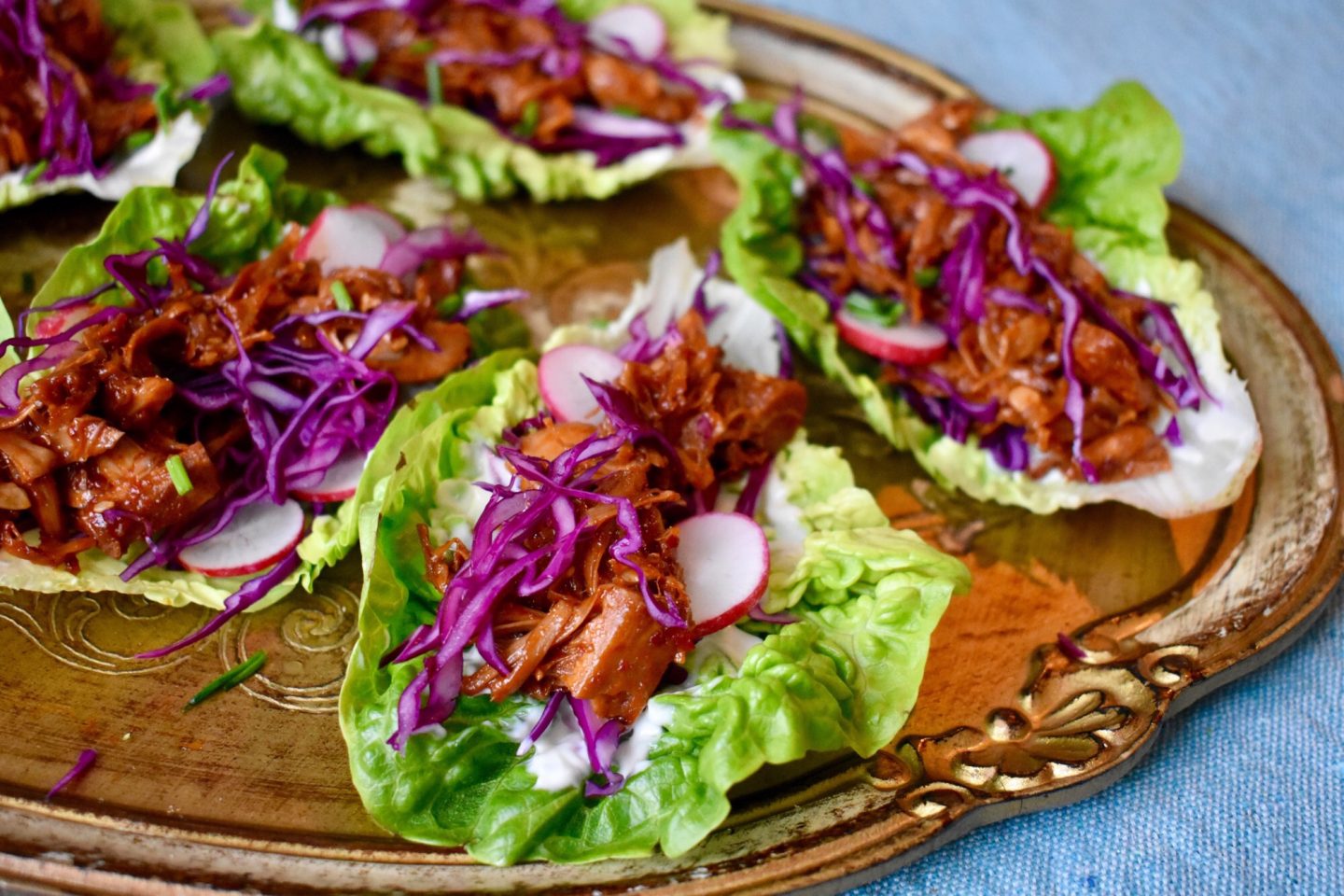 Hey guys!
Give this meat free dinner a go with my quick and easy BBQ Jackfruit lettuce wraps. Gluten free too, everyone can get stuck in! It's a real crowd pleaser and you can delegate the veg chopping to your family or dinner guests, result! Who said you gotta have a taco in a corn tortilla anyway?!
All you need is:
Use organic/natural real food ingredients where possible)
Ingredients:
Makes 10-12 lettuce wraps
· 1 tin of Jackfruit, drained and washed
· 3-4 heads of mini Romaine lettuce, separated into separate leaves
· 1 large handful of radishes, sliced finely
· 1/2 a large red cabbage, shredded finely
· 2 tablespoons of avocado mayonnaise
For the BBQ Jackfruit marinade:
– 1 teaspoon of ground coriander ground coriander 
– 1.5 tablespoons of tomato purée
– 2 tablespoons of tamari
– 2 tablespoons of extra virgin olive oil
– 1 heaped teaspoon of smoked paprika powder
– 2 tablespoons of coconut sugar
Method:
Step 1:
Start off by laying out your mini romaine lettuce leaves and layer up with the avocado mayonnaise, your shredded cabbage and radish. Set aside.
Step 2:
In a skillet or large pan, heat your oil and simply add in your Jackfruit, together with its marinade. Cook for 10-15 minutes or until it thickens up and is warmed through. Allow to cool before spooning the mixture on top of the lettuce leaves, bliss!
Happy Baking!