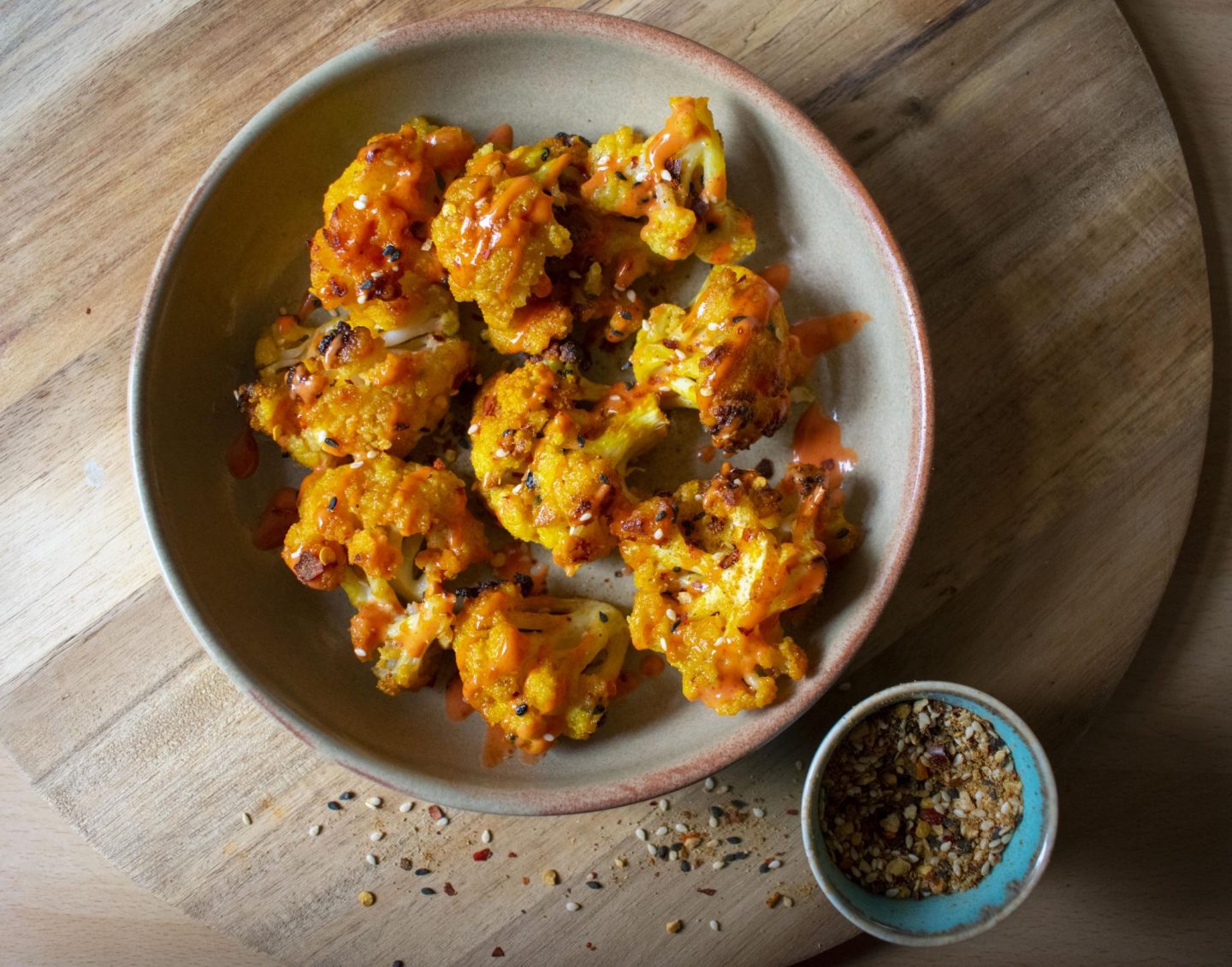 Baked golden nuggets of deliciousness, my buffalo cauliflower wings have a lovely meaty texture to them. I love how simple they are and also that they are not fried, meaning you won't be feeling sluggish afterwards and you can still enjoy the benefits of cauliflower as they still retain some nutrients when cooked this way. All you need is:
Ingredients:
1 large or 2 medium sized head of cauliflower, chopped into smallish chunky florets
½ cup of almond milk
½ cup of tapioca flour and gluten free flour
½ teaspoon of garlic powder @steenbergsltd
½ teaspoon of onion powder @steenbergsltd
½ teaspoon of ground turmeric @steenbergsltd
1 teaspoon of smoked paprika @steenbergsltd
1 tablespoon of Niki's Korean Blend @steenbergsltd
½ teaspoon of sea salt and pepper to taste @steenbergsltd
½ cup of sriracha mayo
3 tablespoons of melted coconut oil or olive oil
Instructions:
Preheat the oven to 450 F and line a baking sheet with parchment paper.
In a large bowl, whisk together the tapioca and gluten free flour, onion powder, garlic powder, paprika powder, ground turmeric, sea salt, and pepper.
Slowly add the milk and whisk to make a lump free batter. The batter should be a thick coating consistency. Add more tapioca flour if the batter is too thin.
Dip each cauliflower floret into the batter. Coat evenly. Shake off the excess and place on the parchment covered baking tray.
Bake for 20 minutes, until the florets are fragrant and tender and the batter has 'gelled on'. Once the cauliflower florets are done baking, let them cool for a bit, about 5 minutes.
Toss the baked florets in the sriracha mayo taking care to coat every floret with the sauce.
Transfer it back to the baking sheet and bake for 10 more minutes.
Serve the Buffalo Cauliflower Wings with an extra drizzle of the sriracha mayo and sprinkle over Niki's Korean Blend, lush!
Happy Baking!
Niki xxx