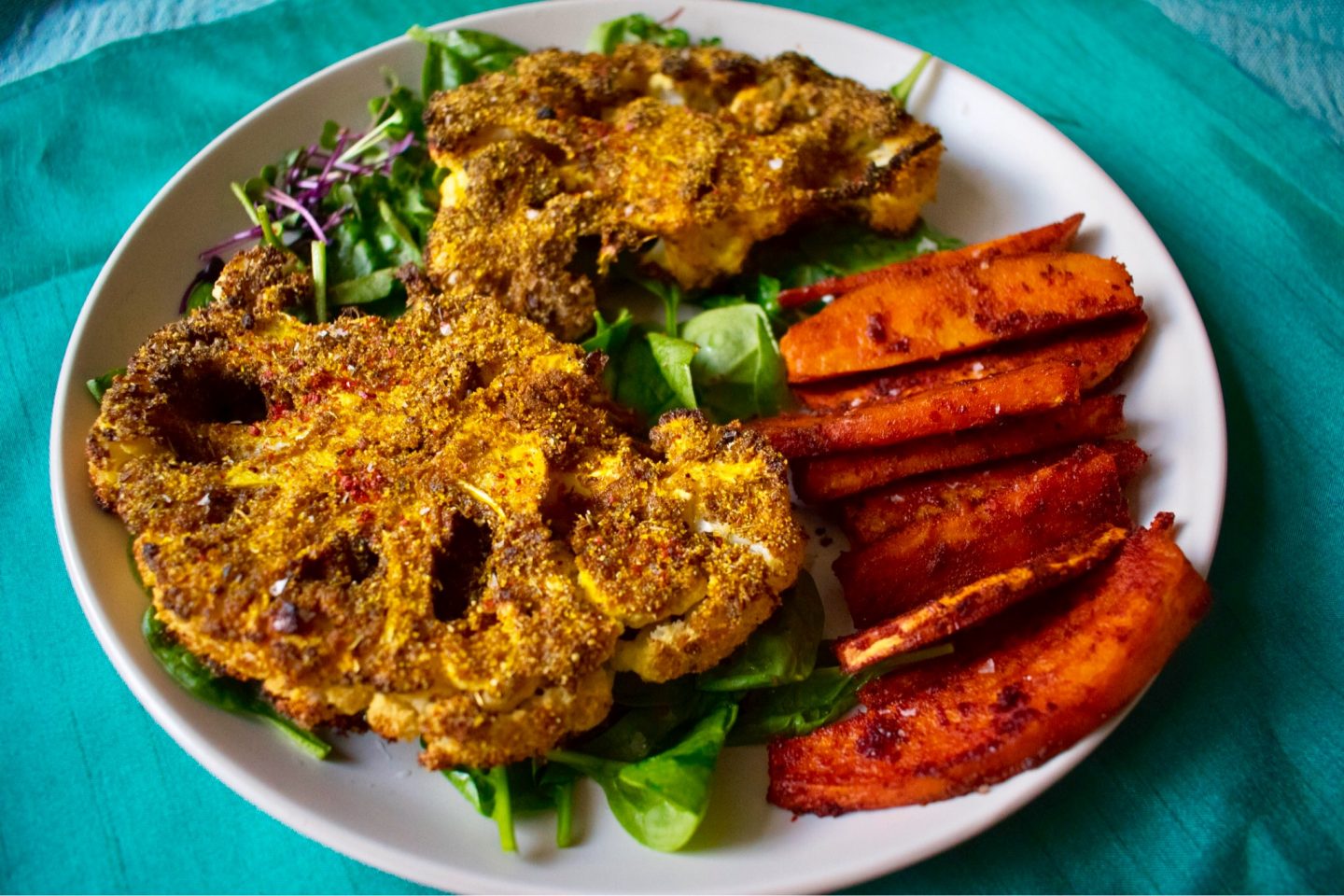 Flavourful, moorish and sticky jerked cauliflower…you just can't beat it! Pair it with succulent, sweet and smoky sweet potato fries and you're in foodie heaven!
I can't even begin to explain how delicious and easy this dish is. It's gluten free and vegan and is a heaty meal for sure. It's perfect for picnics when paired with a salad or a nice dinner party idea as well with avocado crema on the side.
All you need is:
(Use organic/natural real food ingredients where possible)
Serves 2-3
45 minutes – 1 hour
Ingredients:
A large heal of cauliflower, sliced into thick medallions
2 large sweet potatoes, cut up into chips
1 tablespoon of jerk seasoning
1 teaspoon of smoked paprika
1 teaspoon of salt
½ teaspoon of ground turmeric
2 tablespoons of water
2 tablespoons of olive oil, plus extra for greasing
Up to 3 tablespoons of polenta, for coating the cauliflower steaks
Method:
First, let's get on with the sweet potato fries. Preheat your oven to gas mark 6/200°C and lay out your sweet potato fries on a baking sheet lined with greaseproof paper.
Season with the salt, smoked paprika and olive oil and bake for around 15-20 minutes or until they are fork tender and slightly browned around the edges.
Next, place your cauliflower steaks onto another baking sheet lined with greaseproof paper and rub water and olive lol all over the steaks.
Add your seasoning rub, making sure you're coating each cauliflower steak evenly. Sprinkle over you polenta for crunch and pop into your oven for no more than 15 minutes (hence why the cauliflower steaks go in after the sweet potato fries).
Plate up on some washed baby leaf spinach and get stuck in!