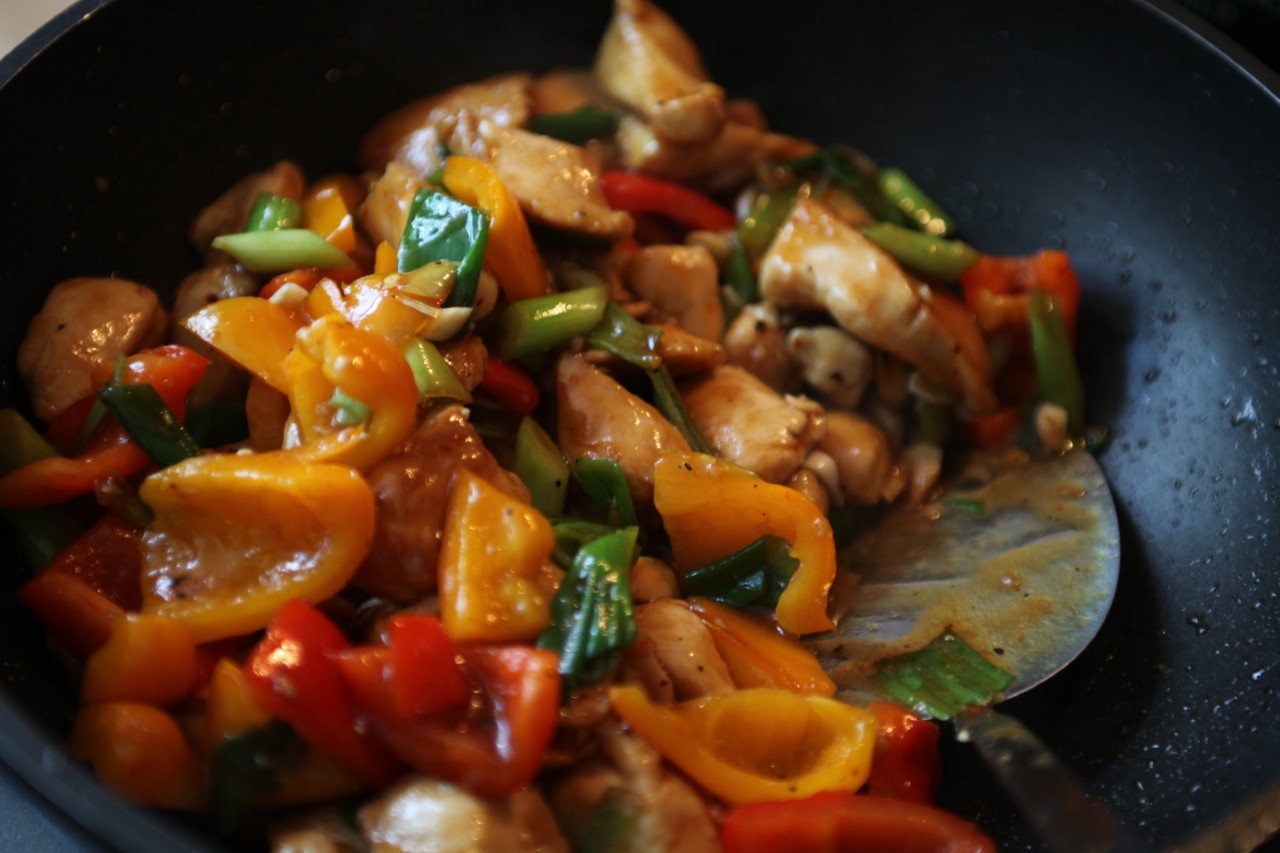 Kung Pao Chicken has always been a dish I look for on the menu whenever I go out for a Chinese meal. It's everything I love in an Asian dish…slightly spicy, sweet, savoury and oh so saucy!
This Szechuan-inspired chicken dish is a winner in my eyes and you can be very versatile with the vegetables that accompany the chicken, I simply used spring onions and bell peppers but you can use mushrooms, baby sweetcorn, bamboo shoots…the possibilities are endless!
All you need is:
(Use organic/natural real food ingredients where possible) Serves 4 Prep time: 10 minutes Cooking time: 10-15 minutes Total time: 30 minutes
Ingredients:
400g of chicken breast, diced
A bunch of spring onions, chopped
Roughly 2 bell peppers, chopped up into chunks (I used yellow and red)
2 garlic cloves, crushed
½ teaspoon of crushed ginger
2 tablespoons of rice wine vinegar
2 tablespoons of runny honey
1 tablespoon of tamari
2 tablespoons of rice flour
4 tablespoons of water
1 tablespoon of Szechuan peppercorns or black peppercorns, crushed finely @steenbergs
2 tablespoons of coconut oil
Step 1:
In a large mixing bowl, combine the rice flour and diced chicken breast, making sure every piece is coated, set aside whilst you prepare your veggies.
Step 2:
Heat up your frying pan and melt your coconut oil. Over a medium high temperature, brown your chicken pieces for a couple of minutes and then using slotted spoon place the chicken pieces on a plate lined with kitchen paper.
Step 3:
Add the garlic and ginger to your wok or frying pan and fry for a minute or two. Next, add in your bell peppers, spring onions or the veg you have chosen to use and then season with the tamari and peppercorns. Stir fry for a further couple of minutes.
Step 4:
Add your chicken back into your vegetable mixture and stir until it's all well combined together. At this stage add in your vinegar and honey and turn the heat down. Simmer for a further 5 minutes until the sauce has thickened, taste and adjust if you want it more spicy or add more tamari if it needs more salt. Enjoy!
Happy Baking!
Niki xx