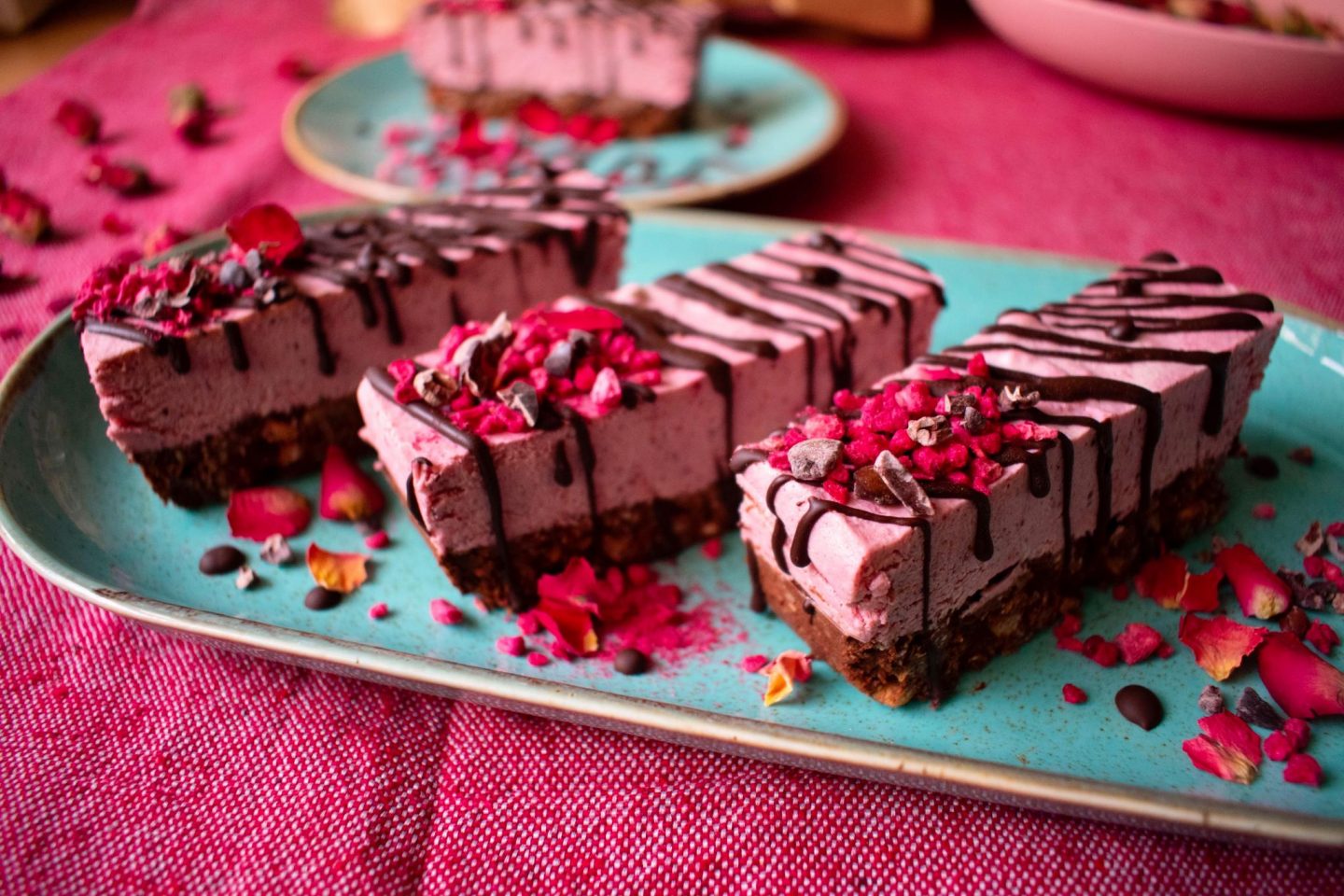 Spoil your loved ones this Valentine's with our raw raspberry cacao cheesecake slices. They are seriously moreish and so simple to make, no baking required! Everyone can enjoy this vegan and gluten-free sweet treat, so spread the love!
https://www.elementsforlife.co.uk/blogs/recipes/valentines-raspberry-cacao-cheesecake-slices
Raspberry Cacao Cheesecake Slice
Makes around 10-12 slices
Prep time: 20 minutes
Total time: 20 prep plus overnight for freezing
Storage: Keep in the freezer and defrost 1 hour ahead of serving
Ingredients:

For the raw cacao cheesecake base:
60g of sprouted buckwheat
40g of raw cacao nibs
80g of Elements for Life raw cacao butter, melted
40g of Elements for Life raw cacao powder
3 tablespoons of water
3 tablespoons of Sweet Freedom
For the raspberry cheesecake filling:
300g of cashews, soaked overnight
150ml of water
4 tablespoons of Sweet Freedom
2 tablespoons of raspberry powder
200ml of coconut oil, melted
For decoration:
100g of good quality 70% dark chocolate, melted
A sprinkling of freeze-dried raspberries
Extra Elements for Life raw cacao nibs

Method

Start off by making your raw cacao base. Simply mix all the ingredients by hand until well incorporated. Add a little water if it's too thick.
Spread out into a loaf tin which has been lined with greaseproof paper. Place in the fridge to firm up whilst you make your raspberry cheesecake filling.
In a high-speed blender, whizz up the cashews, water and agave. The consistency should be thick but not too thick so add a little more water if needed. If it's nice and sauce like in consistency, add the raspberry powder and coconut oil and blitz again.
Bring out the base from the fridge and pour over your cheesecake filling. Place in the freezer overnight to fully set.
Once it's ready to serve, make sure you take it out of the freezer 1 hour before. Slice up and drizzle with melted dark chocolate, raw cacao nibs and freeze dried raspberries, mmm!