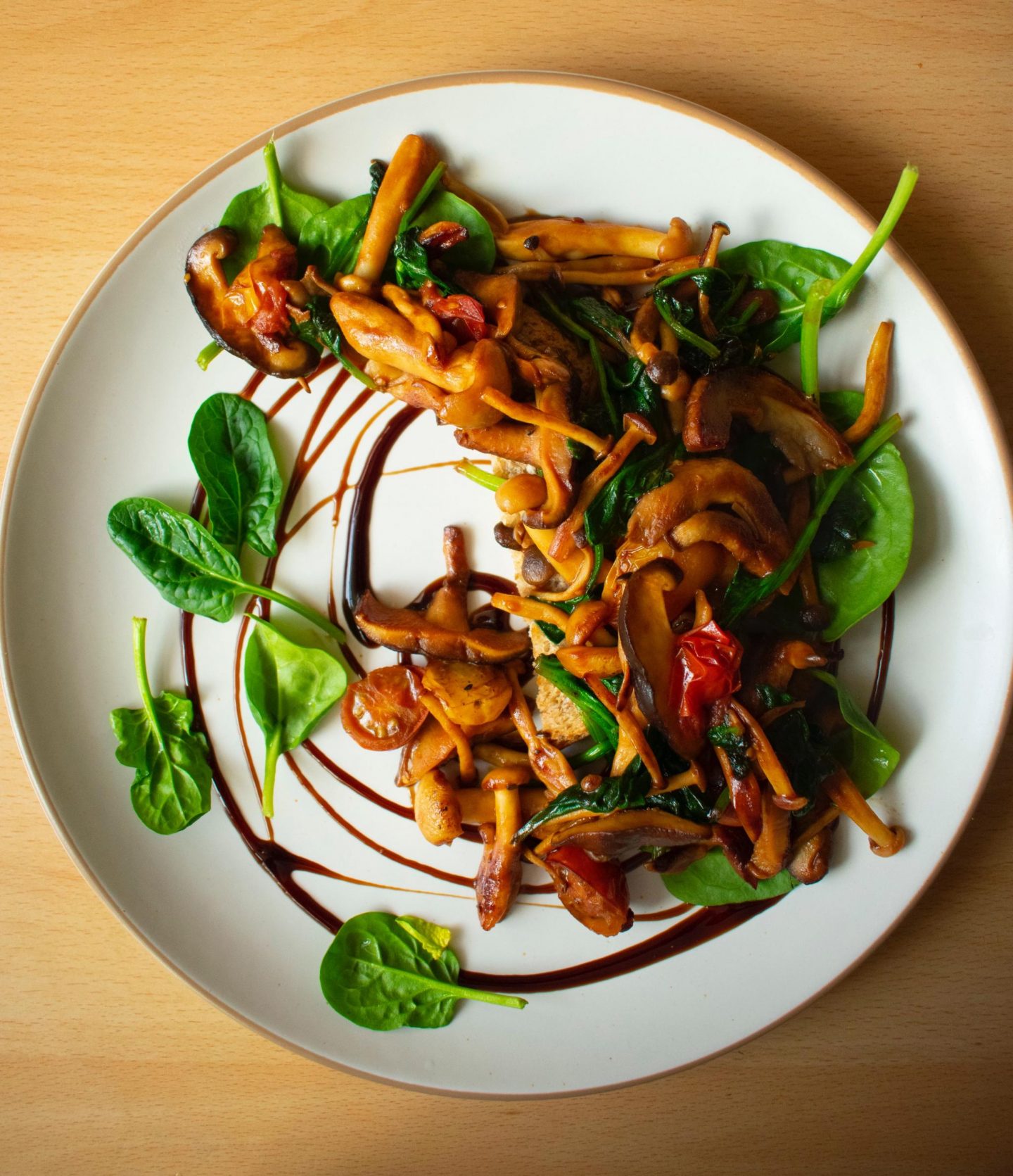 Wild mushrooms need very little to shine and my favourite way to enjoy them is simply sautéed and served over crusty toasts, a classic that never fails to impress. Any kind of mushrooms will work here, even the humble buttons, though you can't beat the visual appeal of my market (borough market that is!) finds sizzling in hot butter. Maitakes (or "hen of the woods"), baby shiitakes, and oysters mushrooms in bright yellow and dusty rose make for a happy and pretty party in a pan.
All you need is:
(Use organic/natural real food ingredients where possible)
Serves 2
Prep time: 10 minutes Cooking time: 20-25 minutes Total time: 35 minutes
2 tablespoons of olive oil
75g (3oz) vegan butter
450g mushrooms (wild or fresh shiitakes, portobellos or cremini), sliced or roughly chopped
1 garlic clove, crushed (optional)
Sea salt and freshly ground black pepper
Juice of 1/2 lemon
A handful of young spinach
A handful of cherry tomatoes
Balsamic glaze
1 tablespoon of tamari
Method:
Heat the oil and butter in a frying pan until the vegan butter begins to foam.
Add the mushrooms to the pan. Let them sit for a couple of minutes, then begin to move them around. Add the garlic and season well.
Once the mushrooms are soft, after about 5 minutes, add the lemon juice, tomatoes and cook for 1 minute.
Next add the tamari, crank up the heat and cook for 3 minutes to reduce the liquid a little. Just before serving, stir in the spinach.
Serve on top of char-grilled or toasted sourdough bread, which has been drizzled with oil and rubbed with garlic (if desired) and a flourish of balsamic glaze.